Literacy
Skillswise - Homepage. Search Results. Reader's Theater Editions (Readers Theatre, Free Scripts, Short Children's Plays) Reading Enriches Learning - REL home. The Reading Enriches Learning website aims to stimulate and motivate all students to become confident readers.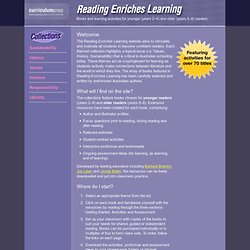 Each themed collection highlights a topical issue (i.e. Values, History, Sustainability) that is critical to Australian schooling today. These themes act as a springboard for learning as students actively make connections between literature and the world in which they live. Scratch | Home | imagine, program, share. Museum Box Homepage. Collaborative storytelling. Patterns in Mathematics -- Logic Patterns. Here's what others have said about the Syntax Store. ---------------------------- After I made my first sentence I could tell what had to happen to make my next sentence a sentence.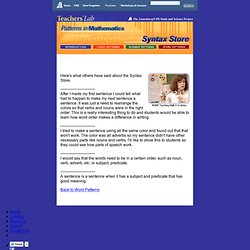 It was just a need to rearrange the colors so that verbs and nouns were in the right order. This is a really interesting thing to do and students would be able to learn how word order makes a difference in writing. ---------------------------- I tried to make a sentence using all the same color and found out that that won't work. Tobias%20Blow. Winners 2011 - CBCA. Award-winning Children's Books and the Major Children's Book Awards. Storyline Online. The Heart of Doodles and Sketches.
---