Wordpress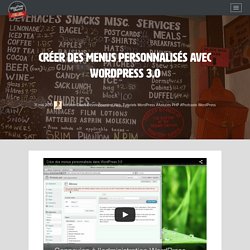 Cr?er des menus personnalis?s avec WordPress 3.0
La création de menus personnalisés est désormais possible avec la sortie de WordPress 3.0. Via un système de glisser / déposer, réalisez vos propres menus en combinant des liens externes, des catégories ou encore des pages en quelques clics. Update : comme me l'a fait remarqué Marie, il est nécessaire de rajouter la ligne de code add_theme_support( 'menus' ); dans votre fichier functions.php si vous n'utilisez pas le thème par défaut ou que le thème ne supporte pas les menus de WordPress 3.0. Pré-requis Pour disposer de cette nouvelle fonctionnalité, vous devez avoir effectué la mise à niveau vers WordPress 3.0.
WordPress CSS Guides
The server encountered an internal error or misconfiguration and was unable to complete your request. Please contact the server administrator, webmaster@tamba2.romanticrobot.net and inform them of the time the error occurred, and anything you might have done that may have caused the error. More information about this error may be available in the server error log. Additionally, a 500 Internal Server Error error was encountered while trying to use an ErrorDocument to handle the request.
Less is more This quote is becoming more sensible, especially for designers who have adapted the minimalist design approach. Over the years, minimalism, or the act of putting away irrelevant things to make space for the relevant ones, has become a regular part of every modern design principle. As web designers, we too, practice the same maxim. In fact, we even want to make this philosophy for living our lives. We strive to achieve such state that we even want our office setups or work space to reflect what we believe in.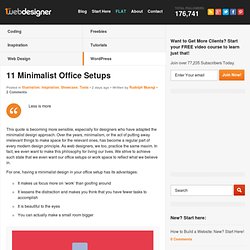 WordPress | 1stwebdesigner - Graphic and Web Design Blog
WordPress Themes Top - Best Free Themes for WordPress Blogs - Part 3
Quand on blog on passe beaucoup de temps sur son lecteur de flux RSS, mais ce n'est rien comparé au temps passé sur l'admin du blog. Écrire des articles, gérer ses tags, catégories, commentaires etc. Alors oui on y passe du temps donc autant que ça soit sympa. Et puis si on peut passer moins de temps sur des trucs chiant autant en profiter.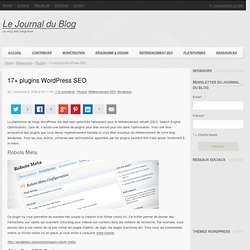 17+ plugins Wordpress SEO
La plateforme de blogs WordPress est déjà bien optimisée nativement pour le référencement naturel (SEO, Search Engine Optimisation). Cela dit, il existe une batterie de plugins pour aller encore plus loin dans l'optimisation. Voici une liste exhaustive des plugins que vous devez impérativement installer si vous êtes soucieux du référencement de votre blog wordpress. Pour les plus avertis, certaines des optimisations apportées par les plugins peuvent être traité assez facilement à la mano. Robots Meta Ce plugin va vous permettre de manière très simple la création d'un fichier robots.txt.
Update du 5 Octobre 2011: les tutoriels ont beau datés de 2007, ils sont en cours de modifications pour y ajouter les fonctionnalités des dernières versions de WordPress. Quoi qu'il en soit, ils sont toujours d'actualité et ont été mis à jour plusieurs fois. Peut-être que vous aimeriez créer votre propre thème pour votre blog et que vous ne savez pas trop comment vous y prendre ?