MMORPG
The #mmorpg Daily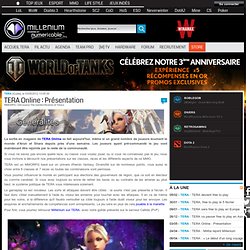 [Guides] TERA Online : Présentation - Tera
TERA [Guide], le 03/05/2012 13:05:39 MMORPG : Découvrez The exilded Realms of Telara
World of Darkness is CCP's bid for the MMO mainstream
CCP Games, the Reykjavik, Iceland-headquartered developer of the space-faring MMO EVE Online, has rooted its success in a clear game design goal: to provide full sandbox gameplay designed to empower players to create emergent situations.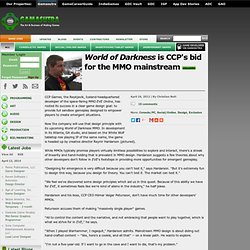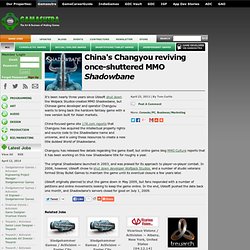 China's Changyou reviving once-shuttered MMO Shadowbane
It's been nearly three years since Ubisoft shut down the Wolpack Studios-created MMO Shadowbane, but Chinese game developer and operator Changyou wants to bring back the hardcore fantasy game with a new version built for Asian markets. China-focused game site 178.com reports that Changyou has acquired the intellectual property rights and source code to the Shadowbane name and universe, and is using these resources to create a new title dubbed World of Shadowbane.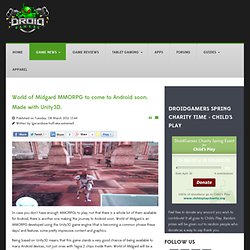 World of Midgard MMORPG to come to Android soon. Made with Unity3D.
170StumbleUpon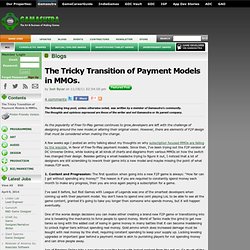 The Tricky Transition of Payment Models in MMOs.
Josh Bycer's Blog - The Tricky Transition of Payment Models in MMOs.
Sony Online's EverQuest II Goes Entirely Free-To-Play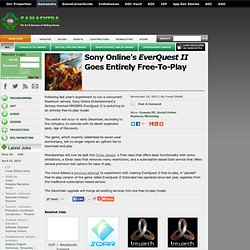 Following last year's experiment to run a concurrent freemium service, Sony Online Entertainment's fantasy-themed MMORPG EverQuest II is switching to an entirely free-to-play model. The switch will occur in early December, according to the company, to coincide with its latest expansion pack, Age of Discovery. The game, which recently celebrated its seven-year anniversary, will no longer require an upfront fee to download and play.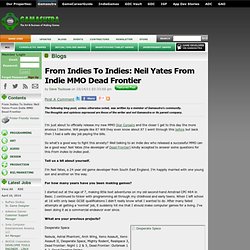 Dave Toulouse's Blog - From Indies To Indies: Neil Yates From Indie MMO Dead Frontier
The following blog post, unless otherwise noted, was written by a member of Gamasutra's community. The thoughts and opinions expressed are those of the writer and not Gamasutra or its parent company. I'm just about to officially release my new MMO Star Corsairs and the closer I get to this day the more anxious I become.
Features - Ambitious Plans: The Marriage of EVE and Dust
CCP is trying something ambitious -- but that doesn't seem to be making quite the waves it ought to. It is linking its successful MMO, EVE Online, directly and fundamentally into its next game, Dust 514, a console shooter.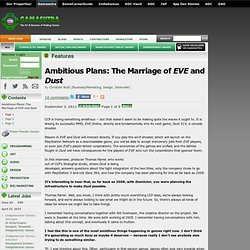 [In the third installment of his feature series, Simon Ludgate examines the evolution of the free-to-play MMO, and how games can implement -- or how they should implement -- different monetization schemes for best economic benefit and user satisfaction. ]
Features - The F-Words Of MMOs: Free-To-Play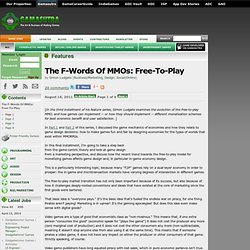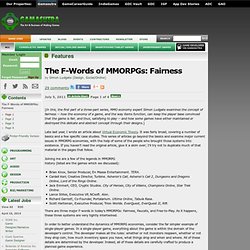 [In this, the first part of a three-part series, MMO economy expert Simon Ludgate examines the concept of fairness -- how the economy of a game, and the way items function, can keep the player base convinced that the game is fair, and thus, satisfying to play -- and how some games have either maintained or destroyed this delicate and abstract concept through their designs.] Late last year, I wrote an article about Virtual Economic Theory.
Features - The F-Words of MMORPGs: Fairness
E3 2011: Nival announces Facebook-integrated MMO Prime World
Nival may be a new player in the MMOsphere, but Prime World, its first big push into the fray, is looking to turn a few heads.
News Tagged With "MakingAnMMO" :: ZAM
"What makes a good MMORPG?" I've decided to devote a bit of my time and a few articles to exploring this.
The following blog post, unless otherwise noted, was written by a member of Gamasutra's community.
Judson Rose's Blog - A Numbers Game: The Narrative Transparency of World of Warcraft
If a dictionary entry for the phrase "long, strange road" existed, it likely would feature an image from Myst Online. The fantasy MMORPG began its checkered life as the multiplayer component of 2003's Uru: Ages Beyond Mist before being scrapped and subsequently revived by GameTap in 2007.
Myst Online goes open source (again)
Features - The Design of Free-To-Play Games: Part 1
When we talk about free-to-play games, we are not talking of a new genre, but instead of a deep revolution that is affecting most aspects and actors of the game industry: marketing, publishing, hardware manufacturers, and of course, designers and developers.
En Masse delaying TERA launch to 2012 [Updated]
Features - The Replay Interviews: Rich Vogel
gamersfirst-announces-first-unity-3d---based-mmorpg-hailan-rising-117140168
Salem, le MMORPG de la mort
News Detail
On parle de MMO sur Facebook