Fasr
Tumblr Fashion Blog
Katy Brand as Beyonce gets through to the Let's Dance for Sport Relief final
Vivekananda Speech At chicago in Sept 11, 1893
Martin Luther King's Speech: 'I Have a Dream' - The Full Text
By The Rev. MARTIN LUTHER KING Jr. Aug. 28, 1963 I am happy to join with you today in what will go down in history as the greatest demonstration for freedom in the history of our nation. Five score years ago, a great American, in whose symbolic shadow we stand signed the Emancipation Proclamation. This momentous decree came as a great beacon light of hope to millions of Negro slaves who had been seared in the flames of withering injustice.
M artin L uther K ing , J r . I Have a Dream delivered 28 August 1963, at the Lincoln Memorial, Washington D.C. Video Purchase Audio mp3 of Address [AUTHENTICITY CERTIFIED: Text version below transcribed directly from audio. (2)]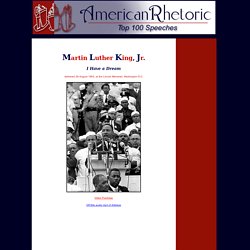 Martin Luther King, Jr. - I Have a Dream
Trolley problem
The trolley problem is a thought experiment in ethics , first introduced by Philippa Foot in 1967, but also extensively analysed by Judith Jarvis Thomson , [ 2 ] [ 3 ] Peter Unger , [ 4 ] and Frances Kamm as recently as 1996. [ 5 ] Outside of the domain of traditional philosophical discussion, the trolley problem has been a significant feature in the fields of cognitive science and, more recently, of neuroethics . It has also been a topic on various TV shows dealing with human psychology. [ citation needed ] The general form of the problem is this: Person A can take an action which would benefit many people, but in doing so, person B would be unfairly harmed.