Fashion sewing instruction
Gordita and the Compensator. Dixie DIY. We got this new One Yard Wonders book in stock at the store a couple weeks ago.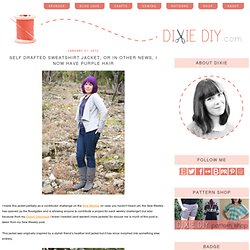 At first I thought it was just an updated version of the original book but then I took a closer look. I finally decided to buy it because so many of the projects piqued my interest. This new book is in the same vein as the old one - 101 projects all using just one yard of fabric (plus other notions like buttons, zippers, interfacing, of course). This book is different not only because it includes projects for 9 types of fabric but also because it's so thick! Vintage Details: Surface Cording Tutorial. One of the proudest moments for any sewist is finally flaunting the creation that so much time, energy, and love went into making.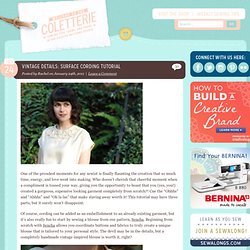 Who doesn't cherish that cheerful moment when a compliment is tossed your way, giving you the opportunity to boast that you (yes, you!) Created a gorgeous, expensive looking garment completely from scratch?! Cue the "Ohhhs" and "Ahhhs" and "Oh la las" that make slaving away worth it! This tutorial may have three parts, but it surely won't disappoint. Of course, cording can be added as an embellishment to an already existing garment, but it's also really fun to start by sewing a blouse from our pattern, Sencha. Making of the Form Part 3 of 4 – The Stand. You can find everything you need for the stand at your local hardware supply store.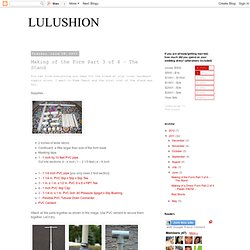 I went to Home Depot and the total cost of the stand was $22. Supplies... 2 inches of wide VelcroCardboard a little larger than size of the form baseMasking tape1 - 1 inch by 10 feet PVC pipeCut into sections: 4 - 4 inch | 1 – 2 1/3 feet | 4 – 8 inch Attach all the parts together as shown in the image. Use PVC cement to secure them together. Let it dry. Clone Yourself A Fitting Assistant. David Coffin Duct-tape dress form (above) uses ordinary duct-tape as both the body-casting material and the final form.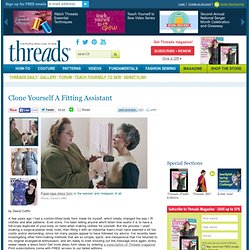 Another version of this Duct-tape dress form (not shown) is a bit more difficult but produces a closer fit. Check out this updated method for creating the ultimate fitting assistant. Teach Yourself to Sew 2 - Make Your Own Dress Form: Part 1. Learn how to make your own duct-tape dress form in this episode from Teach Yourself to Sew, Season 2.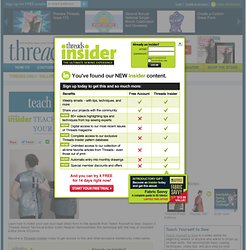 Threads Senior Technical Editor Judith Neukam demonstrates this technique with the help of Assistant Editor Annie O'Connor. Become a Threads Insider today to get access to this and other exclusive Insider-only video series. Become an Insider and enjoy unlimited access to: All-time favorite articles from Threads Special Insider discounts and offers Digital access to our most recent issues And so much more! Off The Cuff ~Sewing Style~ | Share on LinkedIn. Fun with Fitting - SKIRTS.
---