Writing
The Best 100 Opening Lines From Books / Life / Stylist Magazine. Chosen by: Clare Balding "It was the best of times, it was the worst of times, it was the age of wisdom, it was the age of foolishness, it was the epoch of belief, it was the epoch of incredulity, it was the season of Light, it was the season of Darkness, it was the spring of hope, it was the winter of despair, we had everything before us, we had nothing before us, we were all going direct to Heaven, we were all going direct the other way."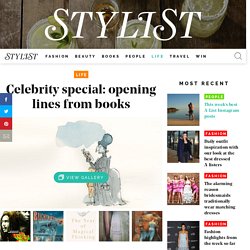 A Tale Of Two Cities, Charles Dickens.
Reference
iTools - use the best tools. Inspiration. 10 Ways Journaling Makes You a Better Writer « Live to Write – Write to Live. Journaling is a self-indulgent, narcissistic waste of time.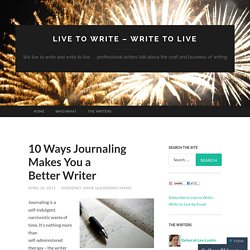 It's nothing more than self-administered therapy – the writer simultaneously on the couch and in the psychiatrist's chair, endlessly picking apart the minutiae of her life to no good end. Time would be better spent alphabetizing the spice cupboard. I disagree. I have kept journals on and off since I was seven years old. My entries have ranged from copies of Shakespeare's poems to what I did today to philosophical musings to documentation of the soap opera antics of the teenage years.
Blogging
---