Decor
Get flash to fully experience Pearltrees
While looking through etsy the other day, this wonderful shop caught my eye http://www.etsy.com/shop/theshophouse?ref=seller_info . I seem to be drawn to old books used in interesting ways these days. Perhaps it's my subconscious attempting to prepare me to return to school in the next few days. Ahhh, but let's not think about that, let's look at all of these wonderful things that can be made from old books, instead of discarding them.
For a while now I have wanted to make an art piece of my own to place above our humble dining room table. The problem? I am no artist. That's right, sometimes crafty girls cannot paint or draw.. or it may just be me. Either way, I have created a fabulous piece of "art" using scrapbook paper, ribbon, fabric, cardstock, embellishments, and any other scraps you have laying around the house. It's beautiful and sophisticated, and I didn't have to use a paint brush!
Do you like my super creative title for this post? Today I'm going to share with you my wall of empty frames. I stole this idea from The Nester who made a similar one on the wall to the side of their stairs.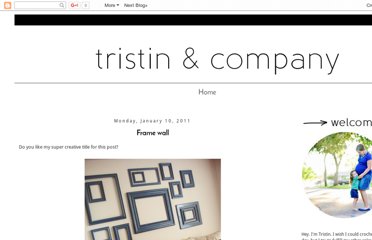 For less than $10 you can make a one-of-a-kind lamp that commemorates your personal history or other past events. Creative lighting aside, this quick project also finally finds a use for those old 35mm negatives you have lying around. This DIY lamp project couldn't be much more straightforward. Basically, you coat a $7 Ikea Grono lamp (or other similar lamp), with Mod Podge (or other decoupage glue) and carefully place your strips of negatives onto the lamp.