Stale deserts
Miascia (italian cake made by stale bread and fruits) - Half Hour Meals - Recipes For Your Lifestyle!
Home >> Recipes Swiss mountain peasant dish to turn rock hard stale rye bread into a delicious dessert called sii. Valaisian rye bread is one of the most typical and beloved food specialties of the Swiss canton of Valais, home of Zermatt and the Matterhorn. It is made from Alpine rye and wild yeasts and is a compact, slightly sour bread. Nowadays it is very much sought after by gourmets and usually eaten in very thin slices. But back in the days, Valaisian farmers like my grandma made this rye bread because rye was pretty much the only grain that would grow on the poor soil on Alpine fields.
Swiss Rock-Hard Stale Bread Cream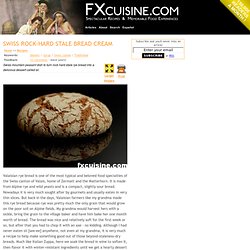 Bread Crumb Carrot Cake | Wild Yeast
The first time you make this cake, you will look at the batter and think, "This is so wrong." I say "the first time" because — if you can get get past the thick, chunky, curdled, doesn't look like-any-cake-I-ever-saw quality of the batter (for want of a better word), if you trust me that your oven will work a miracle and turn this highly questionable stuff into a delightfully moist and toothsome cake — my bet is that there will be a second time. Part of the reason for the wacky batter is that the "flour" in this cake is not flour at all, but fine, dry crumbs made from my favorite sourdough bread . I have been experimenting with replacing flour with crumbs in different recipes, with mixed results. This is my favorite to date.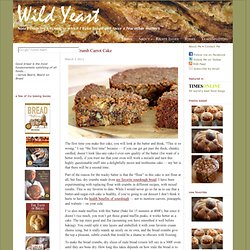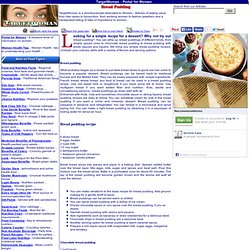 Bread Pudding
Looking for a simple recipe for a dessert? Why not try out bread pudding ? You can whip up bread puddings of different kinds, from simple spiced ones to chocolate bread pudding to bread pudding with exotic sauces and liquers. We bring you simple bread pudding recipes .
Explore our growing cookbook of DIY projects for the workshop, kitchen , garage, and backyard. Learn new skills, find family fun , build a robot or a rocket . Get started in electronics and use new platforms like Raspberry Pi and Arduino to power your inventions. Get inspired and start making something today. Welcome to the new Make: Projects!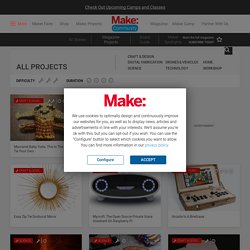 Apple Pan Charlotte
7 people like this article Click a Star to Rate This Recipe Serves 6 | Hands-On Time: 1hr 05m | Total Time: 1hr 40m Directions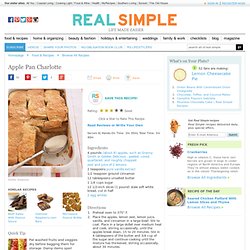 Bread pudding recipes were developed when food was hard to come by and cooks needed to utilize every scrap. Bread pudding was a way to make stale bread taste fine and dandy. It has been around for centuries and there are innumerable ways to jazz it up, including adding fruit, nuts, and even a drop or two of whiskey or other strong liqueur. In the past, bread pudding recipes tended to be a fairly bland dessert and, in the 19th century (and even before), it was popular as a sickroom staple.
Bread Pudding Recipes | LoveToKnow
Stale Bread Recipes - Recipe for Bread Pudding with a Limousin Twist
To serve Serve with hot or cold custard, creme fraiche, cream or ice cream. At Christmas you could serve it with rum or brandy butter or rum sauce. In the image at the top of the page, I've decorated it with sugared flowers which are edible and add a certain talking point to the dish. Sugared Flower Recipe Variations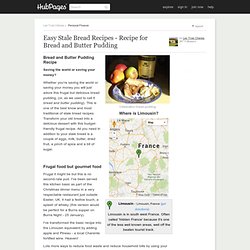 Bread Pudding Recipes
A variety of bread ppudding recipes, including bread pudding with bourbon sauce, old-fashioned bread pudding, and crockpot bread pudding. This flavorful bread pudding is made with raisin bread and flavored with coconut and spices, along with vanilla and brown sugar. Add a caramel sauce or vanilla sauce to this great tasting bread pudding. This delicious blueberry bread pudding is made with eggs, milk, fresh blueberries, and torn bread. Try this recipe for tasty blueberry bread pudding -- your family will love it. This is a homey, country style dessert.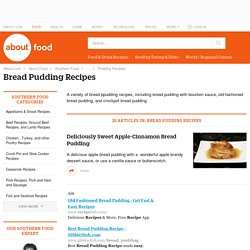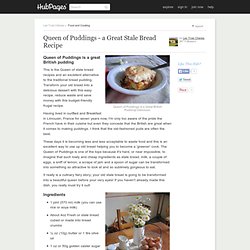 Preheat the oven to gas mark 4, 180° or 360°F Bring the milk to the boil. Meanwhile, dice the bread into half-centimeter cubes, or make into breadcrumbs. I leave on the crusts.
Queen of Puddings - Stale bread recipe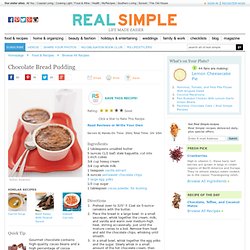 16 people like this article Click a Star to Rate This Recipe Serves 6 | Hands-On Time: 20m | Total Time: 1hr 10m Directions Preheat oven to 325° F. Coat six 5-ounce ramekins with the butter.
Chocolate Bread Pudding
Apple Pan Charlotte