Stale bread
Fishing: Fishing Baits - Groundbaiting with bread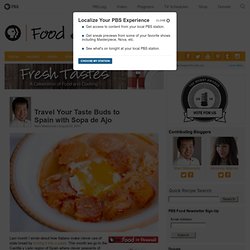 Last month I wrote about how Italians make clever use of stale bread by turning it into a salad. This month we go to the Castilla y León region of Spain where clever peasants of yore turned stale bread, garlic, and scraps of ham into a delicious soup. The beauty of this dish is that it makes for a light summer meal when you don't want to have the stove on for too long, and a hearty appetizer during winter.
Sopa de Ajo | Fresh Tastes Blog | PBS Food
Vegan Stale Bread Recipes
On the Go Meals: Patties
When out and about, it is really tempting to buy something from a takeout place. Without a table and chair, its not so comfortable always to open up a boxed lunch and eat something like a chicken thigh and salad, something messy that requires both fork and knife to eat. My husband works in a job where he doesn't get time to sit down for a meal; he often has to eat in bites while standing. Food that requires a fork and knife and is not suitable for my husband's lunch habits. I've had to come up with creative solutions for a fork free meal for my husband's lunches.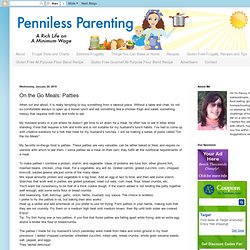 Stale Bread Pizza & Winners
I know the title of this post doesn't sound too appealing, but trust me, it was fantastic! I cut this recipe out of the NY Times months ago and the stale loaf of Sullivan Street Italian bread on the counter was begging me to make this. (I know what you're thinking, how could you let a loaf of that bread go stale?). This came out like a French bread style or Sicilian pizza. This was so delicious, I don't think I will ever be making pizza dough again! I would suggest crushing the tomatoes with your hands right over the bread and cheese instead of using a masher, as I found out later.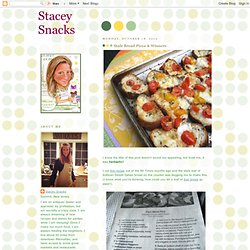 How to Make Meatballs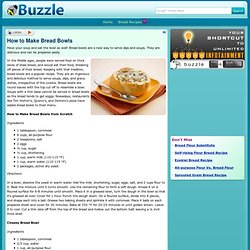 How to Make Bread Bowls
In the Middle ages, people were served food on thick slices of stale bread, and would eat their food, breaking off pieces of bread from their edible bread. Keeping with that tradition, bread bowls are a popular, new bread recipe. Bread bowls are an ingenious and delicious method to serve soups, dips and gravy dishes, irrespective of the cuisine. Bread bowls are round loaves with the top cut off to resemble a bowl.
Gazpacho (soup made with stale bread)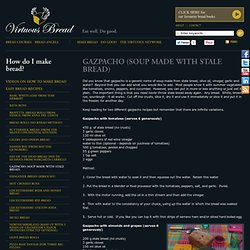 Did you know that gazpacho is a generic name of soup made from stale bread, olive oil, vinegar, garlic and water? Beyond that you can add what you would like to add. Most people know it with summer vegetables like tomatoes, onions, peppers, and cucumber. However, you can put in more or less anything or just eat it plain.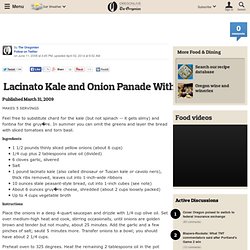 recipe detail
Place the onions in a deep 4-quart saucepan and drizzle with 1/4 cup olive oil. Set over medium-high heat and cook, stirring occasionally, until onions are golden brown and tender but not mushy, about 25 minutes. Add the garlic and a few pinches of salt; sauté 5 minutes more. Transfer onions to a bowl; you should have about 2 1/4 cups. Preheat oven to 325 degrees. Heat the remaining 2 tablespoons oil in the pot over medium heat.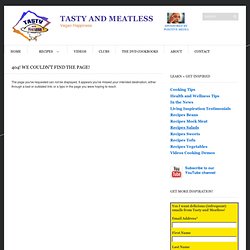 Tasty and Meatless - Recipe - Bread Stuffed Red Peppers
Bread Stuffed Red Peppers 4 red bell peppers 1 loaf stale bread or packaged stuffing cubes 1 can vegetable broth 4 cloves garlic, 1 tablespoon fresh basil, chopped 1 tablespoon fresh parsley, chopped 1 small sweet onion, chopped 1/2 cup Kalamata olives, sliced 1/4 cup sun dried tomatoes 1/4 cup oil from the sun dried tomatoes Black pepper, to taste 1/4 cup Parmesan cheese 2 tablespoons olive oil To make the stuffing, cut the stale bread in to cubes or use a packaged bread stuffing mix. Pour 3/4 of the can of vegetable broth over the bread cubes and blend with your fingers.
Altus & formula
old bread STALE BREAD
Cheese, Onion, and Bread Souffle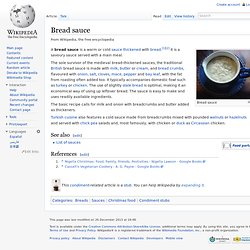 Bread sauce
Bread sauce A bread sauce is a warm or cold sauce thickened with bread.[1][2] It is a savoury sauce served with a main meal. The basic recipe calls for milk and onion with breadcrumbs and butter added as thickeners. Turkish cuisine also features a cold sauce made from breadcrumbs mixed with pounded walnuts or hazelnuts and served with chick pea salads and, most famously, with chicken or duck as Circassian chicken. See also[edit] List of sauces