India
Rishikesh Travel Information and Travel Guide - India. Ever since the Beatles rocked up at the ashram of the Maharishi Mahesh Yogi in the late '60s, Rishikesh has been a magnet for spiritual seekers.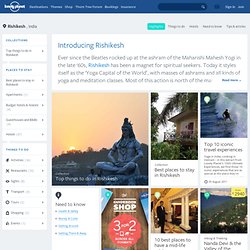 Today it styles itself as the 'Yoga Capital of the World', with masses of ashrams and all kinds of yoga and meditation classes. Most of this action is north of the main town, where the exquisite setting on the fast-flowing Ganges, surrounded by forested hills, is conducive to meditation and mind expansion. In the evening, the breeze blows down the valley, setting temple bells ringing as sadhus (spiritual men), pilgrims and tourists prepare for the nightly ganga aarti.
Yuni-Net : Yuni Net -- Practical Help in New-Delhi. Indian Railways RAC (Reservation Against Cancellation) and Indian Railways Waitlists Explained - What RAC and Waitlists mean and how to understand them for the Indian Railways - The India Travel Forum | indiamike.com. By happysnapper999 Update: The Advance Reservation Period is currently 60 days instead of the 90 days as mentioned in gthe explanation below.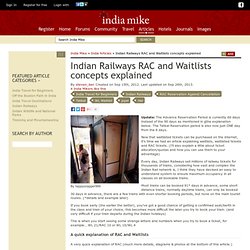 The Tatkal Reservation period is also now just ONE day from the 6 days. Now that waitlisted tickets can be purchased on the internet, it's time we had an article explaining waitlists, waitlisted tickets and RAC tickets. Train travel in India - a beginner's guide. Getting around India by train...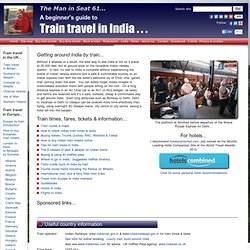 Without a shadow of a doubt, the best way to see India is not on a plane at 35,000 feet, but at ground level on the incredible Indian railway system. In fact, no visit to India is complete without experiencing the bustle of Indian railway stations and a safe & comfortable journey on an Indian express train with the tea seller's welcome cry of 'Chai, chai, garam chai' coming down the aisle. You can safely forget media images of overcrowded suburban trains with people sitting on the roof. On a long distance express in an AC Chair car or an AC1 or AC2 sleeper, all seats and berths are reserved and it's a safe, civilised, cheap & comfortable way to get around India.
Dehradun Shtbdi Schedule, Route, Map - Delhi to Dehradun train. Things to Do in Rishikesh - Rishikesh Attractions. Learn India. Escape from Delhi. Long time no post in this thread, but since the last one was unanswered, here's my info: Sultanpur National Park That's correct, it's 15 km from the centre of Gurgaon (Fountain Chauk).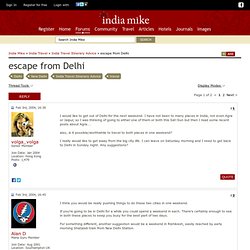 Leaving Gurgaon, one heads south to Pataudi Chauk, from where the left-hand road goes to Pataudi, the road ahead goes to Sultanpur. Coming from Delhi though, there is an easier, shorter and less congested way to get there via NH 8 (Jaipur Highway). The Haryana Tourism hotel is right next to the lake area, separated by a fence. Nainital travel guide. Nainital, Uttarakhand, India [1] is one of the most popular hill stations of India.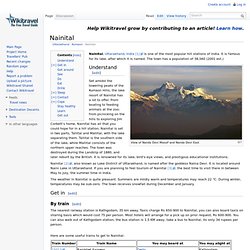 It is famous for its lake, after which it is named. The town has a population of 38,560 (2001 est.) View of Nanda Devi Massif and Nanda Devi East Understand[edit] Set amidst the towering peaks of the Kumaon Hills, the lake resort of Nainital has a lot to offer. Mountain Quail Lodge | Mountain Quail Lodge Pangot | Mountail Quail Pangot | Lodge Mountain Quail | Pangot Lodge Mountain Quail. Location: From Nainital to our Lodge / Camp is approximately 12.5 kms.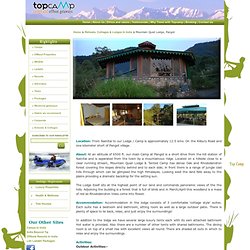 On the Kilbury Road and one kilometer short of Pangot village. About: At an altitude of 6500 ft. our main Camp at Pangot is a short drive from the hill station of Nainital and is separated from the town by a mountainous ridge. Located on a hillside close to a clear running stream, Mountain Quail Lodge & Tented Camp has dense Oak and Rhododendron forest covering the slopes directly behind and to each side; in front there is a range of jungle clad hills through which can be glimpsed the high Himalayas. Kathmandu travel guide.
Kathmandu Durbar Square Kathmandu (काठमाण्डु) [1] is the largest city and capital of Nepal and the namesake of the Kathmandu Valley.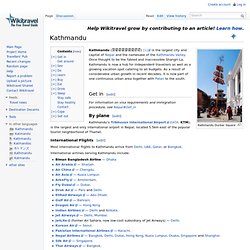 Once thought to be the fabled and inaccessible Shangri-La, Kathmandu is now a hub for independent travellers as well as a growing vacation spot catering to all budgets. As a result of considerable urban growth in recent decades, it is now part of one continuous urban area together with Patan to the south. Get in[edit] For information on visa requirements and immigration procedure, see Nepal#Get_in. Travellers' Choice Destinations Awards - Outdoor & Adventure - India. Leh travel guide.
Leh Understand[edit] Leh is located in the Indus river valley at a crossroads of the old trading routes from Kashgar, Tibet, and Kashmir.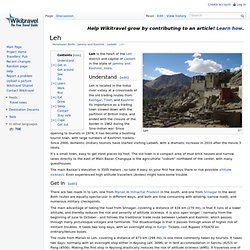 Its importance as a trading town slowed down with the partition of British India, and ended with the closure of the border in 1962 during the Sino-Indian war. Since opening to tourists in 1974, it has become a bustling tourist town, with large numbers of Kashmiri traders. Goa travel guide. Goa Beach Map Village scene, Goa Since the 1960s, Goa has been attracting a steady flow of visitors -- first the hippies and returning expat Goans, then the charter tourists (starting with the Germans in 1987), pilgrims visiting Catholic and Hindu shrines, those opting to settle in Goa as their home, people going for medical treatment, and a growing number of those who attend seminars and conferences in Goa.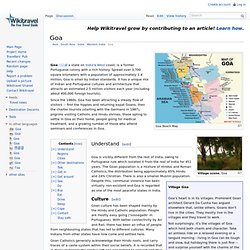 Understand[edit] Travellers' Choice Destinations Awards - Top 25 - India. Manali travel guide. Understand[edit] Manali, at the northern end of the Kullu Valley in Himachal Pradesh, is a hill station situated at a height of 2050 m (6398 ft) in the Himalayas.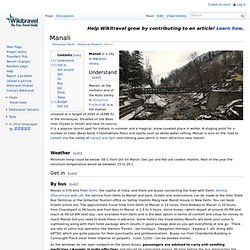 Situated on the Beas river (Vyaas in Hindi) and near its source, it is a popular tourist spot for Indians in summer and a magical, snow-covered place in winter. A staging point for a number of treks (Beas Kund, Chandrakhani Pass) and sports such as white-water rafting, Manali is also on the road to Ladakh via the valley of Lahaul and Spiti and rohtang pass which is main attraction near manali. Weather[edit] Rishikesh travel guide. Rishikesh is a small town in the northern state of Uttarakhand in India. Scenically located where the Ganges River comes down from the Himalayas, Rishikesh catapulted to Western fame when the Beatles dropped by for a visit to Maharishi Mahesh Yogi's ashram (now closed), and the town is still known as the World Capital of Yoga. Rishikesh is also the Gateway to the Himalayas. Rang7 - myIndia.
---