More sharepoint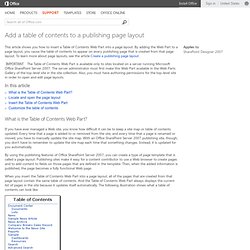 Add a table of contents to a publishing page layout - SharePoint Designer - Microsoft Office
This article shows you how to insert a Table of Contents Web Part into a page layout.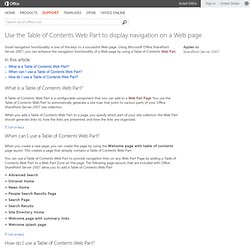 Use the Table of Contents Web Part to display navigation on a Web page - SharePoint Server - Microsoft Office
Good navigation functionality is one of the keys to a successful Web page. Using Microsoft Office SharePoint Server 2007, you can enhance the navigation functionality of a Web page by using a Table of Contents Web Part (Web Part: A modular unit of information that consists of a title bar, a frame, and content.
How to: Customize Styles
Published: May 2010 In many cases, a designer wants to preserve the look and feel of a Web page by applying certain custom styles to the page content. Doing so makes it possible to change the definition of style sheets to change the look and feel of the page now, without affecting the page content in the future. The Microsoft SharePoint Server 2010 HTML editor supports the ability for the page author to apply customized styles to the content by using a predefined list of styles that the designer provides.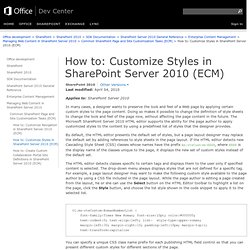 sharepoint2010 - Sharepoint 2010 Custom Webpart - Access Denied Error
Multiple Site Permissions Report Using Excel - SharePoint Administration & Development + InfoPath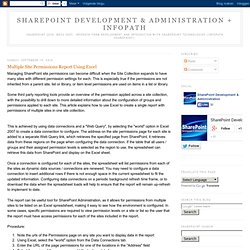 Managing SharePoint site permissions can become difficult when the Site Collection expands to have many sites with different permission settings for each. This is especially true if the permissions are not inherited from a parent site, list or library, or item level permissions are used on items in a list or library.Some third party reporting tools provide an overview of the permission applied across a site collection, with the possibility to drill down to more detailed information about the configuration of groups and permissions applied to each site. This article explains how to use Excel to create a single report with permissions of multiple sites in one site collection.
Plan for large Pages libraries (SharePoint Server 2010)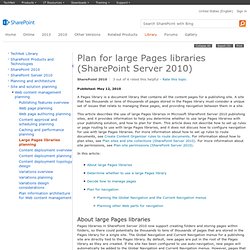 Published: May 12, 2010 A Pages library is a document library that contains all the content pages for a publishing site. A site that has thousands or tens of thousands of pages stored in the Pages library must consider a unique set of issues that relate to managing these pages, and providing navigation between them in a site. In this article:
With Microsoft Office SharePoint Server (MOSS) 2007 and Windows SharePoint Services (WSS) 3.0, we can use the Content Query Web Part (CQW or CQWP) to display SharePoint content from another source on a SharePoint page. This web part is rather nifty and one of my new favorite things about MOSS 2007.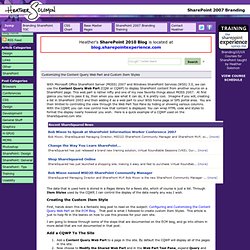 Customizing the Content Query Web Part and Custom Item Styles
Table of Contents Web Part | University Web Services
Table of Contents webpart 50 site limit - SharePointProConnections - forums - SharePoint Archives (early versions of SharePoint) - Sharepoint Portal Server (SPS) Admin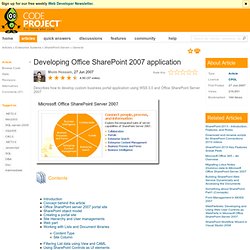 Developing Office SharePoint 2007 application
Microsoft Windows SharePoint services (aka WSS) and Microsoft Office SharePoint Server 2007, are two magnificent technologies in the current web programming world.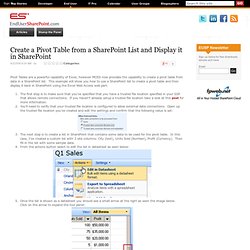 Page Content
Create a Pivot Table from a SharePoint List and Display it in SharePoint | EndUserSharePoint.com
JavaScript - Table of Contents
Web Content Accessibility Guidelines 1.0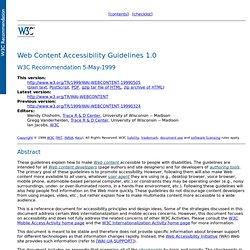 W3C Recommendation 5-May-1999
Tomblog » Blog Archive » SharePoint Branding Issues: Table Of Contents WebPart
On one of my projects I had to customize the table of contents webpart. This webpart can list pages, lists and subsites of a specific site, and this in a custom organization and presentation. When using it on the default master page, it shows the content in different levels with some nice indentation applied to it.