Lightswitch
The Lightswitch Project - TippingPoint
Beth Massi - Sharing the goodness that is VB
Beth Massi - Sharing the goodness that is VB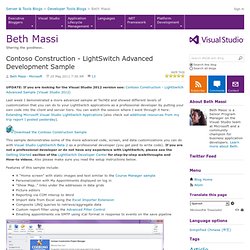 UPDATE: If you are looking for the Visual Studio 2012 version see: Contoso Construction - LightSwitch Advanced Sample (Visual Studio 2012) Last week I demonstrated a more advanced sample at TechEd and showed different levels of customization that you can do to your LightSwitch applications as a professional developer by putting your own code into the client and server tiers.
Contoso Construction - LightSwitch Advanced Development Sample - Beth Massi - Sharing the goodness that is VB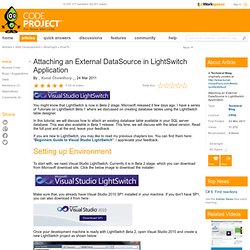 Attaching an External DataSource in LightSwitch Application
You might know that LightSwitch is now in Beta 2 stage.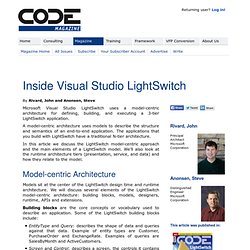 Microsoft Visual Studio LightSwitch uses a model-centric architecture for defining, building, and executing a 3-tier LightSwitch application. A model-centric architecture uses models to describe the structure and semantics of an end-to-end application. The applications that you build with LightSwitch have a traditional N-tier architecture. In this article we discuss the LightSwitch model-centric approach and the main elements of a LightSwitch model. We'll also look at the runtime architecture tiers (presentation, service, and data) and how they relate to the model.
Inside Visual Studio LightSwitch