Lightswitch
The Lightswitch Project - TippingPoint. Beth Massi - Sharing the goodness that is VB. Beth Massi - Sharing the goodness that is VB. Contoso Construction - LightSwitch Advanced Development Sample - Beth Massi - Sharing the goodness that is VB. UPDATE: If you are looking for the Visual Studio 2012 version see: Contoso Construction - LightSwitch Advanced Sample (Visual Studio 2012) Last week I demonstrated a more advanced sample at TechEd and showed different levels of customization that you can do to your LightSwitch applications as a professional developer by putting your own code into the client and server tiers.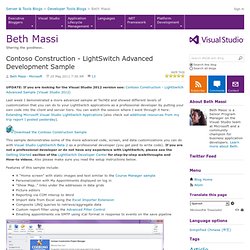 You can watch the session where I went through it here: Extending Microsoft Visual Studio LightSwitch Applications (also check out additional resources from my trip report I posted yesterday). Download the Contoso Construction Sample This sample demonstrates some of the more advanced code, screen, and data customizations you can do with Visual Studio LightSwitch Beta 2 as a professional developer (you get paid to write code).
Attaching an External DataSource in LightSwitch Application. You might know that LightSwitch is now in Beta 2 stage.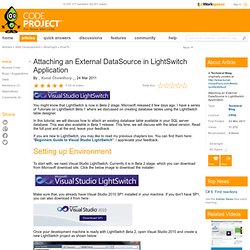 Microsoft released it few days ago. I have a series of Tutorials on LightSwitch Beta 1 where we discussed on creating database tables using the LightSwitch table designer. In this tutorial, we will discuss how to attach an existing database table available in your SQL server database. This was also available in Beta 1 release. Inside Visual Studio LightSwitch. Microsoft Visual Studio LightSwitch uses a model-centric architecture for defining, building, and executing a 3-tier LightSwitch application.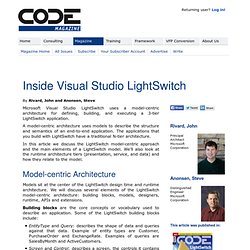 A model-centric architecture uses models to describe the structure and semantics of an end-to-end application. The applications that you build with LightSwitch have a traditional N-tier architecture. In this article we discuss the LightSwitch model-centric approach and the main elements of a LightSwitch model. We'll also look at the runtime architecture tiers (presentation, service, and data) and how they relate to the model.
---