F
SharePoint Library Episode 3: SharePoint and JQuery  | SharePoint Legacy
Marshall Fu - Toronto SharePoint Users Group (Toronto, ON
When Rasmus Lerdorf first put PHP together, he - quite sensibly, despite his heritage - chose not to write it in Greenlandic or Danish. Good job too - that would have been rather unpleasant to work with. He opted instead, being in Canada at the time, for the local tongue. No, not French - that bastard dialect of the Queen's English commonly referred to as "US English" 1 . PHP developers in Britain have been grumpy about this ever since. What was he thinking?
If PHP Were British - Added Bytes by Dave Child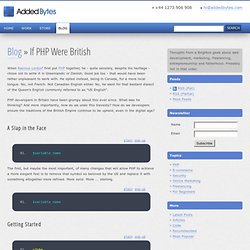 VS2010 and Agile Best Practices - Session Schedule
Get free trial access to Izenda reports!
An Ad Hoc Solution that Actually Works. "For a small company with a handful of developers, it would take almost 2 years to build this kind of functionality, and with Izenda it was literally plug-and-play." -Dan Axman - Special Projects Manager TicketReturn, LLC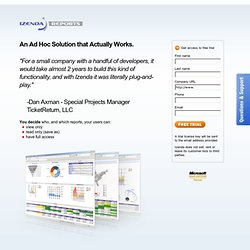 The Xamarin.Android installer will automatically detect, download, and install any components required for completing the installation. This tutorial examines the installation and configuration steps required to install the Xamarin platform and to get our development environment set up, including: Downloading the Installer Running the Installer Configuring our IDE Configuring any Additional Emulators Your first step is to download the Xamarin unified installer, which can be found at http://www.xamarin.com/Download : If you've purchased Xamarin.Android, follow the download instructions in the e-mail you received with your purchase. The installer steps are as follows: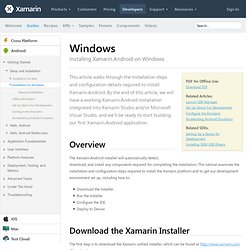 Visual Studio - Mono for Android
Visual Studio and .NET Framework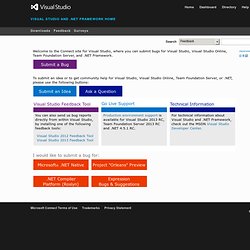 Welcome to the Connect site for Visual Studio, where you can submit bugs for Visual Studio, .NET Framework, and Silverlight. If you have ideas for future versions of these tools and technologies, you can submit them at the Visual Studio and Silverlight UserVoice sites. If you are submitting feedback for Visual Studio LightSwitch, please use the LightSwitch Connect site . Visual Studio 2012 Feedback Visual Studio 2012 Feedback tool is now available, have you tried filing bugs with it?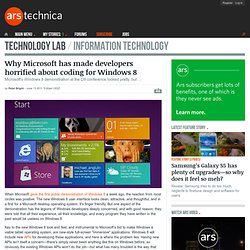 Why Microsoft has made developers horrified about coding for Windows 8
When Microsoft gave the first public demonstration of Windows 8 a week ago, the reaction from most circles was positive. The new Windows 8 user interface looks clean, attractive, and thoughtful, and in a first for a Microsoft desktop operating system, it's finger friendly. But one aspect of the demonstration has the legions of Windows developers deeply concerned, and with good reason: they were told that all their experience, all their knowledge, and every program they have written in the past would be useless on Windows 8. Key to the new Windows 8 look and feel, and instrumental to Microsoft's bid to make Windows a viable tablet operating system, are new-style full-screen "immersive" applications. Windows 8 will include new APIs for developing these applications, and here is where the problem lies.
unnamed pearl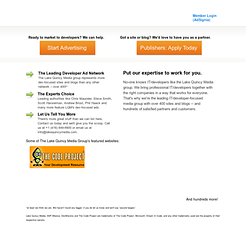 Put our expertise to work for you. No-one knows IT/developers like the Lake Quincy Media group. We bring professional IT/developers together with the right companies in a way that works for everyone. That's why we're the leading IT/developer-focused media group with over 400 sites and blogs -- and hundreds of satisfied partners and customers.
One of our favorite acronyms is ditching another one: Hewlett-Packard wants to spin off its personal computers division in a dramatic move. Whatever the means—spin-off, direct sale, or "other transaction"—HP is done with this low-profit market. Yes, that announcement comes from the current leader in worldwide PC sales. Speaking of the commodity PC business during today's earnings call, HP CEO Leo Apotheker said "continuing to execute in this market is no longer in the interest of HP and its shareholders."
Does Apotheker need an apothecary? Why HP is exiting the PC business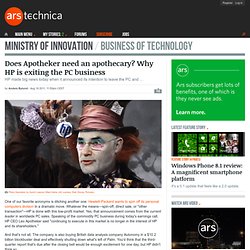 Pirates have been selling Windows 7 on the black market long before the operating system was officially released on October 22, 2009 . That said, as far we can tell, it's a first to see Windows 7 being sold illegally on USB drives, the selling point being that they work much faster than DVDs. In China, Netac U208 8GB USB drives preloaded with Windows 7 are being sold for 98 yuan, or about $14, according to the Chinese website 163 (via the German website WinFuture ). Here are two translations of the Chinese text.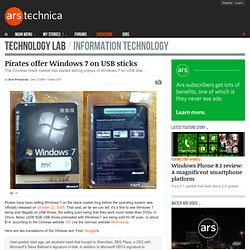 Pirates offer Windows 7 on USB sticks
Calendar
To moisturize the skin, the product or service has thistle, cocoa butter and calendula which might be portion of its formulation. Pores and skin eruptions and pimples also are prevented alongside when using the tightening of pores and skin pores by incorporating pure astringents like rose drinking water, manuka oil and cranerry seed extract. Various various critical oils like neroli, jasmine, juniper and rose that have therapeutic and therapeutic or antiseptic powers are also included to take care of a lot of skin linked concerns. Persons with usual to dry skin can dab on a few of their Geranium and Thistle Natural Moisturizer adopted by mouth watering and conditioning, Bergamot Orange Organic and natural Lip balm to keep the lips supple.
MindLab Page
Let Your Career Take Flight - Join TSA Our people are committed Federal Employees who are highly skilled and trained. Our professional workforce is second to none in keeping both Americans and those who visit us safe and secure as they travel throughout the country. TSA is looking for dedicated individuals to join our team to help us accomplish our mission and those who are interested in: Stability of a Government Job Ensuring National Security Helping People Competitive Pay and Benefits Career Growth Opportunities Diverse Workforce Fast-paced Job Choose the Right Career at TSA
TSA Jobs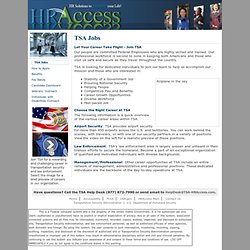 unnamed pearl
Our intent with these Gallery page items is to give ya'll some ideas for a few of the things that can be done using slices from our "CHOP-m-STIX"©. The samples are not really exaustive, but we hope they will give your imagination a little boost and start those creative juices flowing. NOTE: Unless otherwise stated - the following graphics are of 1/12th scale miniatures. BRAND NEW (12/00) - Just in time for CHANUKAH - DREIDL Sticks & STAR of DAVID Sticks - in S, M, & Lg. - (the scan is darker than actual - the darkest set is really chocolate brown) available in Sugar Cookie, Lt.Gingerbread, Dk.Gingerbread/Chocolate, & Glow-in-the-Dark or Special Order. HAPPY CHANUKAH & BEST WISHES for a BLESSED HOLIDAY SEASON CLICK HERE to Send a CHANUKAH - DREIDL E-Greeting, Play the DREIDL Game, & Hear the DREIDL Song
v3.0 Info Buy Awards Shareware ($3181.00) Windows 7, Vista
Sharepoint Forms Bundle for Windows 7, Vista published by KwizCom - Forte downloads
Agile Software Development: A gentle introduction.
:: CODE Magazine - Online Content ::
fullcalendar - jQuery project
Visual Studio 2008 SP1 Beta is now available! You can download it here (though before you do, read the note below). In SP1, we have added some new features as well as many bug fixes.
Visual Studio 2008 SP1 Beta - Visual Web Developer Team Blog
ProDinner - ASP.NET MVC EF4.1 Code First SOLID N-Tier Arch jQuery Sample App - Download: fifth ( the assistant and drag drop ajax upload )
Building N-Tier Apps with EF4
Generic Covariance and Contravariance in C# 4.0
Building a Joomla component using Eclipse for PHP
F# for Visualization
Sudoku solver in F#