Android
Android Google Maps Tutorial. The Android platform provides easy and tight integration between Android applications and Google Maps.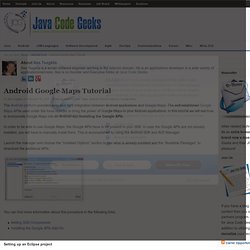 The well established Google Maps APIis used under the hood in order to bring the power of Google Maps to your Android applications. In this tutorial we will see how to incorporate Google Maps into an Android app.Installing the Google APIs In order to be able to use Google Maps, the Google APIs have to be present in your SDK. In case the Google APIs are not already installed, you will have to manually install them. This is accomplished by using the Android SDK and AVD Manager. Maps External Library - Google Projects for Android. Location API and Google Maps in Android. 2.1.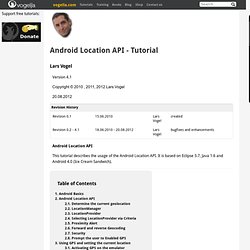 Determine the current geolocation Most Android devices allow to determine the current geolocation. PHP Development Tools (PDT) - Downloads. PDT Developer Builds To install PDT developer builds, open "Help -> Install New Software" in Eclipse and enter following URL: you use Eclipse Juno) or you use Eclipse Kepler dev. builds) Those are most frequent builds with most up-to-date PDT.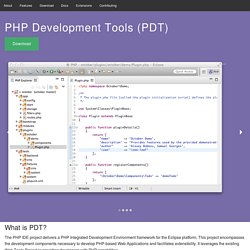 Only builds that passed all our unit tests are published here, but still they might be unstable sometimes, so be aware. Downloads. If you like Xdebug, please consider giving a"donation".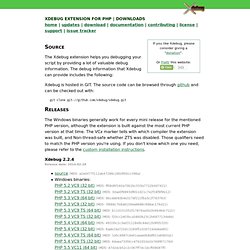 Or Flattr this website: Source The Xdebug extension helps you debugging your script by providing a lot of valuable debug information. The debug information that Xdebug can provide includes the following: Xdebug is hosted in GIT. Google Map View. Note: Version 1 of the Google Maps Android API has been officially deprecated as of December 3rd, 2012.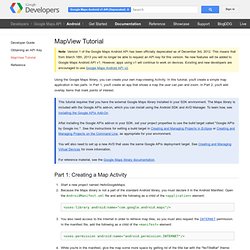 This means that from March 18th, 2013 you will no longer be able to request an API key for this version. No new features will be added to Google Maps Android API v1. However, apps using v1 will continue to work on devices. Existing and new developers are encouraged to use Google Maps Android API v2. How To Create Android Live Wallpaper. Introduction Starting with Android 2.1.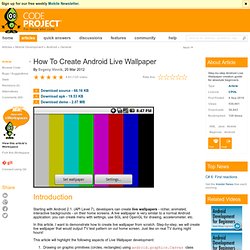 (API Level 7), developers can create live wallpapers - richer, animated, interactive backgrounds - on their home screens. A live wallpaper is very similar to a normal Android application: you can create menu with settings, use SGL and OpenGL for drawing, accelerometer, etc. In this article, I want to demonstrate how to create live wallpaper from scratch. Welcome to The Apache Software Foundation! Installing Applications on android from your computer. Executables will have an .apk extension (apk – android package) We have to change the following settings for installing .apk files from your computer.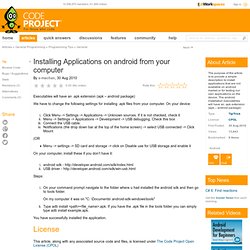 On your device: Click Menu -> Settings -> Applications -> Unknown sources. Minesweeper - Minesweeper game for Android. Download source - 1.15 MB Contents Introduction Minesweeper is a single player game.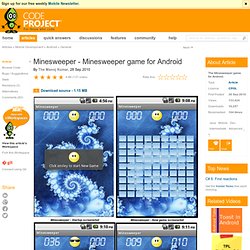 MVVM in Android. MVVM in Android MVVM stands for Model-View-ViewModel, which is a pattern widely adopted in Microsoft WPF and Silverlight.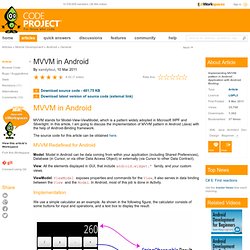 In this article, I am going to discuss the implementation of MVVM pattern in Android (Java) with the help of Android-Binding framework. The source code for this article can be obtained here. Android - A beginner's guide. Introduction This tutorial is a starting point for developing Android apps.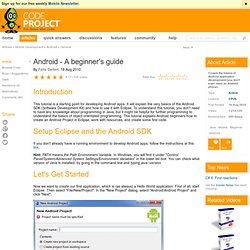 It will explain the very basics of the Android SDK (Software Development Kit) and how to use it with Eclipse. Eclipse IDE Tutorial. Copyright © 2007, 2008, 2009, 2010, 2011, 2012, 2013 Lars Vogel Eclipse Java IDE This tutorial describes the usage of Eclipse as a Java IDE. Android Development Tutorial - Gingerbread. 1.1. The Android operating system Android is an operating system based on the Linux kernel. Managing Projects from Eclipse with ADT. Eclipse and the ADT plugin provide GUIs and wizards to create all three types of projects (Android project, Library project, and Test project): An Android project contains all of the files and resources that are needed to build a project into an .apk file for installation.
You need to create an Android project for any application that you want to eventually install on a device. You can also designate an Android project as a library project, which allows it to be shared with other projects that depend on it. Downloads. Eclipse - The Eclipse Foundation open source community website. Android 2.2 and developers goodies. Today at Google I/O we announced that Android 2.2 is right around the corner. This is our seventh platform release since we launched Android 1.0 in September 2008. We wanted to highlight five areas in particular: Performance & speed: The new Dalvik JIT compiler in Android 2.2 delivers between a 2-5X performance improvement in CPU-bound code vs.
Android 2.1 according to various benchmarks. SDK. Before installing the Android SDK, you must agree to the following terms and conditions. This is the Android Software Development Kit License Agreement 1. Introduction 1.1 The Android Software Development Kit (referred to in this License Agreement as the "SDK" and specifically including the Android system files, packaged APIs, and Google APIs add-ons) is licensed to you subject to the terms of this License Agreement. Introduction to Android development : TouchCalculator. HTML Gets Hooked.
---