Vday Resources
A long, long, long time ago, Valentine's Day wasn't just about candy hearts and red roses (shocking, we know). Feb. 14 actually celebrates a historic, and somewhat tragic event steeped in religious controversy. Saint Valentine — the original romantic — gave significance to the holiday, now known more for its Hallmark value. But back in the day, Valentine was just a man who really believed in love and marriage.
An Animated History of Valentine's Day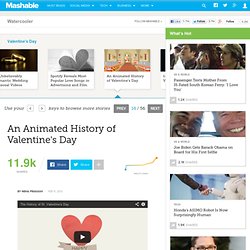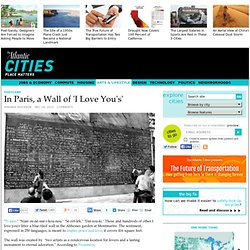 In Paris, a Wall of 'I Love You's' - Arts & Lifestyle
"Ti amo." "Nian'-ni-né-sné-i-kou-nou." "Sé-rèt-lèk." "Daï-sou-ki." Those and hundreds of other I love you's litter a blue-tiled wall in the Abbesses garden at Montmartre.
valentine's origami
This topic is currently marked as "dormant"—the last message is more than 90 days old. You can revive it by posting a reply. 1Thespian Jan 3, 2009, 11:29pm I think the subject title say's enough don't you?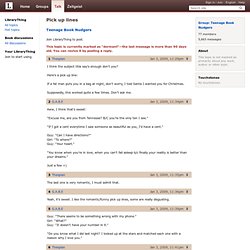 Pick up lines | Teenage Book Nudgers
Valentine's Day Lesson Ideas & Resources
February Freebies Galore!
February is such a fun month in elementary school, even in the upper elementary grades. You can do all sorts of activities with the holidays in February as well as create fun winter lessons. Learning doesn't have to be sacrificed in the name of fun, either, as you'll soon discover! Over the last few years, I've created loads of free resources for February that I'd like to share with you now. I've also invited other bloggers to link up their free February items, too.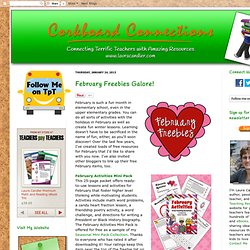 Valentine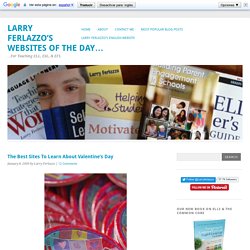 Check out my New York Times post on Valentine's Day lessons for English Language Learners! Valentine's Day is approaching, so I thought another "The Best…" list might be in order. So here are my choices for The Best Sites To Learn About Valentine's Day (that are accessible to English Language Learners, of course). They're not in any order of preference, though: Ello has a nice listening game about Valentine's Day Gift Hints.
The Best Sites To Learn About Valentine's Day
Here are some Valentine's Day themed interactive games, activities, and project ideas that you can use in your classroom for learning and for fun: Word Hearts: Use this tool to fill the heart shape with the word(s) of your choice. Then change your fonts, color, shape, and background. Heart Writing: Type or copy/paste your text into the text box. Then choose your font and font size. The writing will transformed into a heart shape that you can print or save.
InTec InSights: Technology Integration Ideas for the Classroom: Valentine's Day Interactive Games and Activities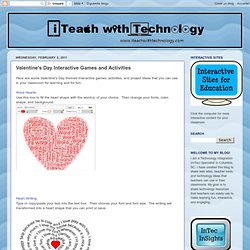 Make a Valentine with a Connecting Word
English Language Listening Lab Online - Learn English Naturally
Valentine's Day
Shrine of St. Valentine in Whitefriar Street Carmelite Church in Dublin, Ireland Saint Valentine's Day, also known as Valentine's Day or the Feast of Saint Valentine,[1] is a holiday observed on February 14 each year. It is celebrated in many countries around the world, although it is not a holiday in most of them. Saint Valentine[edit] Historical facts[edit]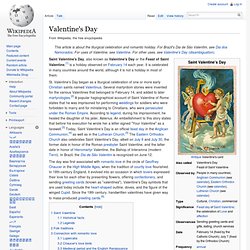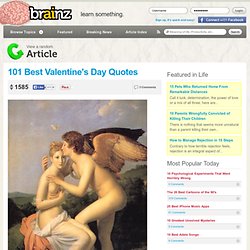 Saint Valentine's Day, better known as simply Valentine's Day, is the annual commemoration of love celebrated on February 14. Valentine's Day was created by Pope Gelasius I in 500 AD to honor the Christian martyrs named Valentine. The religious observance of the day was deleted by Pope Paul VI from the Roman calender of saints in 1969 but is still often permitted. Valentine's Day was first related to romantic love by Geoffrey Chaucer during the Middle Ages. Until the 19th century handwritten valentines were often given rather than modern mass-produced greeting cards.
101 Best Valentine's Day Quotes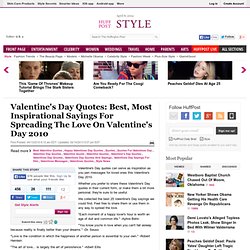 Valentine's Day quotes can serve as inspiration as you pen messages for loved ones this Valentine's Day 2010. Whether you prefer to share these Valentine's Day quotes in their current form, or make them a bit more personal, they're sure to be useful. We collected the best 25 Valentine's Day sayings we could find. Feel free to share them or use them in any way to spread the love. "Each moment of a happy lover's hour is worth an age of dull and common life." -Aphra Behn
Valentine's Day Quotes: Best, Most Inspirational Sayings For Spreading The Love On Valentine's Day 2010