Thanksgiving
Thanksgiving 2012. Prior to this blogpost, I've already left here, here and here a lot of info as well as loads of resources for teachers with different age groups and levels.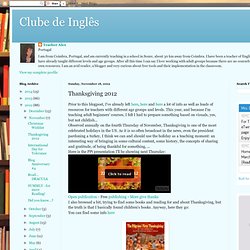 This year, and because I'm teaching adult beginners' courses, I felt I had to prepare something based on visuals, yes, but not childish... Observed annually on the fourth Thursday of November, Thanksgiving is one of the most celebrated holidays in the US. As it is so often broadcast in the news, even the president pardoning a turkey, I think we can and should use the holiday as a teaching moment: an interesting way of bringing in some cultural content, some history, the concepts of sharing and gratitude, of being thankful for something, ... Here is the PPt presentation I'll be showing next Thursday: I also browsed a bit, trying to find some books and reading for and about Thanksgiving, but the truth is that I basically found children's books. Thanksgiving Photo Cards.
Description This app allows you to create beautiful Thanksgiving photo cards using pictures from your own photo library, and personalize them using new ink technology that let's you actually write on the screen!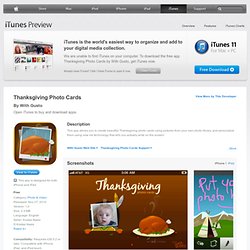 Choose from 11 incredible templates, and resize, rotate, and crop your photos for the perfect fit. ...More. SuperSites for Elementary Students / Thanksgiving Fun and Games Sites. Mrs. Ritenour's Thanksgiving Workshop. Primary History - Famous People - Pocahontas. Popup window. SuperSites for Elementary Students / Thanksgiving Fun and Games Sites. Silly Turkey. Thanksgiving Games & Activities for kids. The first Thanksgiving: Interactive storybook. Students will work in pairs or small teams to create individual book pages using the Mini Page story blocks and other historical resources, while learning that there may be different versions to every story.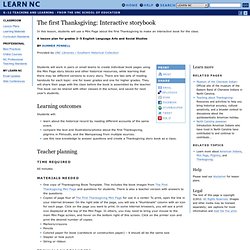 There are two sets of reading handouts for each topic: one for lower grades and one for higher grades. They will share their page with the class before the book is assembled by the teacher. This book can be shared with other classes in the school, and saved for next year's students. Learning outcomes Students will: The Pilgrims' First Thanksgiving. The Pilgrims' First Thanksgiving(and other Thanksgiving stories) The Pilgrim's First Thanksgiving by Ann McGovernOn The Mayflower by Kate WatersPilgrim Children Had Many Chores by Gina Lems TardifDid You Know?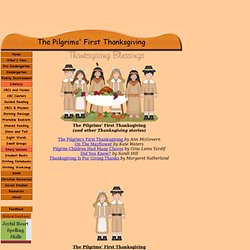 By Sandi HillThanksgiving Is For Giving Thanks by Margaret Sutherland The Pilgrims' First Thanksgiving Reading the Story: Thanksgiving on the Net - The History of Thanksgiving and its Celebrations. Thanksgiving 2011: November 24 Throughout history mankind has celebrated the bountiful harvest with thanksgiving ceremonies.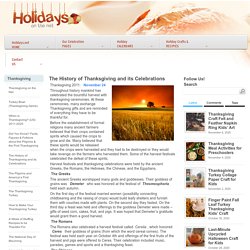 At these ceremonies, many exchange Thanksgiving gifts and are reminded of everything they have to be thankful for. Original Thanksgiving Activities for All Grades. Fed up with building pilgrim hats out of paper bags?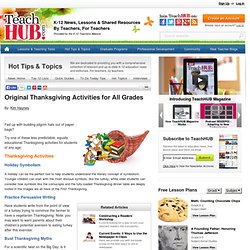 Try one of these less predictable, equally educational Thanksgiving activities for students of any age. Thanksgiving Activities Holiday Symbolism A holiday can be the perfect tool to help students understand the literary concept of symbolism. Younger children can start with the most obvious symbols, like the turkey, while older students can consider how symbols like the cornucopia and the fully-loaded Thanksgiving dinner table are deeply rooted in the images we all have of the First Thanksgiving.
Thanksgiving Sites for Teachers. Thanksgiving Sites & Activities for Language Learners. Ways to Give Back During the Holidays. This holiday make the season a little brighter for others.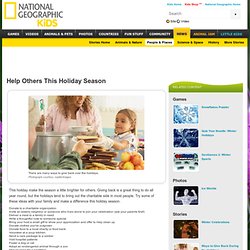 Giving back is a great thing to do all year round, but the holidays tend to bring out the charitable side in most people. Try some of these ideas with your family and make a difference this holiday season. The Cartoon Factory: Thanksgiving Diners. Funny Fill-In: Picture-Perfect Turkey Day. The Pilgrims and Me: A First Grade WebQuest: Task. The Pilgrims and Me What was life like back in the time of the pilgrims?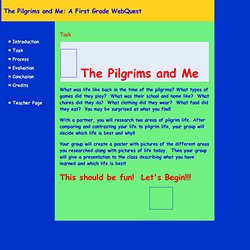 What types of games did they play? What was their school and home like? What chores did they do? What clothing did they wear? SMARTBoard and U.S. Thanksgiving Holiday Resources. Turkey Trot Custom Notebook Activity Custom Notebook activity designed to help students learn the proper steps in solving word problems.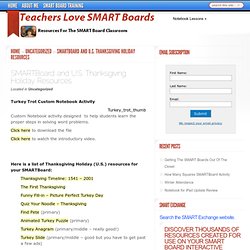 Click here to download the file Click here to watch the introductory video. Thanksgiving Crafts for Children. Keep the kids busy and productive by letting them create these Thanksgiving crafts for children.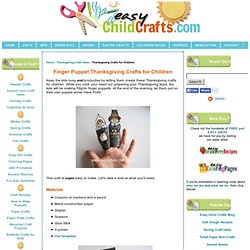 While you cook your heart out preparing your Thanksgiving feast, the kids will be making Pilgrim finger puppets. At the end of the evening, let them put on their own puppet show! Have FUN! Thanksgiving Finger Puppets: Patterns. Enhance already fun activities about Thanksgiving with these finger puppets. There is a Native American boy and girl puppet along with a Pilgrim boy and girl puppet. Students cut out patterns and then color them.
Teaching Tips. Thanksgiving Felt Board Characters. Your Guide to Thanksgiving Lesson Plans, Activities and Games. Written by: Elizabeth Wistrom • edited by: Wendy Finn • updated: 9/29/2013 Gobble, gobble, gobble! As Thanksgiving approaches, you can use this guide to select lessons and activities for use in the classroom and at home. Here, educators and parents will find something for every age and ability level. References. Thanksgiving. Thanksgiving - Free resources for Learning about The Thanksgiving Holiday. You May Think That Thanksgiving Began as... Thanksgiving. Thanksgiving is a very American holiday. It is also called Thanksgiving Day. It is celebrated on the fourth Thursday in November every year. It used to be a religious holiday to give thanks to God. There are two versions of the origins of this holiday.
The Best Sites To Learn & Teach About Thanksgiving. Thanksgiving is coming-up in a few weeks, so I thought another "The Best…" list was in order (you might also be interested in The Best Resources On "Gratitude"). As with The Best Online Resources About Christopher Columbus, pretty much all the online resources accessible to English Language Learners tell the usual and uncritical story of Europeans and Native Americans.
So the first part of this post those accessible links, while the second part lists online resources that I've found helpful to me in developing classroom lessons that try to demonstrate a Native American perspective. Here are my picks for The Best Sites To Learn & Teach About Thanksgiving (not in a strict order of preference, but with the ones I think that are most accessible listed near the top): Brainpop and Brainpop Jr. have two good Thanksgiving movies that provide closed-captioning. Unfortunately, both require registration — either as a free trial or as a paid subscription.
Thanksgiving Theme. FELT BOARD STORIES Thanksgiving Felt Boards (preschooleducation.com) NATIVE AMERICAN THEME Songs, Crafts, Links (stepbystepcc.com) Native American Lesson (hummingbirded.com) Native American Crafts for Kids Native American Resources (atozteacherstuff.com) Teaching Children About Native Americans (preschooleducation.com) The Three Sisters: A Native American Curriculum for Thanksgiving (universalpreschool.com) GAMES & PUZZLES: Thanksgiving Games & Outdoors (preschooleducation.com) Thanksgiving Games & Puzzles (dltk-holidays.com) Online Thanksgiving Games Silly Turkey Online Game (starfall.com)
Mr. Turkey, where are you? Red Stamp Cards. Not Just for Kids! Thanksgiving Games. Tom the Talking Thanksgiving Turkey - Free. Thanksgiving Games. Crossword Puzzle - Thanksgiving (Aviva Furman) I-TESL-J. Hangman. ESL Kids Thanksgiving Games & Activities. Thanksgiving Interactive Games. Let's Have a Dinner (w/ history) The First Thanksgiving: Voyage on the Mayflower. The First Thanksgiving: Virtual Field Trip Video Webcast and Letters Signup. Dear America. Thanksgiving Interactive: You are the Historian. Teachers' Guide: Becoming a Historian.
---