Classroom Management
"These aren't the droids you're looking for." -Obi-Wan Kenobi There exists a quiet cadre of teachers who can take over any classroom—out-of-control, disrespectful, or otherwise—and get the students under control, quiet, and working within minutes. They have a certain presence about them, a certain unmistakable quality or vibe that reverberates from one student to the next, signaling that business is no longer usual.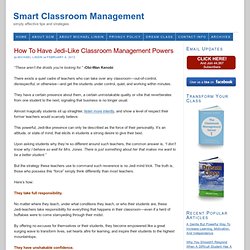 How To Have Jedi-Like Classroom Management Powers
#StuVoice Finland Shares the 'Characteristics of an Effective Teacher'
Fair, Dedicated, and Inspiring. Nice to meet you! I am Maria Puolakkainen, an outgoing high school student from Helsinki, Finland. I am a dedicated student and my principle academic interests center around politics, economics, and philosophy. I am also passionate about languages; with English and Finnish as my first languages, I am fluent in French and am a beginner in Swedish and Italian.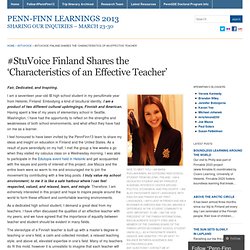 This sort of disruption can be like water torture to the teacher, that incessant symphony of pencil tapping, silly noises, poking, bogey-flicking, giggling, inappropriate flatulence, paper-passing, ruler-slapping, desk shoving, hair-pulling, and general fidgeting. Kids will be kids, and in themselves many of the above are all fairly harmless activities (though those involving bodily functions [...] If possible, please share . I would be incredibly grateful for any help you can give spreading the word.
Classroom Management Strategies | Classroom Management Strategies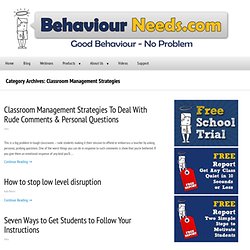 Innovative Teachers of English
Student Peter Boyce (By Charles Tsai) "It's crazy that in a system that is meant to teach and help the youth there is no voice from the youth at all." That's the opening line in a video called "If students designed their own schools," about The Independent Project, a high school semester designed and implemented entirely by students. What did it look like?
If students designed their own school… it would look like this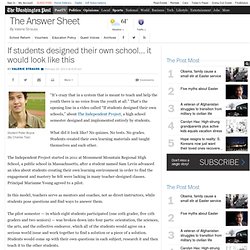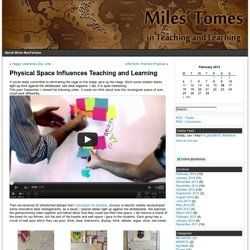 If you're really committed to eliminating the sage on the stage, give up the stage. Stick some student desks right up front against the whiteboard, see what happens. I did, it is quite interesting. This past September I viewed the following video.
Physical Space Influences Teaching and Learning - Miles' Tomes
Beep & Boop iPhone App - The Good Behavior Game by StoryBots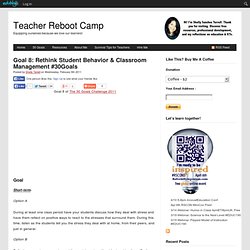 Goal 8: Rethink Student Behavior & Classroom Management #30Goals
Posted by Shelly Terrell on Wednesday, February 9th 2011 Goal 8 of The 30 Goals Challenge 2011 Goal
Goal #3: Ask a Learner #30goals
Posted by Shelly Terrell on Monday, January 30th 2012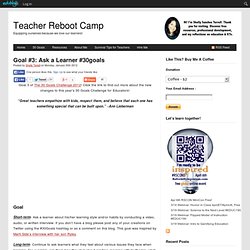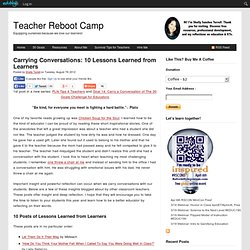 Posted by Shelly Terrell on Tuesday, August 7th 2012 1st post in a new series: PLN Tips 4 Teachers and Goal 14: Carry a Conversation of The 30 Goals Challenge for Educators "Be kind, for everyone you meet is fighting a hard battle."~ Plato
Carrying Conversations: 10 Lessons Learned from Learners
Students & Teachers - Google Docs Templates
Cup Management - The Organized Classroom Blog
My presentations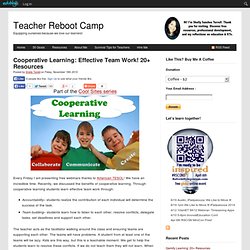 Posted by Shelly Terrell on Friday, November 19th 2010
Cooperative Learning: Effective Team Work! 20+ Resources
The Really Big List of Classroom Management Resources
Strategies Lessons Discussion Groups Books Printouts Videos Classroom Management Bulletin Boards from Amazon.com Paid Products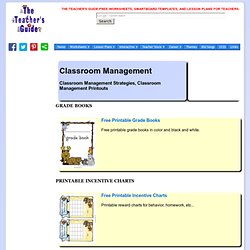 5 Effective Ways to Calm Your Students Down
Common Core Lessons & Resources Is your school district adopting the Common Core ? Work these new standards into your curriculum with our reading, writing, speaking, social studies, and math lessons and activities. Each piece of content incorporates the Common Core State Standards into the activity or lesson.
and IdeaPaint: Creating an Interactive Classroom [Video]
We're big fans of IdeaPaint , a special kind of paint that can turn anything into a dry-erase writing surface (you can read more about it here ). When you combine IdeaPaint's ability turn any wall or surface into a canvas and Evernote's ability to capture, archive and make that surface searchable, the possibilities for turning any room into an interactive environment are endless. These two products come together in a particularly exciting way in a classroom environment, which can become a more creative and engaging place to learn. When geography teacher Mike Curta reached out to us about his plans to transform his Eisenhower High School classroom using IdeaPaint and Evernote, we knew we wanted to learn more. Throughout the school year, Mike kept us updated with his progress by sending photos and email updates about the learning environment he created and the positive results he was observing.
8 Great Websites for Smart Quotations and Sayings
Quotes are a great way of adding 'a taste' to your writings.
Docs Templates