Teaching Marketing
How Social Media Marketing and Traditional Marketing are Different. Cross Creek High School - Mr. Bufford's Lesson Plans. Paper.li – Be a publisher. Words That Sell : Lesson Plans. Lesson Question: How can the Visual Thesaurus help students evaluate the messages that brand names are intended to communicate?
Applicable Grades: CST-01: The World's Thinnest Watch by Central Standard Timing. The Kickstarter campaign is over, but you can still pre-order a CST-01 on our site: centralstandardtiming.com The CST-01 is assembled by laminating thin, flexible components into a 0.5mm pocket etched into a single piece of flexible stainless steel.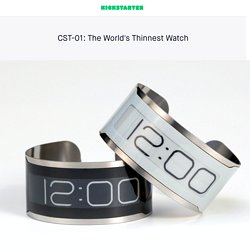 In order to make the watch as thin and minimal as possible, there are no buttons or knobs on the watch itself. Makerspace | Creating a space for young makers and educators. IDEO | A Design and Innovation Consulting Firm. How to Make Your Small Business Stand Out with These 8 Marketing Twists. Guerrilla Marketing - Lesson Plan. A series of 'off the shelf' lesson plans and resources for use in the classroom.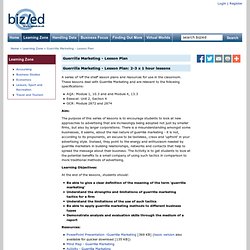 These lessons deal with Guerrilla Marketing and are relevant to the following specifications: AQA: Module 1, 10.3 and and Module 4, 13.3Edexcel: Unit 2, Section 4OCR: Module 2872 and 2874. 10 Excellent Examples of Guerrilla Marketing Campaigns [VIDEOS] Guerrilla marketing "works because it's simple to understand, easy to implement and outrageously inexpensive," says Jay Conrad Levinson, the man who coined the phrase.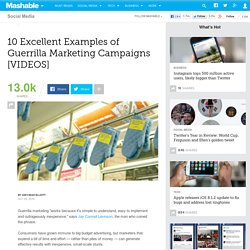 Consumers have grown immune to big budget advertising, but marketers that expend a bit of time and effort — rather than piles of money — can generate effective results with inexpensive, small-scale stunts. Take a look through our gallery of guerrilla and street marketing examples, where promotions costing no more than a few dollars can have a big impact on the consumers. Let us know which you think are the most effective in the comments below. More Marketing Resources from Mashable: - Following the Money in the Social Media Advertising Boom- How Social Media Marketers Can Convert Attention Into Action- The Future of Ad Agencies and Social Media- How Small Businesses Will Use Social Media in the Future- How Coca-Cola Created Its "Happiness Machine" [INTERVIEW] Best and Worst Marketing Ideas . . . Ever. Some marketing efforts manage to hit the ball out of the park.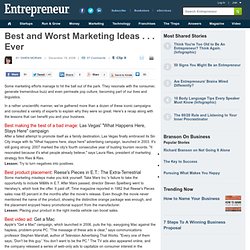 They resonate with the consumer, generate tremendous buzz and even permeate pop culture, becoming part of our lives and linguistics. In a rather unscientific manner, we've gathered more than a dozen of these iconic campaigns and consulted a variety of experts to explain why they were so great. Here's a recap along with the lessons that can benefit you and your business.
Best making the best of a bad image: Las Vegas' "What Happens Here, Stays Here" campaign After a failed attempt to promote itself as a family destination, Las Vegas finally embraced its Sin City image with its "What happens here, stays here" advertising campaign, launched in 2003. Small Business School, Inc. - Business Creativity Actually Trumps Any And All Differences. Small Business School, Inc. - Business Creativity Actually Trumps Any And All Differences. Resources :: High School Marketing and Business Plan Performance-Based Assessments. Interesting Marketing Facts | Five Interesting Marketing Facts About Sales and the Mind. Interesting Facts on Effective Internet Marketing | 20 interesting facts Reddit taught us in 2012 | Articles | Marketing. Every weekday, PR Daily associate editor Alan Pearcy highlights the day's most compelling stories and amusing marginalia on the Web in this, #TheDailySpin.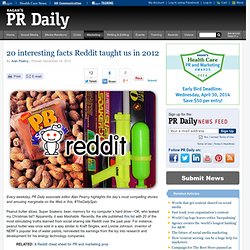 Peanut butter slices, Super Soakers, beer, memory for my computer's hard drive—OK, who leaked my Christmas list? Apparently, it was Mashable. Recently, the site published this list with 20 of the most stimulating truths learned from social sharing site Reddit over the past year. For instance, peanut butter was once sold in a way similar to Kraft Singles, and Lonnie Johnson, inventor of NERF's popular line of water pistols, reinvested his earnings from the toy into research and development for his energy technology companies. RELATED: A Reddit cheat sheet for PR and marketing pros. 9 Amazing Mobile Marketing Statistics Every Marketer Should Know. This is a guest blog post written by Jamie Turner.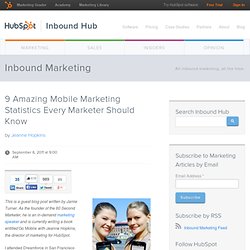 As the founder of the 60 Second Marketer, he is an in-demand marketing speaker and is currently writing a book entitled Go Mobile with Jeanne Hopkins, the director of marketing for HubSpot. I attended Dreamforce in San Francisco last week to learn about new sales and marketing tools and techniques. The hot topic this year was mobile. (4) Marketing Fun Facts. Fun Marketing Facts - Mailing Lists, Sales Leads, Direct Marketing Blog: US Data Corporation. Events have long been utilized in marketing to spread brand recognition, beliefs, or a political agenda.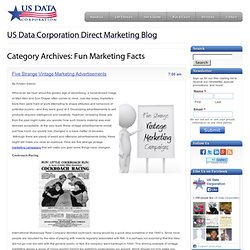 Whether one's ultimate goal is driven by dollar signs or just plain old "buzz", the awareness one achieves can make all the difference in the world (for better or worse). Presented below are 15 Over-the-Top Event Marketing Campaigns. Whether they are successful or not is immaterial. The point is they all used boldness and/or creativity to touch a specific nerve. Startup. Home. Aurasma. The Economics of Pro Sports: Why are the Cowboys and Yankees so Valuable?
Travis R. Martin, CPA, MBA. Super Bowl 2012: Best Commercials, Teasers, Ad Previews So Far [VIDEO] The 2012 Super Bowl will present a heated game between the New England Patriots led by Tom Brady and the New York Giants led by Eli Manning.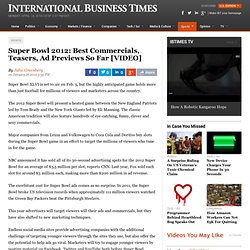 The classic American tradition will also feature hundreds of eye-catching, funny, clever and sexy commercials. Major companies from Lexus and Volkswagen to Coca Cola and Doritos buy slots during the Super Bowl game in an effort to target the millions of viewers who tune in for the game. NBC announced it has sold all of its 30-second advertising spots for the 2012 Super Bowl for an average of $3.5 million per slot, reports CNN.
You've Gotta Have a Gimmick | Lesson. Super Bowl. Entrepreneurs/Innovators. Social media. Social/business innovative webpages. Communication.
---