iPad
Bloomin' Apps. This page gathers all of the Bloomin' Apps projects in one place.Each image has clickable hotspots and includes suggestions for iPad, Google, Android, and Web 2.0 applications to support each of the levels of Bloom's Revised Taxonomy.I have created a page to allow you to share your favorite Web 2.0, iOS, or Android app with others.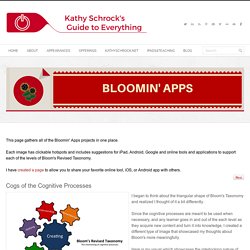 Cogs of the Cognitive Processes Option 1 I was recently reflecting on the triangular shape the Bloom's taxonomies utilize. Since the cognitive processes are meant to be used when necessary, and any learner goes up and down the categories as they create new knowledge, I was thinking another type of image might be more explanatory.Here is my draft of the idea of the "interlocking of the cognitive processes" or the "Cogs of Cognition". iPad Curriculum. Best Educational Apps for Kids. Downtime in the busy summer months probably consists of the kids playing some sort of game like Smurfs Village or Angry Birds on your smartphone.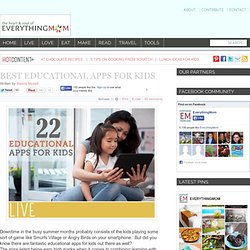 But did you know there are fantastic educational apps for kids out there as well? The apps listed below earn high marks when it comes to combining learning with fun. Using iPads in Education: Resources for teachers using iPads in the classroom. I found this great video over at iPads in Education, and I really love how well it shows the uses of iPads (or tablet computers) in the classroom. You can get some great tips about how to actually utilize the devices in your lessons. Watch how this teacher uses the iPads for so many different subject areas and classroom tasks. The 5 must have apps for a class set of iP@ds. In the next few days, I will be rolling out a class set of iPads.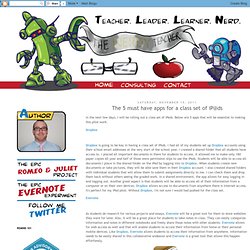 Below are 5 apps that will be essential to making this pilot work. Dropbox. Quixey - The Search Engine for Apps. iPad Resources. iPad Resources Open all links in new window More Sharing Services 0 Top Apps Review Science Apps Review Top Science Apps Review iPad Apps for High Schools iPad Apps for High Schools - 2 Bloom'in iPad Apps Tony Vincent's iPad Resources App Safari Apple Apps Recommendations iPads in the Classroom Tips for iPad Essential Tips for iPad Complete list of tips, tricks and resources Podcasts Resources iPad apps for FCS An iPad in Every Classroom iPads in Education Apps for Special Needs (by Moms) Special Education Apps Appitic - An App for Everything Education Bridging Apps (Bridgingapps) Created with MultiURL.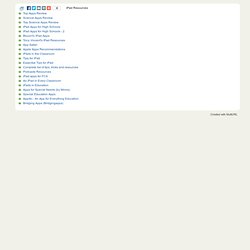 Bloom's Apps - 21nnovate. iPad. Appy Hours 4 U: Spring 2012. "Appy Hours 4 U": Spring 2012 We're back for Spring 2012!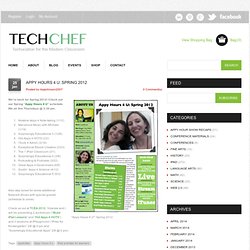 Check out our Spring "Appy Hours 4 U" schedule. We air live Thursdays @ 3:30 pm. iPads in Education - Exploring the use of iPads and mobile devices in education. iPad in education. APPitic - 1,300+ EDUapps.
---