MOOC
EdX to offer MOOCs for high school students. Dive Brief: EdX, a joint venture between Harvard and MIT, is set to be the first MOOC provider to offer an organized high school curriculum as it expands its scope beyond higher ed.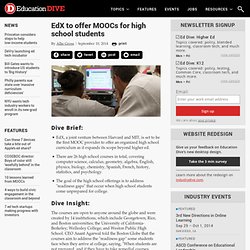 There are 26 high school courses in total, covering computer science, calculus, geometry, algebra, English, physics, biology, chemistry, Spanish, French, history, statistics, and psychology. The goal of the high school offerings is to address "readiness gaps" that occur when high school students come unprepared for college. Dive Insight: MOOCs Won't Replace Business Schools — They'll Diversify Them - Gayle Christensen, Brandon Alcorn, and Ezekiel Emanuel. Over the past few years, business school administrators — like other university officials — have been losing sleep over Massive Open Online Courses (or MOOCs), worrying that these low-cost digital alternatives will cannibalize their business model.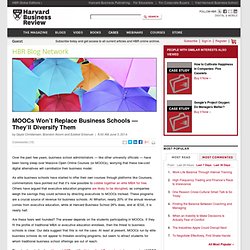 As elite business schools have started to offer their own courses through platforms like Coursera, commentators have pointed out that it's now possible to cobble together an elite MBA for free. Others have argued that executive education programs are likely to be disrupted, as companies weigh the savings they could achieve by directing executives to MOOCs instead. These programs are a crucial source of revenue for business schools. MOOCs Won't Replace Business Schools — They'll Diversify Them - Gayle Christensen, Brandon Alcorn, and Ezekiel Emanuel. Employers receptive to hiring IT job candidates with MOOC educations. Tyler Kresch isn't turning to graduate school to help him change his job from tech sales to running a startup; instead he's taking massive open online courses (MOOCs) to learn the IT skills necessary for that career move.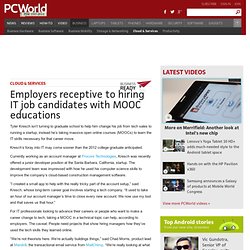 Kresch's foray into IT may come sooner than the 2012 college graduate anticipated. Currently working as an account manager at Procore Technologies, Kresch was recently offered a junior developer position at the Santa Barbara, California, startup. The development team was impressed with how he used his computer science skills to improve the company's cloud-based construction management software. "I created a small app to help with the really tricky part of the account setup," said Kresch, whose long-term career goal involves starting a tech company. "It used to take an hour of our account manager's time to close every new account. Coursera 'Learning Hubs' bring a social layer to online education. Online education is all the rage these days, with startups like Coursera and Udacity offering free and cheap courses from top universities to anyone with an Internet connection.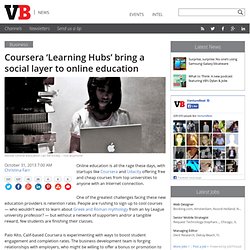 One of the greatest challenges facing these new education providers is retention rates. People are rushing to sign up to cool courses — who wouldn't want to learn about Greek and Roman mythology from an Ivy League university professor? MOOC. 23andMe and Udacity partnership raises questions about the future of MOOCs. Bloomberg Businessweek has an interesting look at DYI genetics company 23andMe's moves to keep ahead of the competition out to help you get to know yourself really, really well.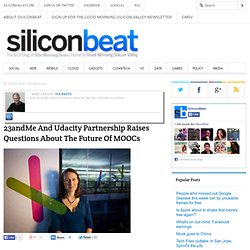 The part of 23andMe's strategy that I found the most interesting was the the way the company is teaming up with Udacity, the provider of massive, open online courses, to produce a college-level class on genetics and, presumably, how to use a service like (surprise!) 23andMe to map your own genome. Udacity announced the class called "Tales from the Genome" over the summer and it starts today. Here's 23andMe's own blog post on it. 6 offbeat MOOCs that merge education with fun. The University of Irvine grabbed headlines last week with its announcement that it was working with Instructure to organize a MOOC based on AMC's zombie show "The Walking Dead.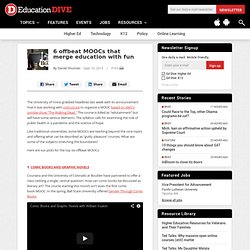 " The course is billed as "edutainment" but will have some serious elements: The syllabus calls for examining the role of public health in a pandemic and the science of hope. Like traditional universities, some MOOCs are reaching beyond the core topics and offering what can be described as "guilty pleasure" courses. What are some of the subjects stretching the boundaries? Reclaiming the Original Vision of MOOCs. Distance Learning | Feature Reclaiming the Original Vision of MOOCs Massive open online courses were never meant to be dull and lonely.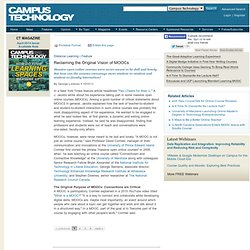 But how can the courses encourage more student-to-student and student-to-faculty interaction? By George Lorenzo09/05/13. "The Walking Dead" Inspires a UC Irvine MOOC - Liz Gannes. You know how some colleges offer fun, random courses — about the social dynamics of reality television or the poetry of Bob Dylan — that you might feel guilty spending your hard-earned tuition on, but actually sound totally fascinating?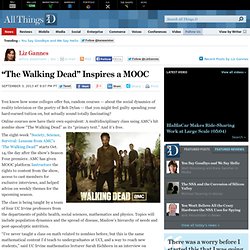 Online courses now have their own equivalent: A multidisciplinary class using AMC's hit zombie show "The Walking Dead" as its "primary text." And it's free. The eight-week "Society, Science, Survival: Lessons from AMC's 'The Walking Dead'" starts Oct. 14, the day after the show's Season Four premiere. AMC has given MOOC platform Instructure the rights to content from the show, access to cast members for exclusive interviews, and helped advise on weekly themes for the upcoming season.
An elite school offers master's degree online - Technology. Case Western Reserve University's free online courses exceeded expectations. View full sizeThe Peter B.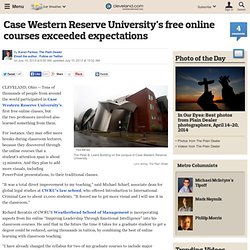 Lewis Building on the campus of Case Western Reserve University.Lynn Ischay, The Plain Dealer CLEVELAND, Ohio -- Tens of thousands of people from around the world participated in Case Western Reserve University's first free online classes, but the two professors involved also learned something from them. For instance, they may offer more breaks during classroom lectures, because they discovered through the online courses that a student's attention span is about 15 minutes. And they plan to add more visuals, including PowerPoint presentations, to their traditional classes.
A New Use for MOOCs: Real-World Problem Solving - Zafrin Nurmohamed, Nabeel Gillani, and Michael Lenox. Lessons learned from Johns Hopkins' first MOOCs. What does it mean for a university to create a massive open online course (MOOC)?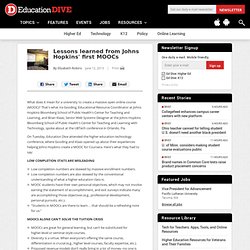 That's what Ira Gooding, Educational Resource Coordinator at Johns Hopkins Bloomberg School of Public Health's Center for Teaching and Learning, and Brian Klaas, Senior Web Systems Designer at the Johns Hopkins Bloomberg School of Public Health's Center for Teaching and Learning with Technology, spoke about at the UBTech conference in Orlando, Fla.
On Tuesday, Education Dive attended the higher education technology conference, where Gooding and Klaas opened up about their experiences helping Johns Hopkins create a MOOC for Coursera. Here's what they had to say: Ten state universities join with online education provider. Hoping to take advantage of new technologies to expand online education, 10 additional public universities and state college systems around the country are affiliating with Coursera, one of the leading providers of online education. But the schools' participation may focus more on their local campuses rather than on the worldwide audiences that Coursera previously had been courting. Thursday's announcement of the new partnerships means that the state schools, from New York to New Mexico, will experiment with using Coursera's massive online open course (MOOC) video and testing platform to improve and widen online learning on their own campuses, officials said.
It is expected to bolster the so-called blended classroom in which online videotaped lectures from various online courses are an enrichment tool, like a textbook, in a class that also has face-to-face teaching and evaluation. 5 MOOC Building Platforms. Now that MOOCs are hitting the scene, everyone wants to jump on board! Granted, some want to get into the game in the hopes of making a quick dollar (somehow?) , but others genuinely want to know how they can create their own MOOC for educational purposes.
Well, you have options! More providers are likely to spring up as we will only cover five potential options. As the entire MOOC industry evolves, expect to see more options at your disposal for this kind of thing. MOOC platform edX announces 15 new university partners. Today, edX, the MOOC (massive open online course) platform launched by MIT and Harvard, announced the expansion of the xConsortium, the group of edX partners, with 15 new university across the globe. These are the new partner institutions: Yale expands online education, appoints new director | Cross Campus.
Following a December report that encouraged the University to prioritize online education, Yale is answering the call. In a Wednesday email to the Yale community, Provost Benjamin Polak announced the University's new partnership with Coursera, an online education platform used by Princeton, Columbia, Stanford and the University of Pennsylvania. Polak also announced the creation of a new standing committee on online education and the appointment of music professor Craig Wright to the new position of academic director of online education.
In the email, Polak stressed the importance of using online education to explore new teaching strategies that can be used in Yale classrooms. "To build on the progress we already have made in this area, we need to take care that our online initiatives complement and enrich Yale's traditional pedagogy," Polak said in the email. New data reveals low MOOC completion rates. Katy Jordan, Ph.D. student at Open University (UK), has announced the results of her research on MOOC completion rates. Using data from 29 MOOCs, Jordan found the average completion rate to be only 6.8%. However, there was disparity between the completion rates for auto-graded and peer-assessed MOOCs, with auto-graded MOOCs' completion rates (7.7%) better than peer-assessed MOOCs completion rates (4.8%). Of the MOOCs she studied, Jordan found École Polytechnique Fédérale de Lausanne's (Switzerland) "Functional Programming in Scala," which was hosted by Coursera, had the highest completion rate--a whopping 19.2% of the approximately 50,000 students enrolled completed the course.
On the opposite side of the spectrum, Princeton University's "A History of the World since 1300," also hosted by Coursera, had the lowest completion rate--just 0.8% of the 83,000 enrolled actually completed the course. Coursera makes first foray into K-12 education with online courses for teachers. EdX president on how MOOCs will change higher education. Which audiences will MOOCs serve best? NovoEd, another Stanford MOOC startup, opens small-group learning services to public. Brown University Creates Online Course for High School Students. The Past, Present, And Future Of MOOCs. MOOCs: A Napster-level threat to copyright and higher ed? Online learning: Campus 2.0.
The Professors Behind the MOOC Hype - Technology. Bill Gates' classroom of the future - Mar. 8, 2013. MOOCs. MOOCs. How Coursera, A Free Online Education Service, Will School Us All. How EdX Plans to Earn, and Share, Revenue From Free Online Courses - Technology. Coursera and edX add universities and hope to expand global reach. Online Education Is Replacing Physical Colleges At A Crazy Fast Pace. U Virginia Business Strategy MOOC To Partner with Entrepreneurs, Nonprofits.
Badgeville Widens the Gap: Gamification Pioneer Posts Second Year of Triple-Digit... -- REDWOOD CITY, Calif., Jan. 29, 2013 /PRNewswire. Online Courses - Possibilities and Pitfalls. Don Tapscott: The Week University (As We Know It) Ended.
---