Gtauk
Welcome to Google Docs
"Traditional thinking is all about 'what is'. Future thinking will also need to be about what 'can be'" By Edward de Bono Quick Response codes also known as QR codes are similar to barcodes.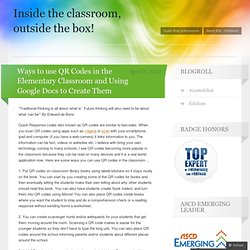 If someone asked you about your electronic portfolio , what comes to mind? A digital record of your financial capital or monetary assets (and in this economy, might make you cry!)? OR Digital documentation of your development over time, a record of your human capital or intellectual assets, with examples of your work... a showcase of your achievements... and a potential source of self-esteem and pride?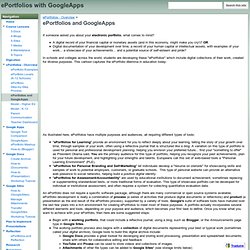 ePortfolios and GoogleApps - ePortfolios with GoogleApps
This site was created to support the Google Teacher Academy (GTA). Anyone may view the site and take advantage of the resources shared here. Only Google Certified Teachers (GCT) are free to edit and add to the site. Google Certified Teachers, please follow the Guidelines when you edit the site.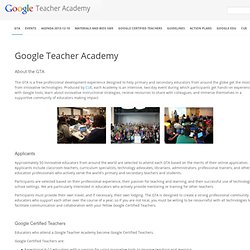 Teacher Academy Resources
5 Ways To Be A Better Public Speaker 7.16K Views 0 Likes If you've been asked to speak at a conference or host a seminar, you may be shaking in your boots. Not only is the thought of speaking in public nerve-wracking, but being in charge of a seminar that no one wants to at... My 10 Favorite Learnist Boards Of The Year
Moved Temporarily
19 Interesting Ways* to find Creative Commons resources