Gtauk
Certified Trainer Details – Google Apps for Education. Welcome to Google Docs. Ways to use QR Codes in the Elementary Classroom and Using Google Docs to Create Them. "Traditional thinking is all about 'what is'.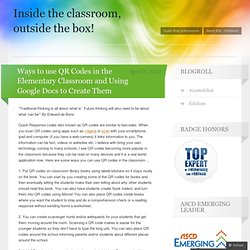 Future thinking will also need to be about what 'can be'" By Edward de Bono Quick Response codes also known as QR codes are similar to barcodes. ePortfolios and GoogleApps - ePortfolios with GoogleApps. If someone asked you about your electronic portfolio, what comes to mind?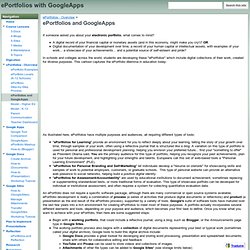 A digital record of your financial capital or monetary assets (and in this economy, might make you cry!)? ORDigital documentation of your development over time, a record of your human capital or intellectual assets, with examples of your work... a showcase of your achievements... and a potential source of self-esteem and pride? Teacher Academy Resources. About the GTA The GTA is a free professional development experience designed to help primary and secondary educators from around the globe get the most from innovative technologies.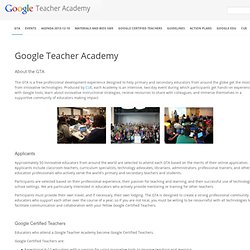 Produced by CUE, each Academy is an intensive, two-day event during which participants get hands-on experience with Google tools, learn about innovative instructional strategies, receive resources to share with colleagues, and immerse themselves in a supportive community of educators making impact. Applicants. 50 Little-Known Ways Google Docs Can Help In Education. 5 Ways To Be A Better Public Speaker 7.16K Views 0 Likes If you've been asked to speak at a conference or host a seminar, you may be shaking in your boots.
Not only is the thought of speaking in public nerve-wracking, but being in charge of a seminar that no one wants to at... My 10 Favorite Learnist Boards Of The Year. Moved Temporarily. 19 Interesting Ways* to find Creative Commons resources.
---