Beauty
Hair has always been my "thing" but I do develop certain "shave it all off" tendencies at least once a year. So far I haven't..I do wonder how that would feel though. There are so many fantastic hair tutorials out there that even in this heat I really don't mind how long my hair is.Except when my bangs get too long and then everything turns dark. Here are some of my favorite up-do and bun hair tutorials for these hot summer months or any season really :)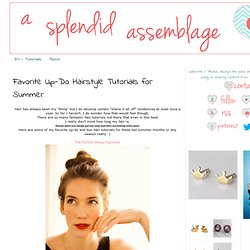 A Splendid Assemblage: Favorite Up-Do Hairstyle Tutorials for Summer
Bottle it up | Maskcara
The best stuff in life is free. Like sunshine, blue skies and THE OCEAN…if you have access to it, that is. Which I don't. And I know it's only January but I'm already Jonesing for spring.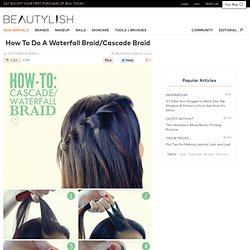 How-To: The Cascade/Waterfall Braid
The waterfall braid also known as the cascade braid recently exploded as the new "trend braid" of the season. The waterfall effect looks cool and complex, but it's easier to style than you think. Give this beautiful braid a try when Beautylish takes you through the how-to! Section Off The waterfall braid works best on straight or loose waves.
You're constantly hearing about beauty tricks you hope will work. So we've sifted through the wackiest tips to find five that can actually work wonders. Heat your eyelash curler
Tips To Stay Beautiful - YouBeauty.com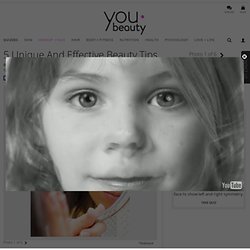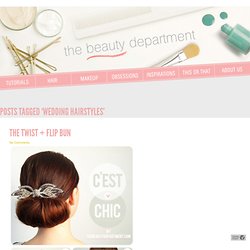 Tag Archive for &wedding hairstyles&
photo/post/graphic design: Kristin Ess One of my all time favorite hairstyles for a wedding or for red carpet is the most super simple chic chignon (say that 3 times fast!). In this tutorial we show future brides and bridesmaids alike how to keep their hair out of the way while maintaining a timeless, classic look for any event. This is one of those updos that really allows you to focus on the dress, accessories and overall beauty instead of being a major focal point. Let's get started! Start with all of your hair in a ponytail.
Use toothpaste on yellow nails. This usually happens when you let nail polish stay on your nails for very long and when you've used cheap nail polish. Whiten them all up by rubbing toothpaste to remove the stains. You can also add a few drops of lemon for extra whitening, it's a natural bleaching agent. See other uses of lemon with this POST. Use suntan oil to treat damaged hair.
Out of the ordinary Beauty Tips that work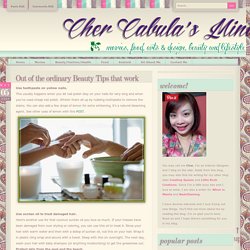 You know those Biore pore strips you buy at the drugstore for about $12 a pop? Yeah, those. Today I'm going to teach you how to make your own homemade pore strips.
how to: pore strips
We get a lot of emails asking how to use brushes correctly so I hope this helps you out a little! A brow brush is designed to be stiff and angled for a reason. And we use the slanted edge to shade and the tip of the edge to outline. Put those components together and a brow brush is quite frankly a thing of perfection! Here's how to use it properly: READ MORE… Last week we explored four different ways to wear Spring's biggest Cobalt blue trend.
The Beauty Department: Your Daily Dose of Pretty. - page 19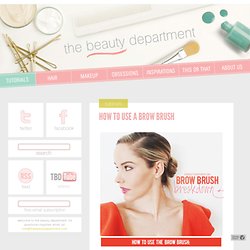 Make Up For Ever Aqua Eyes, $18. No need to fear raccoon eyes with this waterproof eyeliner that was originally created for a company of water ballet performers. Choose from a vibrant selection of 25 shades. Bobbi Brown Long-Wear Gel Eyeliner, $21. One of the first to launch the gel eyeliner category, this classic still reigns supreme with the most intense amount of pigment on the market, and a water-resistant finish. Sue Devitt Eye Intensifier Pencil, $22.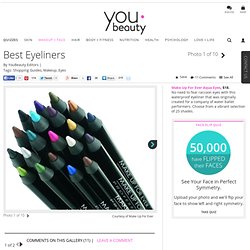 Best Eyeliners - YouBeauty.com