OCW
Iterating toward openness " Blog Archive " The Future. About a year ago, I finished 2005-2012: The OpenCourseWars, and thought it quite a fun exercise to try to forecast where things are headed.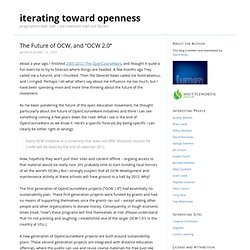 A few months ago Trey called me a futurist, and I chuckled. Then the Deseret News called me Nostradamus, and I cringed. Perhaps I let what others say about me influence me too much, but I have been spending more and more time thinking about the future of the movement. As I've been pondering the future of the open education movement, I've thought particularly about the future of OpenCourseWare initiatives and think I can see something coming a few years down the road.
Open Education Conference 2009 | Monterrey, México. Announcing OCWC Global 2009 in Monterrey Tecnológico de Monterrey and the OpenCourseWare Consortium are proud to announce the first convening of OCWC Global 2009, to be held in Monterrey, México on April 21-24.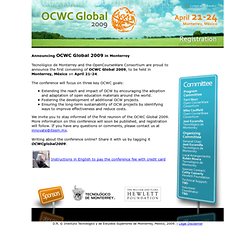 The conference will focus on three key OCWC goals: Free MIT Online Courses Getting a Million Hits Per Month.