Curriculum Design and Delivery
What to Do with Six Years of Course Data?!?! | ON Course. After asking colleagues in Planning, I came across some stored reports that contain information about the various awards/courses offered at the university, along with the modules that constitute those awards – from short certificates to full undergraduate and postgraduate degrees.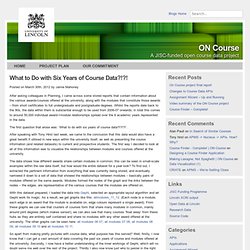 Whilst the reports date back to the 90s, the data within them is substantial enough to be used from 2006-07 onwards; in total this comes to around 50,000 individual award->module relationships spread over the 6 academic years represented in the data. The first question that arose was: 'What to do with six years of course data?!?!?!'. After speaking with Tony Hirst last week, we came to the conclusion that this data would also have a great benefit if utilised in new ways within the university itself, as well as presenting the course information (and related datasets) to current and prospective students. Using Archimate in the Enable Project. The project team are nearing completion of the development of an application to support external examiner appointment and reporting processes.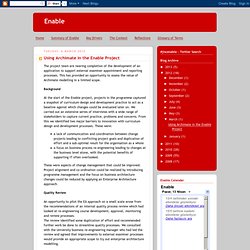 This has provided an opportunity to assess the value of Archimate modelling in a limited scope. Background. The 7Cs of design and delivery. We are doing a small project at Leicester as part of the JISC-funded OULDI project.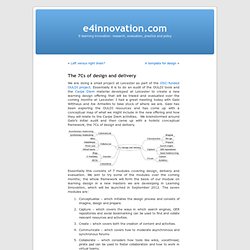 Essentially it is to do an audit of the OULDI tools and the Carpe Diem material developed at Leicester to create a new learning design offering that will be trialed and evaluated over the coming months at Leicester. I had a great meeting today with Gabi Witthaus and Ale Armellini to take stock of where we are. Gabi has been exploring the OULDI resources and has come up with a conceptual map of what we might include in the new offering and how they will relate to the Carpe Diem activities. We brainstormed around Gabi's initial audit and then came up with a holistic conceptual framework, the 7Cs of design and delivery. Richard Willis – SharePoint Learning Kit Coordinator, SalamanderSoft Owner » SharePoint vNext to include Education Component.
Note: This is all based on preliminary documentation and could all change and so the following is pretty much just speculative.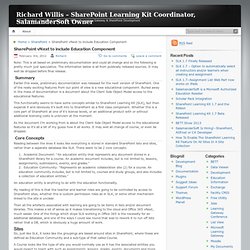 The information below is all from publically released sources. It may well be dropped before final release. Summary. Contexts of use of Learning Design Support Tools_Insight report-1. Learning Design toolbox. This Cloudscape is a space to collate resources, tools, design methods and activities to enable hands on exploration, and a better understanding of Learning Design.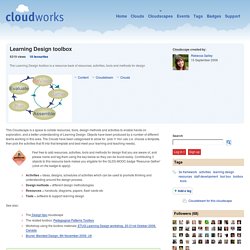 Objects have been produced by a number of different teams working in this area. The clouds have been catagorised to allow for a pick 'n' mix use of the tools (i.e. choose a template, then pick the activities that fit into that template and best meet your learning and teaching needs). Generating Mind Maps from OU/OpenLearn Structured Authoring XML Documents. Import os from lxml import etree import time SA_XMLfiledir='data' def flatten(el): result = [ (el.text or "") ]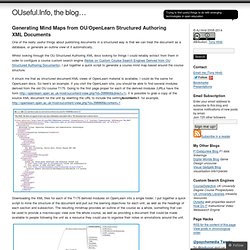 Guidance on Validation Documents. I'm based in the Learning Development and Innovation team at the University and have been working with the Enable team since the start of 2009.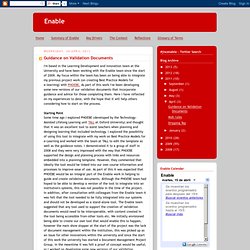 My focus within the team has been on being able to integrate my previous project work (on creating Best Practice Models for e-learning) with PHOEBE. As part of this work I've been developing some new versions of our validation documents that incorporate guidance and advice for those completing them. Here I have reflected on my experiences to date, with the hope that it will help others considering how to start on the process. Video Diary of curriculum design - Andrew Charlton-Perez.
Xerte - Open Source E-Learning Developer Tools. Xerte Online Toolkits 2.0 is a suite of tools for content authors.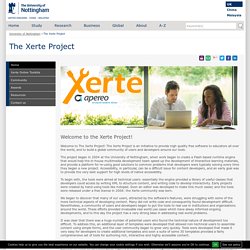 Elearning materials can be authored quickly and easily using browser-based tools, with no programming required, and content can be delivered to all devices. Xerte Online Toolkits is aimed at content authors, who will assemble content using simple forms. Content authors can easily collaborate on projects. Xerte Online Toolkits is in use in hundreds of institutions all over the world, with an active community of users and developers. RELOAD Project. Main Page - Design for Learning. From Design for Learning Funding for this programme ended in May 2008.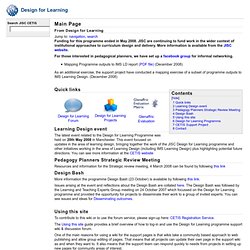 JISC are continuing to fund work in the wider context of institutional approaches to curriculum design and delivery. More information is available from the JISC website. The Cloudworks API - rationale and lessons | Nick Freear. A few weeks ago I blogged the forthcoming Cloudworks application programming interface and published a document for review.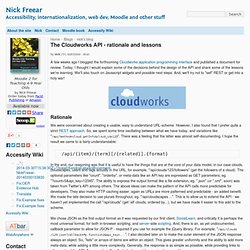 Today, I thought I would explain some of the decisions behind the design of the API and share some of the lessons we're learning. We'll also touch on Javascript widgets and possible next steps. And, we'll try not to "sell" REST or get into a holy war! Rationale. OLnet One Year on. Latestendeavour Blog. Conole connected june_2010. Sharing the LOAD - Learning Objectives, Activities and Designs. Sharing the LOAD – Learning Objectives, Activities and Designs Welcome to "Sharing the LOAD" - an 18-month JISC-funded project exploring the reusability of learning designs. We have taken forward our work on reusable learning objects to create a learning design taxonomy based on designs implicit in our existing collections of mature reusable content. Widget Learning Design Template - Widgets for Inclusive Distributed Environments.
T-SPARC Baseline Review @ T-SPARC Blog. Written by tsparcJanuary 18th, 2011 Introduction . Approach . Project Directory. Phoebe — pedagogic planner. ReCourse Learning Design Editor. ReCourse is a tool to create IMS Learning Design compliant Units of Learning. It is free, open source, cross-platform and extensible. It was developed as part of the European-funded TENCompetence project. IMS Learning Design is extensive and complex, and there are very few effective and easy to use tools available which teachers can use to produce Units of Learning which are compliant with the specification.
TENCompetence has developed ReCourse to provide learning designers with a solution. Design Bash 2010. My Presentations. The Design Studio / FrontPage. CompendiumLD learning design software. Dynamic Learning Maps. Learning Maps Podcast Gordon John Skelly (Monday, 22nd March, 2010 (11:10 a.m.)) To give some context to the recent evaluation study I've recorded a quick podcast , more of a late night ramble to be honest :) , on the current state of the our dynamic learning maps tool. Hope you enjoy the clip.
Associated Files. XCRI: eXchanging Course-Related Information. XCRI: eXchanging Course-Related Information. Institutional approaches to curriculum design. Transforming curriculum delivery through technology. Sheila's work blog. CIRCLE - A Curriculum Design and Delivery Community supported by. Main Page - Design for Learning. Managing Curriculum Change. Design_for_learning. LAMS: Learning Activity Management System.
---