UsługiWWW
Fonts
Raty. Katalog firm. Bazy danych. SEO. Www programisci. Www graficy. Team Collaboration, Real-time Customer Communication and Relationship Management. Free Website Customer Satisfaction Survey | 4Q Survey. The best online survey for a website The 4Q Framework is the best way to evaluate the online experience, measure customer satisfaction and quickly implement website improvements based on real visitor feedback.4Q Survey has become one of the frameworks included in iPerceptions' Active Research platform.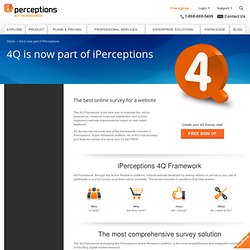 All of 4Q's functionality and features remain the same and it's still FREE! Feedback Form - Kampyle.
Gotowce i CMS. Most advanced telephone interpreting service. Automated tests of programming skills. Assessment of software developers. Recruitment software. Codility. Statystyki. TechnologieWWW. Statystyki. Connectory, agenci. Płatnośći. GrafikaWWW. ReklamaWWW. Hosting. IP tel, SIP, call center.
---