CRM, BPM & Workflow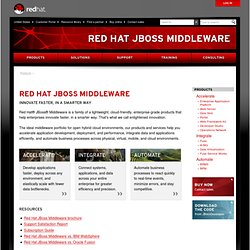 Innovate faster, in a smarter way Red Hat® JBoss® Middleware is a family of a lightweight, cloud-friendly, enterprise-grade products that help enterprises innovate faster, in a smarter way. That's what we call enlightened innovation. The ideal middleware portfolio for open hybrid cloud environments, our products and services help you accelerate application development, deployment, and performance, integrate data and applications efficiently, and automate business processes across physical, virtual, mobile, and cloud environments.
Business Process Management | Appian BPM
★ 4.7 Stars (13) 61 Downloads (This Week) Last Update: Download uengineBPM-kor-3.6.0.jar Browse All Files A BPM (Business Process Management) / Workflow based on Web Services and CBD-concept, which provides most features of commercial one - Process Designer, EIP, Web service tools and OLAP based Process Analyzer.
uEngine BPM | Download uEngine BPM software for free at SourceForge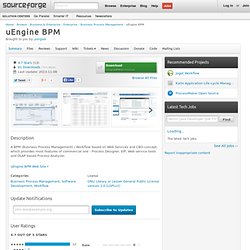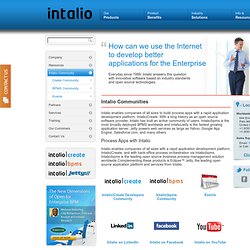 MAIN - Intalio|Community
Intalio enables companies of all sizes to build process apps with a rapid application development platform, Intalio|Create. With a long history as an open source software provider, Intalio has built an active community of users. Intalio|bpms is the most broadly deployed BPMS worldwide and Intalio|Jetty is the fastest growing application server.
BPM Software | Business Process Management | BPM | Workflow Automation
BPM Software | Appian BPM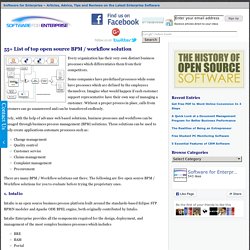 Every organization has their very own distinct business processes which differentiates them from their competitors. Some companies have predefined processes while some have processes which are defined by the employees themselves. Imagine what would happen if each customer support representative have their own way of managing a customer. Without a proper process in place, calls from customers can go unanswered and can be transferred endlessly. Lately, with the help of advance web based solutions, business processes and workflows can be managed through business process management (BPM) solutions.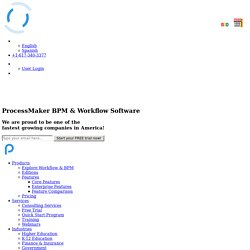 The success of many VARs in the open source ecosystem is based on their ability to repackage open source software into a user-friendly platform... look no further than ProcessMaker, the workflow package from Colosa that debuted a much-enhanced version. ProcessMaker has helped us improve the efficiency of our employees. Instead of running around to get approvals, we now have a software based process management. " Pinkesh Jain, Finance Manager, Lakozy Toyota success story More Testimonials ProcessMaker is a very flexible, easy-to-use solution.