Game Emotional Responses
Avatar Days. A Brief History of Storytelling in Videogames. Pokemon Character Backstory. '70s board game contains eerie BP oil spill scenarios. The BP Offshore Oil Strike game from the 1970s has popped up on eBay recently.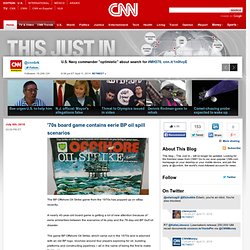 A nearly 40-year-old board game is getting a lot of new attention because of eerie similarities between the scenarios of its play and the 78-day-old BP Gulf oil disaster. The game BP Offshore Oil Strike, which came out in the 1970s and is adorned with an old BP logo, revolves around four players exploring for oil, building platforms and constructing pipelines – all in the name of being the first to make $120 million.
---