Renewables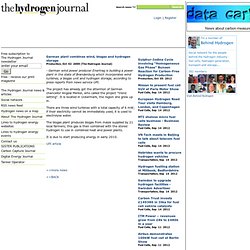 German plant combines wind, biogas and hydrogen storage - The Hydrogen Journal
German plant combines wind, biogas and hydrogen storage Production, Oct 02 2009 (The Hydrogen Journal) - German wind power producer Enertrag is building a power plant in the state of Brandenburg which incorporates wind turbines, a biogas unit and hydrogen storage, according to press reports from news service UPI. The project has already got the attention of German chancellor Angela Merkel, who called the project "trend setting". It is located in Uckermark, the region she grew up in. There are three wind turbines with a total capacity of 6 mW; if their electricity cannot be immediately used, it is used to electrolyse water. The biogas plant produces biogas from maize supplied by 21 local farmers; this gas is then combined with the stored hydrogen to use in combined heat and power plants.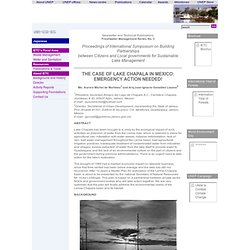 Newsletter and Technical Publications Freshwater Management Series No. 3 Proceedings of International Symposium on Building Partnerships between Citizens and Local governments for Sustainable Lake Management Ms. Aurora Michel de Martínez 1 and Arq.Juan Ignacio González Lozano 2 1 President, Sociedad Amigos del Lago de Chapala A.C., Carretera Chapala-Jocotepec # 40, 45920 Ajijic, Jalisco, Mexico E-mail : auroramichel@hotmail.com 2 Director, Secretariat of Urban Development, representing the State of Jalisco, Prol.
Proceedings of International Symposium on Building Partnerships between Citizens and Local Governments for Sustainable Lake Management
411690MX0Lerma1ase1study1501PUBLIC1
Wie funktioniert das Kombikraftwerk?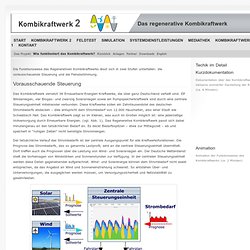 Die Funktionsweise des Regenerativen Kombikraftwerks lässt sich in zwei Stufen unterteilen: die vorausschauende Steuerung und die Feinabstimmung. Das Kombikraftwerk vernetzt 36 Erneuerbare-Energien-Kraftwerke, die über ganz Deutschland verteilt sind. Elf Windanlagen, vier Biogas- und zwanzig Solaranlagen sowie ein Pumpspeicherkraftwerk sind durch eine zentrale Steuerungseinheit miteinander verbunden.
Find out La Rance experimental tidal power plant in France tidal | wave La Rance Tidal Barrage ( Usine maremotrice de la Rance ) was built in the 1960's near St. Malo in France. A dam 330 metres long was build in front of a 22 square kilometer basin.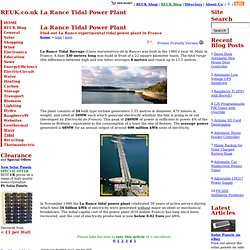 La Rance Tidal Power Plant - Tidal
Technik_Kombikraftwerk_EN
"Air Quality vs. Death Rates from Heart Disease; Graph Comparisons": Cholesterol Management Community
11-0307-Biodiesel-vs-Renewable_Final-_3_-JJY-formatting-FINAL
20% renewable energy by 2020
Benefits of Renewable Energy Use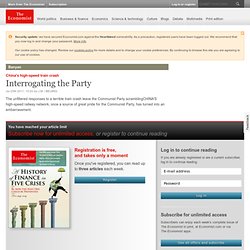 The unfiltered responses to a terrible train crash leave the Communist Party scrambling CHINA'S high-speed railway network, once a source of great pride for the Communist Party, has turned into an embarrassment. A collision between two trains on July 23rd near the coastal city of Wenzhou not only killed at least 35 people but also unleashed a torrent of online criticism of the network and the railway bureaucracy. The prompt dismissal of three senior railway officials is unlikely to diminish public outrage at the accident, which came hard on the heels of several malfunctions in a new high-speed rail link between Beijing and Shanghai . The 1,318km (820-mile) line was launched with much fanfare at the end of June to coincide with official celebrations of the party's 90th birthday. Even the rare sight of a Chinese official bowing in apology at a press conference about the crash appears to have done little to placate critics.
China's high-speed train crash: Interrogating the Party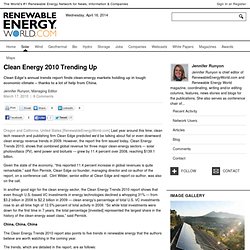 Given the state of the economy, "this reported 11.4 percent increase in global revenues is quite remarkable," said Ron Pernick, Clean Edge co-founder, managing director and co-author of the report, on a conference call. Clint Wilder, senior editor at Clean Edge and report co-author, was also on the call. In another good sign for the clean energy sector, the Clean Energy Trends 2010 report shows that even though U.S.
Clean Energy 2010 Trending Up
Compare renewables
Could Biomass Technology Help Commercialize Biochar?
A single source of biomass could ostensibly create multiple revenue streams, with systems calibrated to produce more electricity, biochar or bio-oil when one is more profitable than the other. Research shows biochar improves soil fertility, decreases water pollution and even mitigates heavy metals. The charcoal-like substance has enthusiastic support from researchers and the sustainability movement, but it has been slow to commercialize.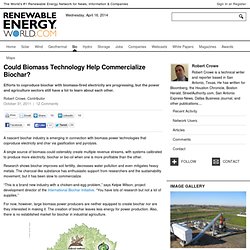 Disadvantages of Renewable Energy – Drawbacks of Different Alternative Energy Sources | Green World Investor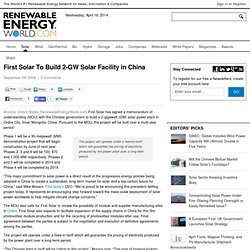 First Solar To Build 2-GW Solar Facility in China
Phase 1 will be a 30-megawatt (MW) demonstration project that will begin construction by June of next year. Phases 2, 3 and 4 will be 100, 870 and 1,000 MW respectively. Phases 2 and 3 will be completed in 2014 and Phase 4 will be completed by 2019. "This major commitment to solar power is a direct result of the progressive energy policies being adopted in China to create a sustainable, long-term market for solar and a low carbon future for China," said Mike Ahearn, First Solar's CEO. "We're proud to be announcing this precedent-setting project today.
Inside story: Hot rocks and high hopes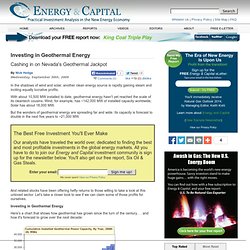 Investing in Geothermal Energy
In the shadows of wind and solar, another clean energy source is rapidly gaining steam and inciting equally lucrative profits. With about 10,500 MW installed to date, geothermal energy hasn't yet reached the scale of its cleantech cousins. Wind, for example, has ~142,000 MW of installed capacity worldwide; Solar has about 18,000 MW.
Renewable Energy
Renewable Energy From the Deep Ocean
Ten hot green-energy trends to watch - Technology & science - Future of Energy
Topaz Solar Farm – San Luis Obispo County, CA – First Solar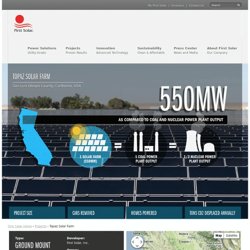 Project Overview Located on the northwestern corner of the Carrisa Plains, the 550 megawatt Topaz Solar Farm will produce sufficient electricity to power 160,000 average California homes. The Topaz location was selected after an extensive review of potential sites in California which considered the available solar resource, proximity to existing electrical transmission lines, current land uses, and environmental sensitivities.
Windenergie Allgemein
Der Ertrag von Windenergieanlagen (WEA) hängt maßgeblich von der Windgeschwindigkeit ab. Da der Wind mit steigender Entfernung zur Erdoberfläche immer stärker und gleichmäßiger weht, werden die Anlagen auf möglichst hohen Türmen gebaut. Als Faustregel gilt, dass der Ertrag der Windenergieanlage mit jedem Meter um bis zu ein Prozent steigt. Zudem kann mit einem höheren Turm eine Windanlage mit einer höheren Nennleistung installiert werden. Moderne Windenergieanlagen erreichen somit heute einen Wirkungsgrad von bis zu 50 Prozent. Große WEA stellen besondere Anforderungen an das Material.