Free stuff
jQuery Image Gallery and Slideshow – TN3 Gallery. Professor Cloud. Cloud Zoom is a popular fly-out jQuery image zoom plugin used on many high profile retail sites.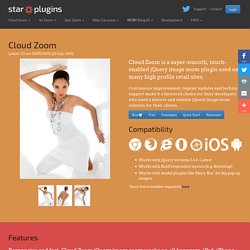 Continuous improvement, regular updates and technical support make it a favoured choice for busy developers who need a mature and reliable jQuery image zoom solution for their clients. Works with jQuery versions 1.4.3 - Latest, 2.0.3 Works with fluid/responsive layouts (e.g. Bootstrap) Works with modal plugins like Fancy Box* for big pop-up images *Fancy box is available separately here.
20 Free & Open Source Image Galleries for Web Designers | CMD+SHIFT DESIGN BLOG: Seattle Web Designer, Freelancer, Blogger and big time Internet Nerd! (Web Design) Auto Slider Style: Sleek and compact.
Function: Slide show feature and live text descriptions for each image are a major plus! Flash Gallery.
---