Warfront
'Attack on Iran won't be an easy walk' - Lavrov. During his annual news conference, Foreign Minister Sergey Lavrov described the scenario Russia and the global community could face if things in the Middle East, especially in Iran, get out of hand.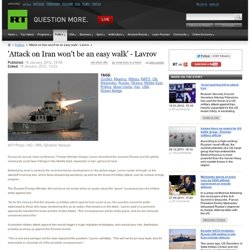 Addressing what is certainly the most worrisome development on the global stage, Lavrov spoke at length on the standoff involving Iran, which faces deepening sanctions, as well as the threat of military attack, over its nuclear energy program. The Russian Foreign Minister did not mince his words when he spoke about the "grave" consequences of a military strike against Iran.
Iran 'definitely' closing Strait of Hormuz over EU oil embargo. Iranian Navy boats take part in maneuvers during the "Velayat-90" navy exercises in the Strait of Hormuz in southern Iran (AFP Photo / EBRAHIM NOROOZI) Tensions in the Gulf could reach a breaking point as a senior Iranian official said Iran would "definitely" close the Strait of Hormuz if an EU oil embargo disrupted the export of crude oil.
Mohammad Kossari, deputy head of parliament's foreign affairs and national security committee, issued the warning in respone to a decision by the European Union on Monday to impose an oil embargo on Iran over the country's alleged nuclear weapons program. EU foreign policy chief Catherine Ashton said. However, with Washington's decision to deploy a second carrier strike group in the Gulf, the EU's attempt to pressure Iran economically could greatly increase the likelihood of all-out war in the region. The Strait of Hormuz is the vital link between the Persian Gulf and the Gulf of Oman. 'Clear signal' to Iran: UK warns of more firepower in Hormuz. Britain could send reinforcements to defend the sensitive Strait of Hormuz against a possible blockade by Iran.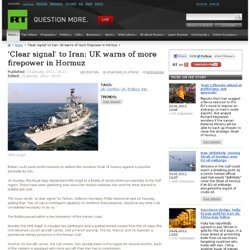 On Sunday, the Royal Navy dispatched HMS Argyll to a flotilla of mostly American warships in the Gulf region. These have been gathering ever since the tension between Iran and the West started to bubble last year. The move sends to Tehran, Defence Secretary Philip Hammond said on Tuesday, adding that. Iran: EU oil embargo doomed to fail. Iran's Foreign Ministry building The EU's embargo on Iranian oil is "doomed to fail," Tehran said after the crucial decision was taken.
Iranian media outlets are sure the Persian country will not run out of customers - and suggest cutting off oil supplies to Europe before July. US aircraft carrier sails through Strait of Hormuz. USS Abraham Lincoln (CVN 72) (U.S.
Navy photo / Jordon R. Beesley) The USS Abraham Lincoln sailed through the Persian Gulf Strait of Hormuz on Sunday without incident, as part of scheduled maritime security operations. File, Political Analysis, Espionage, Terrorism, Security. Strait of Hormuz and Sanctions.
---