Venues
M*A*S*S*I*V*E - Winter Soulstice at Kowhai Bush on Sat 22-Jun-2013 - JAGG. GENRES: breaks, broken beat, dnb, downtempo, dubstep, electro, funk, hardhouse, hip hop, house, psytrance, reggae, techno, trance Massive Presents Winter Soulstice 2013 As Winter beckons and the nights grow long, M*A*S*S*I*V*E once again tempts you into the foothills of this great Southern land for a night of music and movement.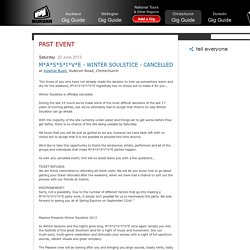 Join our multi-zone, multi-genre celebration and stimulate your senses with a night of full spectrum sounds, vibrant visuals and great company. The Massive crew will be looking after you and bringing you large sounds, toasty tents, tasty hot food, coffee, a huge fire and all the good vibes that only an outdoor party can bring. The Bedrock Bar Gig Guide, Canterbury, NZ - JAGG. Chch GIG GUIDE. Wunderbar - Outside. The Wunderbar prides itself on oddity and is one of the most unique bars in New Zealand.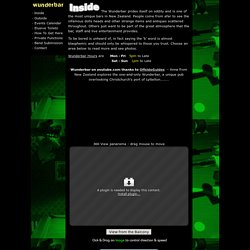 People come from afar to see the infamous dolls heads and other strange items and antiques scattered throughout. Others just want to be part of the great atmosphere that the bar, staff and live entertainment provides. Wunderbar Lyttelton. The Astro Lounge › Cook 'N' With Gas ‹ Cook 'n' with Gas and The Astro Lounge Restaurant and Bar. The Astro Lounge is the casual side to Cook'n' with Gas, "The Yin to the Yan" where you can relax in a casual warm atmosphere, enjoy local food and beverage, large movie screen and live music Friday, Saturday and Sunday.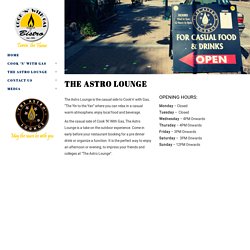 There is a Petanque Court and outdoor barbeque at the back as part of The Astro Lounge which is a take on the outdoor experience. Come in early before your restaurant booking for a pre dinner drink or organize a function. It is the perfect way to enjoy an afternoon or evening, to impress your friends and colleges at "The Astro Lounge". Opening Hours : Monday – Closed. About Revival Bar Christchurch. Revival is a funky bar on the Christchurch scene that radiates a heady mix of innovation and nostalgia.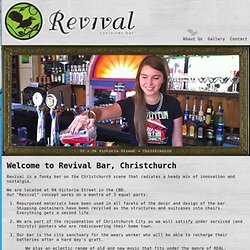 We are located at 94 Victoria Street in the CBD. Our "Revival" concept works on a mantra of 3 equal parts: Smash Palace. Smash Palace takes the new Christchurch random aesthetic and makes it comfortable and cool.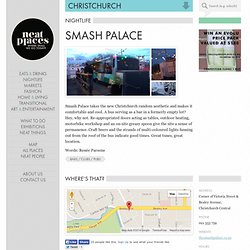 A bus serving as a bar in a formerly empty lot? Hey, why not. What's On | The Pedal Pusher. Pegasus Arms Restaurant & Bar - About. Cafe Kudos Contacts 1. 235 Annex Road, Christchurch, 8024, New Zealand. Screen reader users: click here for plain HTML +You Search Images.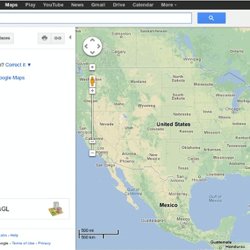 Matsons Brewery. 6 Tenahaun Place, Sockburn P O Box 13961, Christchurch 8141 New Zealand. Screen reader users: click here for plain HTML New!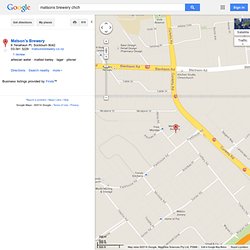 Drag and drop to rearrange your apps. Sign in to try it. West Coast Bar & Grill - Christchurch - New Zealand. Cassels & Sons Brewery - a bar, brewery, cafe, restaurant & music venue. Fox & Ferret Palms. The Craic Irish Bar. (1) The Craic Irish Bar. Robbies Bar and Bistro» Robbies Cranford.
Clink Bar and Restaurant. Almeidas Tapas Bar. Club 22. CLUB 22 CHRISTCHURCH CLUB ALCOHOL FIGHTS. Last updated 13:30 26/08/2011 Club 22 owner Liv Boot caused a stir when she opened the club charging men a $22 entry fee.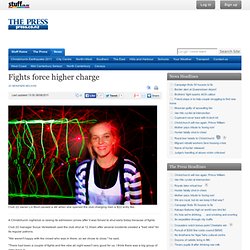 A Christchurch nightclub is raising its admission prices after it was forced to shut early today because of fights. Club 22 manager Surya Venkataiah said the club shut at 12.30am after several incidents created a ''bad vibe'' for its regular patrons. ''We weren't happy with the crowd who was in there, so we chose to close,'' he said. Nothing to do? Rock up to Club 22. Last updated 05:00 08/04/2011 Quake spirit: Liv Boote behind the bar at Club 22 in Papanui.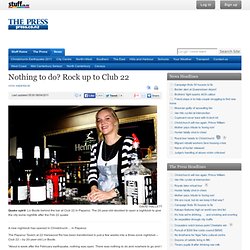 The 20-year-old decided to open a nightclub to give the city some nightlife after the Feb 22 quake A new nightclub has opened in Christchurch ... in Papanui. Club 22.
---