Psychology
Get flash to fully experience Pearltrees
Myth #1 – Introverts don't like to talk . This is not true. Introverts just don't talk unless they have something to say. They hate small talk.
Interested in these topics? Go here . My first meal in the US was at Taco Bell When I first landed in the United States from India in 1994 to start my PhD, I was taken by my hosts, straight from the airport, to a Taco Bell for dinner. (My hosts were senior Indian students at the same university.)
The mere-exposure effect is a psychological phenomenon by which people tend to develop a preference for things merely because they are familiar with them. In social psychology , this effect is sometimes called the familiarity principle . The effect has been demonstrated with many kinds of things, including words, Chinese characters , paintings, pictures of faces, geometric figures , and sounds. [ 1 ] In studies of interpersonal attraction, the more often a person is seen by someone, the more pleasing and likeable that person appears to be. [ edit ] Research
WHAT YOU ARE ABOUT TO READ IN THE NEXT PARAGRAPH IS COMMONLY BELIEVED, BUT NOT TRUE – You read by recognizing the shapes of words and groups of words. Words that are in all capital letters all have the same shape: a rectangle of a certain size. This makes words displayed in all uppercase harder to read than upper and lower case (known as "mixed case"). Mixed case words are easier to read because they make unique shapes, as demonstrated by the picture below.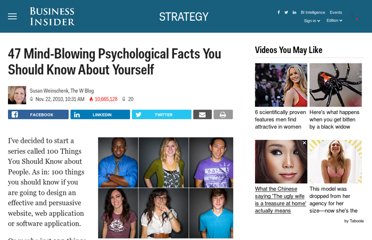 Entertainment Meet David Peterson, who developed Dothraki for Game of Thrones There are seven different words in Dothraki for striking another person with a sword. Among them: "hlizifikh," a wild but powerful strike; "hrakkarikh,"a quick and accurate strike; and "gezrikh," a fake-out or decoy strike.
Interesting Info -> Lying Index -> How to Detect Lies Become a Human Lie Detector (Part 1) Warning: sometimes ignorance is bliss.