Inspiration
SteveJobs_Innovator.pdf (application/pdf Object)
3 C's of life
Zodiac City
I choose
You've read several posts already. It's very flattering to know that somebody is interested in what I write over here. :) I just wanted to let you know, that you can also subscribe via email to receive blog updates.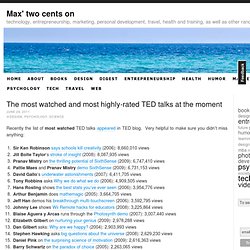 DISCLAIMER: All images on www.BeingAlison.com are licensed or readily available in various places on the Internet and believed to be in public domain. Images posted are believed to be posted within our rights according to the U.S. Copyright Fair Use Act (title 17, U.S. Code.) If you believe that any content appearing on www.BeingAlison.com infringes on your copyright, please let us know by using our contact form and send a DCMA take down request.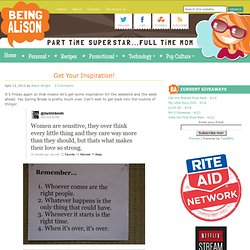 Get Your Inspiration!
John Cleese - a lecture on Creativity
Muhammad Ali vs Sonny Liston 1965
Image of the day
A palliative nurse has recorded the top five regrets of the dying. Photograph: Montgomery Martin/Alamy There was no mention of more sex or bungee jumps. A palliative nurse who has counselled the dying in their last days has revealed the most common regrets we have at the end of our lives. And among the top, from men in particular, is 'I wish I hadn't worked so hard'. Bronnie Ware is an Australian nurse who spent several years working in palliative care, caring for patients in the last 12 weeks of their lives.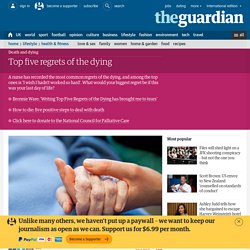 Through philosophy you can consider the fundamental questions of human life, understand some of the ideas that have shaped our world, and open out greater possibilities for your life. In the Introductory Course to Philosophy you can join others on this path of discovery. In a very practical way you will find that philosophy can help to simplify, clarify, and enrich your perspective and self awareness.
of Philosophy - Introductory Philosophy Course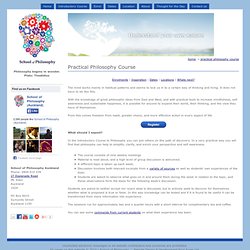 In this PN TV episode, we take a quick look at some of my favorite Big Ideas from Mihaly Csikszentmihalyi's GREAT book, "Flow"--including the importance of learning how to control the contents of our consciousness as well as how to get ourselves more consistently into the state of optimal experience known as Flow. Hope you enjoy! P.S. I mention this blog post you might like: How I Mind Map!
Flow – Episode #10 - PhilosophersNotes TV
A Little Book Of - Thanks
5:1 The Magic # of Love | A Philosopher's Notes
It's Just Good Business™ with Jeff Klein - en*theos Radio
BlogOutLoud.com - Free Resources
July 29, 2010 List of Our Top Free Lists In the past few years we've put together a lot of lists of the best free resources that we offer through our site in different categories that we feature.
Man's Search for Meaning by Viktor E. Frankl on Audio Download, Audio CD, Audio Cassette
625. Ode on a Grecian Urn. John Keats. The Oxford Book of English Verse
Jim Collins Audio & Video
The new question: Ten years after the worldwide best seller Good to Great , Jim Collins returns to ask: Why do some companies thrive in uncertainty, even chaos, and others do not? In Great by Choice , Collins and his colleague, Morten T. Hansen, enumerate the principles for building a truly great enterprise in unpredictable, tumultuous, and fast-moving times.
Great by Choice by Jim Collins on Audio Download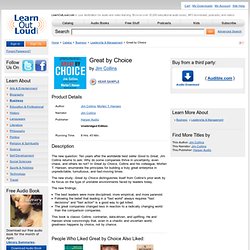 Brian Johnson
Eknath Easwaran index (Eknath Easwaran book excerpts)
Book Excerpts: SpiritSite.com is pleased to offer excerpts from the following books. You may click on a book's cover to begin, or on the links below: Selections from Eknath Easwaran's The Dhammapada: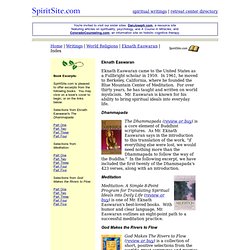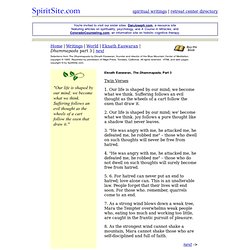 Eknath Easwaran, The Dhammapada , Part 3 Twin Verses 1. Our life is shaped by our mind; we become what we think. Suffering follows an evil thought as the wheels of a cart follow the oxen that draw it. 2.
Eknath Easwaran The Dhammapada
Eknath Easwaran on the Training of Attention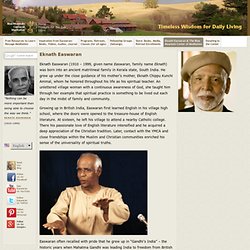 Eknath Easwaran (1910 – 1999, given name Easwaran, family name Eknath ) was born into an ancient matrilineal family in Kerala state, South India. He grew up under the close guidance of his mother's mother, Eknath Chippu Kunchi Ammal, whom he honored throughout his life as his spiritual teacher. An unlettered village woman with a continuous awareness of God, she taught him through her example that spiritual practice is something to be lived out each day in the midst of family and community. Growing up in British India, Easwaran first learned English in his village high school, where the doors were opened to the treasure-house of English literature. At sixteen, he left his village to attend a nearby Catholic college.
Eknath Easwaran | Blue Mountain Center of Meditation & Nilgiri Press
The Dhammapada by Eknath Easwaran A Gaia Community member book review of The Dhammapada by Eknath Easwaran. Read about this book and get suggestions for other books about Buddhism, ... books.gaia.com/ 13715/ the_dhammapada/ by_eknath_easwaran spiritsite.com Eknath Easwaran The Dhammapada Eknath Easwaran, The Dhammapada, Part 3.
The Dhammapada - Eknath Easwaran
The Dhammapada, an anthology of 423 verses, has long been recognised as one of the masterpieces of early Buddhist literature. From ancient times to the present, the Dhammapada has been regarded as the most succinct expression of the Buddha's teaching found in the Theravada Pali Canon of scriptures known as the Khuddaka Nikaya ("Minor Collection") of the Sutta Pitaka. This Dhammapada palm leaf manuscript (44.5 * 6.5 cm) in Sinhalese characters, of which the first and last pages are shown, is believed to be the oldest extant copy of the scripture. Photo: Courtesy of K. D. Paranavitana, Assistant Archivist, Department of National Archives, Colombo, Sri Lanka.
The Dhammapada
User Profile: Brian Johnson
Brian Johnson, Zaadz - Selling Without Selling Out
PhilosophersNotes TV - More Wisdom in Less Time
Robert F. Kennedy Center for Justice & Human Rights | Robert F. Kennedy Center for Justice & Human Rights
How to Win Friends & Influence People by Dale Carnegie on Audio Download, Audio CD, Audio Cassette
You can go after the job you want...and get it! You can take the job you have...and improve it! You can take any situation you're in...and make it work for you! Simon & Schuster Audio is proud to present one of the best-selling books of all time, Dale Carnegie's perennial classic How to Win Friends and Influence People , presented here in its entirety.
Dr Wayne Dyer's 'Power Of Intention' presented at a pre-recorded live seminar
Audio and Video Downloads - Dr. Wayne Dyer
David Hawkins - Power vs Force - A Critique
Carlos Castaneda's Magical Passes
Great Work