Russian Revolution
The Russian Revolution. Internet History Sourcebooks. Russian Revolution See Main Page for a guide to all contents of all sections.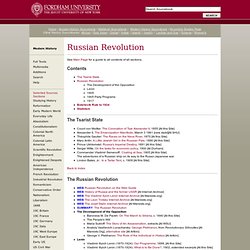 Contents The Tsarist State Russian Revolution The Development of the Opposition Lenin 1905 1905 Party Programs 1917 Bolshevik Rule to 1924 Stalinism The Tsarist State Count von Moltke: The Coronation of Tsar Alexander II, 1855 [At this Site] Alexander II, The Emancipation Manifesto, March 3 1861 [new style][At SHU] Théophile Gautier: The Races on the Neva River, 1870 [At this Site] Mary Antin: A Little Jewish Girl in the Russian Pale, 1890 [At this Site] Prince Ukhtomskii: Russia's Imperial Destiny, 1891 [At this Site] Sergei Witte, On the tasks for economic policy, 1900 [At Durham] Commander Vladimir Semenoff: Coaling at Sea, 1905 [At this Site] The adventures of a Russian ship on its way to the Russo-Japanese war.
Russian Rulers. Russian Rulers. Russian Rulers. Russian Rulers. Russian Rulers. Russian Revolution. The Russian Revolution is the collective term for a series of revolutions in Russia in 1917, which dismantled the Tsarist autocracy and led to the creation of the Russian SFSR.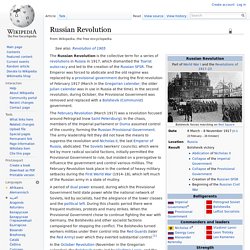 The Emperor was forced to abdicate and the old regime was replaced by a provisional government during the first revolution of February 1917 (March in the Gregorian calendar; the older Julian calendar was in use in Russia at the time). In the second revolution, during October, the Provisional Government was removed and replaced with a Bolshevik (Communist) government. Documents on the Russian Revolution. General Overview: In 1917 Russia went through two revolutions: February 24 - 29 and October 24 - 25.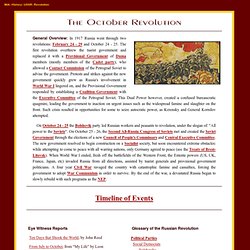 The first revolution overthrew the tsarist government and replaced it with a Provisional Government of Duma members (mostly members of the Cadet party), who allowed a Contact Commission of the Petrograd Soviet to advise the government. Protests and strikes against the new government quickly grew as Russia's involvement in World War I lingered on, and the Provisional Government responded by establishing a Coalition Government with the Executive Committee of the Petrograd Soviet. This Dual Power however, created a confused bureaucratic quagmire, leading the government to inaction on urgent issues such as the widespread famine and slaughter on the front.
Such crisis resulted in opportunities for some to seize autocratic power, as Kerensky and General Kornilov attempted. History - World Wars: War and Revolution in Russia 1914 - 1921. Russia in Revolution.
---