ProjectManagement
Your Mission, Should You Choose To Accept It: Project Management Excellence - by David Hamil, MESA Solutions. Technology projects worldwide are costing companies billions of dollars more than they budgeted for, and almost half don't live up to the clients' expectations.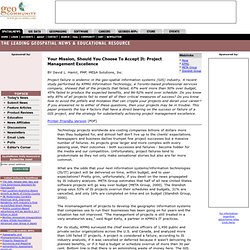 Newspapers and business dailies trumpet few project successes but a massive number of failures. As projects grow larger and more complex with every passing year, their outcomes - both successes and failures - become fodder for the media and our competition. Unfortunately, project failures tend to predominate as they not only make sensational stories but also are far more common. What are the odds that your next information systems/information technologies (IS/IT) project will be delivered on time, within budget, and to user expectations? Program management: Different from project management. Many enterprise IT organizations are tackling large, complex efforts that combine the delivery of software elements, new and changed business models, and overall changes to organizational structure and capabilities.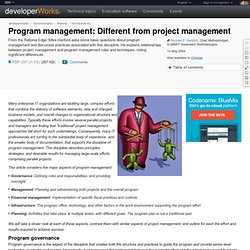 Typically these efforts involve several parallel projects, and managers are finding that "traditional" project management approaches fall short for such undertakings. Consequently, many IT professionals are turning to the substantial body of experience, and the smaller body of documentation, that supports the discipline of program management. This discipline describes principles, strategies, and desirable results for managing large-scale efforts comprising parallel projects.
This article considers five major aspects of program management: Newsflash: No One Cares About Your Blog | Influential Marketing. Many brands like to treat social media like a big party at the cool kid's house.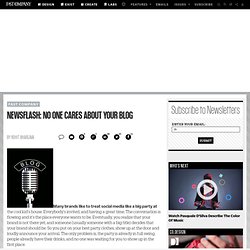 Everybody's invited, and having a great time. The conversation is flowing and it's the place everyone wants to be.
---