Content Creation
Blender 3D: Noob to Pro/Modeling a Simple Person
Your simple person will look like this. In this module, you will model a simple human figure. Along the way, you will practice using extrusion and learn additional ways to select vertices, edges, and faces. [ edit ] Start a New Scene Start with the default cube ( File → Load Factory Settings ) and NumLock "on". Press Tab to edit the cube.
Useful Building tools and supplies
LindaKellie.com
JASS Inventory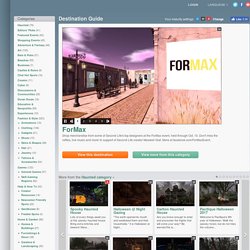 Come to the 5th annual SL Buddy Walk, running March 17th to the 31st!
Happy Hippo Building School
How to Make SL Mesh Shoes With Blender 2.5 - Tutorial