Academic Comm
Acknowledgements : The Digital Scholar: How Technology Is Transforming Scholarly Practice. This book has grown out of a number of converging projects and interests, some of these related to my institution, the Open University (OU), some from research and others from my online network.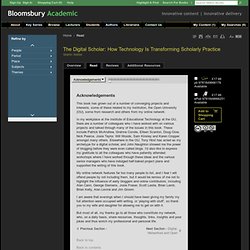 In my workplace at the Institute of Educational Technology at the OU, there are a number of colleagues who I have worked with on various projects and talked through many of the issues in this book. These include Patrick McAndrew, Grainne Conole, Eileen Scanlon, Doug Clow, Nick Pearce, Josie Taylor, Will Woods, Sam Kinsley and Karen Cropper amongst many others. Elsewhere in the OU, Tony Hirst has acted as my archetype for a digital scholar, and John Naughton showed me the power of blogging before they were even called blogs. I'd also like to express my gratitude to all the colleagues who have patiently attended workshops where I have worked through these ideas and the various senior managers who have indulged half-baked project plans and supported the writing of this book.
Digital Scholarship | Open Educational Resources (OERs) for digital scholars. Ready to Research | Open Educational Resources (OERs) for research students. International Journal of Social Media and Interactive Learning Environments (IJSMILE) - Inderscience Publishers. This site uses some unobtrusive cookies to store information on your computer.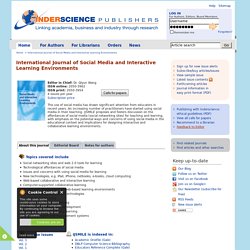 By continuing to browse the site you are agreeing to our use of cookies. We use cookies to store sessions in order to provide an interactive and personal experience to our website users. Pearson - Blue Skies — New thinking about the future of higher education. Webinar recordings now available. 09 Mar 2012 Have you considered using Facebook at your college or instituition?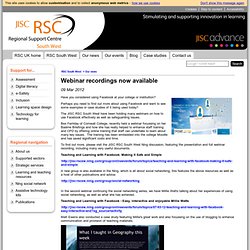 Perhaps you need to find out more about using Facebook and want to see some examples or case studies of it being used today? Curriculum Design Toolkit by Helen Barefoot on Prezi. Communities of Practice for Education | Home. Additional reference material - Literacy & writing skills. General Online Guides: Spelling, Punctuation and Grammar Detailed US Grammar Sites Online Guides: Essay Writing and Study Skills Other study skills websites Thinking Writing: A Guide to Writing-Intensive Teaching and Learning.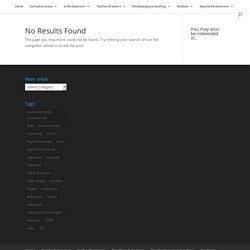 Etienne Wenger. Digital Visitors and Residents [OCLC - Activities] The University of Oxford and OCLC Research, in partnership with the University of North Carolina, Charlotte, are collaborating on a JISC-funded study to investigate the theory of digital residents and visitors with learners in the educational stages: Emerging (Late stage secondary school-first year undergraduate); Establishing (Second/third year undergraduate); Embedding (Postgraduates, PhD students); and Experienced (Scholars).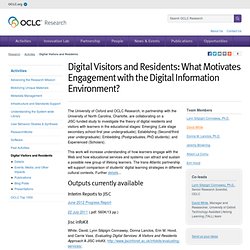 This work will increase understanding of how learners engage with the Web and how educational services and systems can attract and sustain a possible new group of lifelong learners. The trans-Atlantic partnership will support comparison of students' digital learning strategies in different cultural contexts. Further details... Outputs currently available Interim Reports to JISC. Deciphering student search behaviour - SEARCH. A new study reveals how students conceal their real search strategies from their tutors.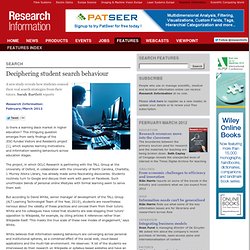 Sarah Bartlett reports Is there a learning black market in higher education? This intriguing question emerges from early findings of the JISC-funded Visitors and Residents project [1], which explores learning motivations and information-seeking behaviours across education stages. The project, in which OCLC Research is partnering with the TALL Group at the University of Oxford, in collaboration with the University of North Carolina, Charlotte, J.
HE Oaklands Academic Community.
---