Publishing
Get flash to fully experience Pearltrees
Alternative Forms of Publishing
The returnability of books is a cancer that has been consuming the publishing industry for decades. Publisher after publisher has succumbed to its relentless arithmetic. Yet, book people cling to the belief that they are not vulnerable to the forces that destroyed their predecessors. In all the commentary about the merger of Random House and Penguin I have seen nothing written about the consignment model of bookselling that has doomed countless publishers over the past fifty years. The merger offers the captains of those great companies an opportunity to change that model. If they are sincere about leveling the playing field against Amazon, the abandonment of a returns-driven business model may be the only way to do so.
In this month's Atlantic , you can find a piece by Peter Osnos , a former Random House editor, making the case that books, like the subject of a Gloria Gaynor song, will survive. He speaks of book publishing's "incredible resilience." Not so fast, Peter. Incredible fantasy, or even denial is more like it.
Every e-book published by Booktango gets a free ISBN . But, exactly what is ISBN ? The answer isn't as complicated as you might imagine. A book's ISBN, or International Standard Book Number, helps publishers, retailers, and bookstores in book-tracking. Nowadays, all books get 13-digit ISBNs (books published before 2007 have the 10-digit versions).
The title of this talk is, "Do We Need Publishers Any More?". I was going to call it "Thank Christ We Don't Need Bloody Publishers Any More" – but I felt that sounded too partisan. Relationships between writers and publishers are of course very strange and change all the time, rather like a see-saw.
Ottaker's founder James Heneage. Photograph: Shaun Curry/AFP/Getty Images The founder of the Ottakar's book chain has described Amazon as a "dangerous" force that is damaging the high street book trade and threatens to undermine publishers' ability to nurture new talent. "If you are concerned about the sort of books that get published you have to look to the future and the amount of value that businesses like Amazon can remove from the publishing business model," said James Heneage, the businessman turned author who started the quirky Ottakar's chain in the late 80s. "If you look at great writers such as Patrick O'Brian and Joanna Trollope, these people did not start out as uniquely brilliant. Their [following] built gradually because publishers worked with them and had the money to invest, and pay for the expertise that spotted the books in the first place."
The rumblings about Apple ( AAPL ) and the possible anticompetitive nature of its deal with book publishers over "agency model" pricing have turned into an all-out roar, with the news that the Department of Justice has warned the various parties about an impending antitrust lawsuit. According to a report in the Wall Street Journal on Thursday , federal prosecutors have sent letters to Apple and five of the major publishers notifying them it is pursuing a case for collusion and price fixing—charges that are similar to class-action lawsuits filed recently involving Apple and book publishers . While the outcome of this case is not certain, one thing seems fairly clear: E-book prices are headed downward, whether publishers like it or not. As my PaidContent colleague Jeff Andrews has described , the legal background of the case goes back to 2010, when Apple was preparing to launch the iPad.
By Jeremy Greenfield, Editorial Director, Digital Book World, @JDGsaid With self-publishing tools proliferating and traditional publishing business models in flux, authors, agents and book-industry observers have been increasingly debating the relevance of publishing companies. In his obituary to the year-long Domino Project, Seth Godin wrote that publishing companies and other traditional players that do not adapt to new modes of doing business will go extinct.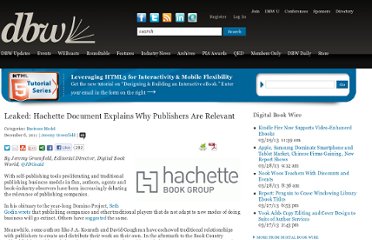 Every publisher must pray for the hallowed 'word-of-mouth' effect when they take on a new writer, and the literary salon is one way to create a buzz. If you want to be cynical about it, it is a cut price way of marketing in our straitened times - by turning the poor author into ever more the performer. Or so I first assumed. Having talked to writers and readers who turn up to these informal literary gatherings which began some years ago in back-rooms and didn't cost a thing to attend (based on the original Enlightenment model) I have become a hard-and-fast advocate of 'new publishing' of this kind. Authors speak with genuine excitement about them.