Desserts
La leche frita de Raquel. Jihva for Ingredients #5 | Cook (almost) Anything at Least Once. Vineela from Vineela's Cusine is hosting this month's Jihva for Ingredient and the theme is Milk & Milk Products.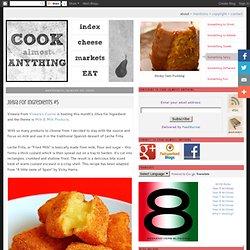 With so many products to choose from I decided to stay with the source and focus on milk and use it in the traditional Spanish dessert of Leche Frita. Leche Frita, or "Fried Milk" is basically made from milk, flour and sugar - this forms a thick custard which is then spread out on a tray to harden. It's cut into rectangles, crumbed and shallow fried. The result is a delicious bite sized treat of warm custard encased in a crisp shell.
Durian Ile Flottante. "Durian Never Fails" Light dollop of fluffy meringue floating on creamy durian soup.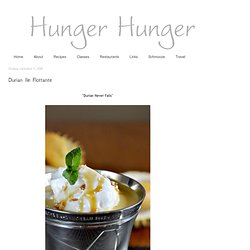 I never had the classic French dessert ile flottante (floating islands) until a visit to Luxembourg last year when I was invited to dinner by French Chef William Mahi. Michael's Mango Fool - Summer desserts. Return to listing I happen to love the taste of fresh mangoes on their own (a combination of peaches and cream all in one fruit, I think).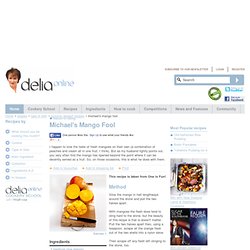 But as my husband rightly points out, you very often find the mango has ripened beyond the point where it can be decently served as a fruit. So, on those occasions, this is what he does with them. Butterscotch Bananas - English. Return to listing This is a lovely sticky sauce – just made for bananas, especially if you serve it hot, poured over bananas and ice-cream.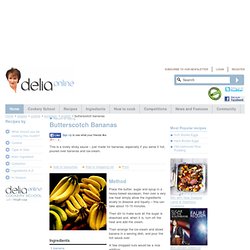 Place the butter, sugar and syrup in a heavy-based saucepan, then over a very low heat simply allow the ingredients slowly to dissolve and liquefy – this can take about 10-15 minutes. Then stir to make sure all the sugar is dissolved and, when it is, turn off the heat and add the cream. Then arrange the ice-cream and sliced banana in a serving dish, and pour the hot sauce over. Apple, Mincemeat and Nut Strudel - Mincemeat. This is a Christmas party pud which will serve 8 people very generously; perfect for a buffet lunch.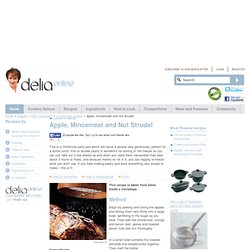 Filo or strudel pastry is wonderful for storing in the freezer as you can just take out a few sheets as and when you need them (remember they take about 3 hours to thaw), and because there's no fat in it, you can happily re-freeze what you don't use. If you hate making pastry and want something very simple to make – this is it! Begin by peeling and coring the apples and slicing them very thinly into a large bowl, sprinkling in the sugar as you slice. Food - Recipes : Summer pudding.
---