Galleries
Foster White Gallery, Seattle, Pacific Northwest, Art. A Gallery Fine Art, El Paseo Art Galleries | Palm Desert California. Sophistication, impeccable taste, knowledge and understanding best describe A Gallery Fine Art, whose vast collection of contemporary paintings, sculpture, functional art, jewelry and glass art has served collectors for over a decade.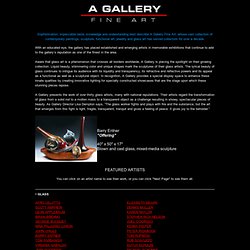 With an educated eye, the gallery has placed established and emerging artists in memorable exhibitions that continue to add to the gallery's reputation as one of the finest in the area. Aware that glass art is a phenomenon that crosses all borders worldwide, A Gallery is placing the spotlight on their growing collection. Artful Home: Art Glass, Modern Furniture, Art Jewelry, & Fine Gi. Hunter Kirkland Contemporary - Sylvia Moss. Image: © Sylvia Moss "Evening Concerto" Oil/Mixed Media Canvas, 48" x 48" "Solstice" Oil/Mixed Media Canvas, 48" x 40"
Marion Meyer Gallery :: Art Gallery Laguna Beach. Micaela - S.F. Products:Plumber. Seattle Glassblowing Studio. AIR studioworks: Ellen Koment and Mario Quilles. Pinnacle Gallery: Fine American Crafts & Art. Index of articles about Pippin Contemporary abstract art gallery and its artists.
---