GENERAL
i found this amazing DIY via Crafty Nest (the original photos and DIY are by Heika DeHart). she was inspired to make a DIY version of these Woven Abaca Pendant Lights from West Elm. i think they turned out great! i love the airy feeling and the organic color and texture of the hemp. What You Need: bouncy balls of various sizesclear drying craft glue (about 1 bottle per ball) such as Aleene's Clear Gel Tacky Gluehemp string 20lb. weight estimated amounts needed: 16 inch diameter ball—400 yards 14 inch diameter ball—300 yards 9 inch diameter ball—100 yardsplastic gloves (optional)trash bag or small drop clothpermanent markerball inflating needle (available at sporting goods stores or bike shops)light fixture and hardware (any one of these pendant fitters at Lowe's, Ikea's Januari cord set or Hemma cord set will work) Do It:
DIY woven hemp lamps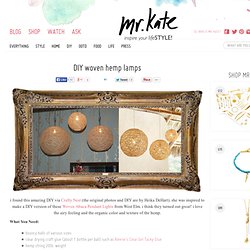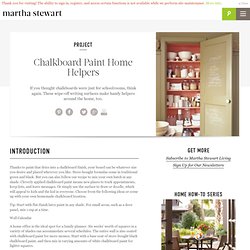 Thanks to paint that dries into a chalkboard finish, your board can be whatever size you desire and placed wherever you like. Store-bought formulas come in traditional green and black. But you can also follow our recipe to mix your own batch in any shade. Cleverly applied chalkboard paint means new places to track appointments, keep lists, and leave messages. Or simply use the surface to draw or doodle, which will appeal to kids and the kid in everyone.
Organizing: Closet, Storage, and Office Organizers - Martha Stewart
Guess how I spent my weekend!! Organizing my closet! Jealous?
Organizing Tights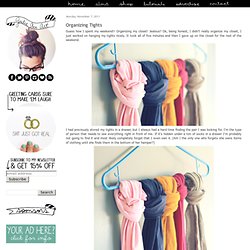 Det började med att jag ledsnade totalt på röran i mitt badrumsskåp. Sminkborstar låg huller om buller med mascaror, läppglans och kajaler. Först och främst var det dags att rensa. Bort med allt det gamla, det uttorkade och det som jag inte använder.
Sminkhållare – Make-up holder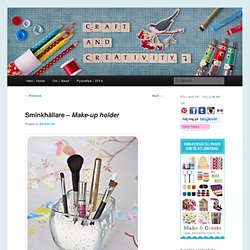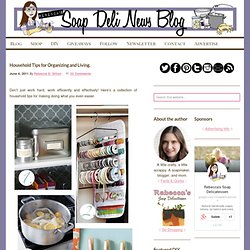 Don't just work hard, work efficiently and effectively! Here's a collection of household tips for making doing what you even easier. 1.) Use Tins for Storing Spice Packets. Use metal storage tins for storing spice packets in the pantry.
Household Tips for Organizing and Living.
DIY Organizing Ideas! 10+ DIY Ideas to boost your Spring Cleaning
Posted by ScrapHacker.com on tisdag, april 10, 2012 · Leave a Comment Spring means time for spring cleaning & high time to make those dreams of organized bliss come to fruition! Living in a creative home, you probably know that documents, clothes and craft supplies don't organize themselves…To get things sorted out and organized you need to set a storage infrastructure! I've gathered a bunch of DIY ideas & tutorials to get you started, here they are: Organize important documents and odd bits in an orderly yet colorful way! Let the Rainbow Organizer, made from 7 Ikea "Mackis" with painted fronts, inspire you!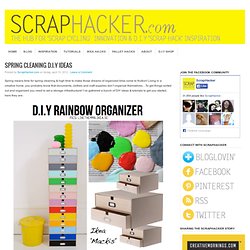 550_100849112
shelfabovedoor.jpg (JPEG Image, 360x450 pixels)
wirebasket.jpg (JPEG Image, 400x400 pixels)
necklaces
dividers.jpg (JPEG Image, 554x363 pixels)
colorcode2
wireclutch.jpg (JPEG Image, 339x600 pixels)
thefrugalfairy.com/2012/01/14/25-clever-ideas-to-make-life-easie