CRAFTS
Get flash to fully experience Pearltrees
Instagram and other smartphone photo applications bring artistic photography to our fingertips.
Growing up by the beach in Southern California, the ability to knot a macrame bracelet was practically a right of passage. Although those days are long behind us, we've never forgotten the ever-so-simple square knot technique. This time, however, we're replacing hemp and wooden beads for more updated elements like colorful nylon cord and glossy metal charms.
Step Three Now we are ready to bleach the shirt, but first it is important that we get the appropriate bleach to water ratio. If you do not have enough bleach your design will look muted, or you will have to spray the design multiple times.
I've always loved taking everyday items and making them into something interesting. Ever since I was a little crafty kid I loved devouring books that taught me how to make little dolls from clothespins, beads from rolled up magazines, and little fairy ornaments from wire and fake flower petals.
Jessica of Wednesday Inc shows us how to make those gorgeous twine chandeliers from the inspiration shoot she shared with us this morning. Using balloons, glue and twine, you can also make these lanterns for your wedding – and then bring it home and use it as your very own mid century lampshade. What you will need are: balloons, glue, yarn, tray for glue, corn starch 1/2 cup of Corn starch, 1/4 cup of Warm water, clear fast drying spray paint, hanging lamp cord or fishing line (depending on your desired final product), and a lighting kit if you're looking for a fully functional lantern.
Posted by ScrapHacker.com on onsdag, mars 21, 2012 · 3 Comments Although a lot of us have welcome digitalized reading, most of us still have mixed feelings about hacking books. They way I see it, hacking books and renewing their raison d'être in our homes is a way to pay thankful tribute to their legacy as bearers of culture, knowledge and amazing experiences.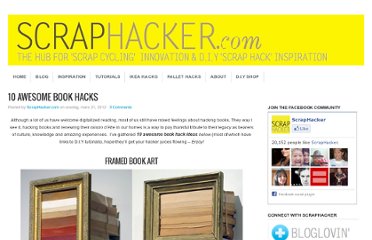 Posted by ScrapHacker.com on måndag, april 30, 2012 · 3 Comments The applications of D.I.Y projects with rope are infinite, so i found limiting the number of DIY ideas for this post super tricky (i've been pinning them like crazy too, so visit my D.I.Y Dreams board for more ideas ).
Hello Tuesday … Goodbye Monday! Yesterday was the last Monday of the school year.
Build this Hula Hoop Rug and other fun t-shirt crafts. Take your weaving to the next level by making miniature baskets. Click the photo to view the craft.