Blog recipes from the Southeast
Get flash to fully experience Pearltrees
A few weeks ago, I was browsing through a few of the recipes I collected from my family.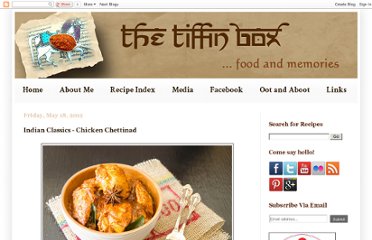 Schools started last week and so did the heavy rains. I am trying to adjust to the new routine of waking up early and making two lunch boxes and then running to the bus stop to see off my little one.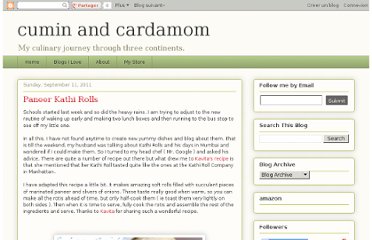 Ingredients: 1 Kg Pork (2 Lbs) 1 tbs Chilly power 1tsp Turmeric power 1tsp Cummin Seeds (Jeera) 8-10 Small Onions or 2 big onions 10-15 cloves of Garlic 3-4 Green Chills 1/2 tsp Mustard seeds 2 tbs Cummin Power Vinegar or concentrated tamarind juice (or Kachampuli if you can get it) Salt to taste Method: Wash the Pork couple of times, remove excess water. Marinate the pork for 10-15 minutes with salt, red chilly power, and turmeric. In the mean while blend the Onions, Green Chilles,Ginger and a little Cummin seeds.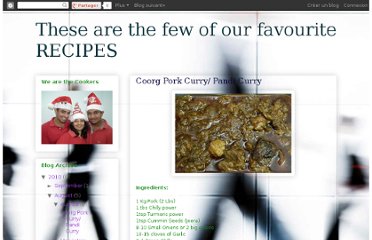 Posted: April 11, 2011 by incidentalcooksuman in Dinner , Indian Food , Indo Chinese , Rice , Street Food Tags: bell pepper , broccoli , Chicken , chinese , dinner , fried , peas , Rice , Soy sauce , spring onions , stir fry , stir fry sauce , take out Fried rice is popular dish in Asian cuisine especially in Chinese food. It is made with steamed white rice/brown rice, stir fried in wok with some meats, eggs and veggies of your choice.
We know what it's like when you're browsing a site with as many recipes as ours. You find a brilliant recipe, want to make it again, but can't remember how you found it! But we've solved the problem. Now, by clicking 'Save this recipe' or 'I cooked this' on any of our recipes, they'll be saved and grouped into your personal online recipe book. All you have to do is log in with your Facebook account to see them. When you click either of these buttons it will also tell your friends on Facebook what you've been cooking or saving so they too can give our quick and easy recipes a go (but you can turn this off at any time by visiting your ' My recipe book ' page).
Let's talk about Paneer Butter Masala today. Not just any kind, the kind that you get in Indian restaurants. Why?
Chicken Recipes , Submitted by Neetu on Apr 12, 2010 Rating: 4.4/ 5 (10 votes cast) Punjabi Chicken Curry For those who are fond of spicy food, Indian food recipes can add a classic variation to a meal. Indian food is known worldwide for its taste and food textures that are unique in themselves. The famous mutton and chicken curry recipes from different parts of India have excited many a palette.