SharePoint
Planning SharePoint Deployments with RACI
One of the first things I did when I sat down with the project manager and service managers on a SharePoint deployment is RACI charts. I'm a big fan of them. It gets a lot of the arguments flushed out for who is responsible.
Video: SharePoint Remote Blob Storage and Metalogix StoragePoint
Asif's Blog » Blog Archive » Licensing requirements for InfoPath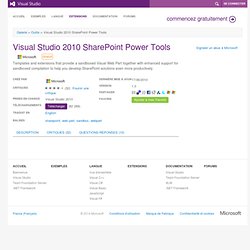 Sign in to Write a Review Sort By: I tried a basic Sandboxed Visual WebPart and couldn't get this to work. I was able to see the solution deployed and activated as well as the feature in the site collection features section but could not see the webpart in the WP gallery. I have verified my permissions as the SC Admin. Any help would be appreciated.
Visual Studio 2010 SharePoint Power Tools
There have been several past posts that deal with the list threshold, such as here . A list may exceed the list view threshold and then some operations will be blocked. The big problem with this is that the default list view can't be used to access the list, bad news bear! They have to be properly configured before they can work with a large list.
List View Thresholds And Blocked Operations In SharePoint 2010 |