SharePoint
SharePoint Security. Video: SharePoint Remote Blob Storage and Metalogix StoragePoint. SharePoint Training. Asif's Blog » Blog Archive » Licensing requirements for InfoPath. I have been asked enough times now about the licensing requirements of SharePoint to be able to show InfoPath forms in the browser that I'm finally putting together this blog entry about it :-).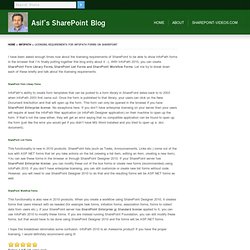 With InfoPath 2010, you can create SharePoint Form Library Forms, SharePoint List Forms and SharePoint Workflow Forms. Let me try to break down each of these briefly and talk about the licensing requirements. SharePoint Form Library Forms.
Versions
SharePoint 2007. SharePoint 2010. BCS. Licensing. SharePoint Certifications. Powershell. Governance. SharePoint 2010 - the Business Collaboration Platform for the En. SharePoint Online With Office 365, SharePoint offers enhanced security technologies, is easy to manage, and can be accessed from almost anywhere.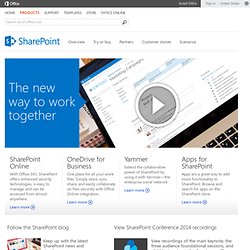 OneDrive for Business One place for all your work files. Simply store, sync, share, and easily collaborate on files securely with Office Online integration. Yammer.
BI
Visual Studio 2010 SharePoint Power Tools. Se connecter pour écrire une critique Trier par: Essential if you develop over SharePoint I tried a basic Sandboxed Visual WebPart and couldn't get this to work.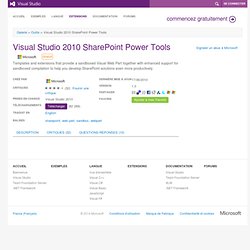 I was able to see the solution deployed and activated as well as the feature in the site collection features section but could not see the webpart in the WP gallery. I have verified my permissions as the SC Admin. List View Thresholds And Blocked Operations In SharePoint 2010 | There have been several past posts that deal with the list threshold, such as here.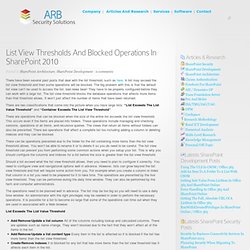 A list may exceed the list view threshold and then some operations will be blocked. The big problem with this is that the default list view can't be used to access the list, bad news bear! They have to be properly configured before they can work with a large list.
Performance
---