Martial arts
Southern Dragon Kung Fu. The movements of the Southern Dragon style (Chinese: 龍形摩橋; pinyin: lóng xíng mó qiáo; Cantonese Yale: long4 ying4 mo1 kiu4; literally "dragon shape rubbing bridges") of Shaolin Boxing are based on the mythical Chinese dragon.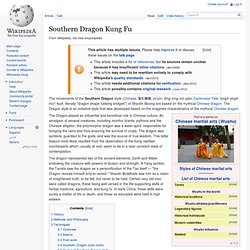 The Dragon style is an imitative-style that was developed based on the imagined characteristics of the mythical Chinese dragon. The Dragon played an influential and beneficial role in Chinese culture. An amalgam of several creatures, including monitor lizards, pythons and the Chinese alligator, the polymorphic dragon was a water spirit, responsible for bringing the rains and thus ensuring the survival of crops.
Hapkido. Your Top Source For Free Boxing Training Advice. »» Muay Thai Lesson.com »» All resources for Muay Thai Training : Video, Equipment, Fight and More!! Jujitsu. Wing Chun. Pressure point. The concept of pressure points is present in old school (17th century) Japanese martial arts and is claimed to have an even earlier history; in a 1942 article in the Shin Budo magazine, Takuma Hisa asserted the existence of a tradition attributing the first development of pressure-point attacks to Shinra Saburō Minamoto no Yoshimitsu (1045–1127).[2] Hancock and Higashi (1905) published a book which pointed out a number of vital points in Japanese martial arts.[3] Exaggerated accounts of pressure-point fighting appeared in Chinese Wuxia fiction and became known by the name of Dim Mak, or "Death Touch", in western popular culture in the 1960s.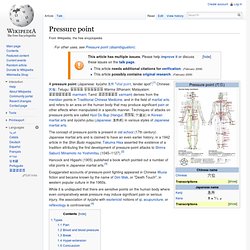 While it is undisputed that there are sensitive points on the human body where even comparatively weak pressure may induce significant pain or serious injury, the association of kyūsho with esotericist notions of qi, acupuncture, or reflexology is controversial.[4]
---