Palaeontology
Relationships of Cetacea (Artiodactyla) Among Mammals: Increased Taxon Sampling Alters Interpretations of Key Fossils and Character Evolution. Introduction Establishing the position of Cetacea (whales, dolphins and porpoises) within Mammalia has long been a focus of mammalian systematists.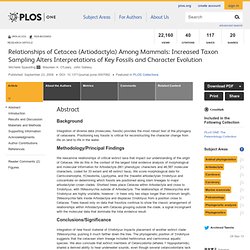 The transition from a primitively quadrupedal terrestrial ancestor to a convergently 'fish-like' modern mammal species involved changes in numerous character systems. Whale and dolphin evolution - what changed first, diet or the ability to walk? When the ancestors of living cetaceans — whales, dolphins and porpoises — first dipped their toes into water, a series of evolutionary changes were sparked that ultimately placed these swimming mammals into the larger hoofed animal group.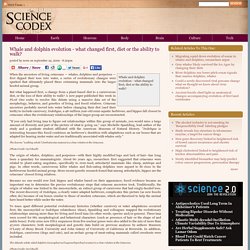 But what happened first, a change from a plant-based diet to a carnivorous diet, or the loss of their ability to walk? A new paper published this week in seeks to resolve this debate using a massive data set of the morphology, behavior, and genetics of living and fossil relatives. Cetacean ancestors probably moved into water before changing their diet (and their teeth) to include carnivory; , a 48-million year-old semi-aquatic herbivore, and hippos fall closest to cetaceans when the evolutionary relationships of the larger group are reconstructed. List of extinct cetaceans. The list of extinct cetaceans features the extinct genera and species of the order Cetacea.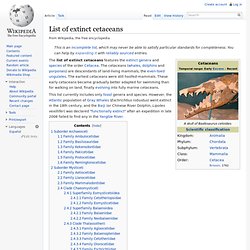 The cetaceans (whales, dolphins and porpoises) are descendants of land-living mammals, the even-toed ungulates. The earliest cetaceans were still hoofed-mammals. These early cetaceans became gradually better adapted for swimming than for walking on land, finally evolving into fully marine cetaceans. This list currently includes only fossil genera and species. Whale-eating sea monster uncovered in Peru. Leviathan melvillei chomps down on a baleen whale.
HIT PLAY, above, the see its fossilised teeth. Three lower teeth (a,b,c) of Leviathan melvillei compared to teeth of the modern sperm whale Physeter macrocephalus (d) and the modern killer whale Orcinus orca (e). Credit: G. Bianucci (Universitá di Pisa), O. Lambert (MNHN) and P.
---