CROCHET
Japan_Crochet_2797. Tutorial Tuesday: Crochet flowers. Here's a new skill to learn over Christmas: crochet!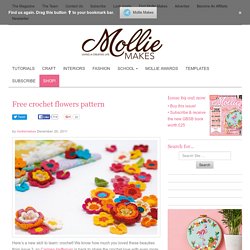 We know how much you loved these beauties from issue 3, so Carmen Heffernan is back to share the crochet love with even more of you online. Merry Christmas! Supplies: Fleur DROPS au crochet : Marguerite, en "Safran. DROPS SAFRAN UNI COLOUR (50g) 2.70 EUR DROPS SAFRAN UNI COLOUR (50g) 3.40 CHF DROPS SAFRAN UNI COLOUR (50g) 4.20 CAD Les catalogues DROPS 152-155 sont arrivés en magasin, au prix de 1.25 € l'unité - sans besoin d'acheter de fil !
Ils sont imprimés en édition limitée, rendez-vous chez votre magasin DROPS: en Belgique, en France, ou en Suisse. Noeud en crochet facile. Dimanche 9 septembre 2012 7 09 /09 /Sep /2012 09:55 Voici un petit tuto pour vous expliquer comment je fais mes petits noeuds, le tout à ma sauce, alors je ne sais pas si c'est compréhensible?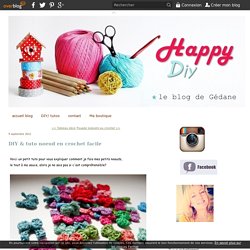 J'ai fait un point qui ne se trouve pas dans le lexique du crochet, alors j'ai demandé à Zarola comment l'appeler, ONDORI 2006 NATURAL BAGS & GOODS. Le crochet. 1.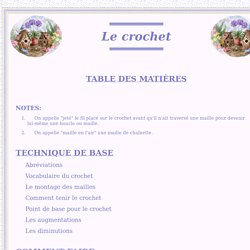 On appelle "jeté" le fil placé sur le crochet avant qu'il n'ait traversé une maille pour devenir lui-même une boucle ou maille. 2. On appelle "maille en l'air" une maille de chaînette. AbréviationsVocabulaire du crochetLe montage des maillesComment tenir le crochetPoint de base pour le crochetLes augmentations Les diminutions.
Birdie Decoration. This is my pattern/tutorial for a hanging Birdie Decoration.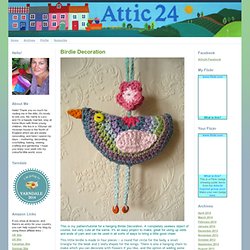 A completely useless object of course, but very cute all the same. It's an easy project to make, great for using up odds and ends of yarn and can be used in all sorts of ways to bring a little good cheer. This little birdie is made in four pieces :: a round flat circle for the body, a small triangle for the beak and 2 leafy shapes for the wings. There is also a hanging chain to make which you can decorate with flowers if you like, and the option of adding some dangly legs too.
How to crochet a daisy chain necklace. My mum described this thing she had seen on someone else, part necklace, part scarf, like a bunch of flowers for your neck and I was really taken with this idea of floral jewels.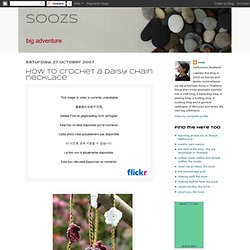 So after a bit of experimentation I came up with this design. It is simple to make with basic crochet stitches, and could have endless variations both in terms of the yarns and flower styles used to make it but also in the way it is worn. Comment faire différents travaux au crochet. Free patterns from crocheters: Community Board.
Japanese book no.2764 - Lolly - Picasa Albums Web. MaryM's Original Daisy Bullion Edging, tatting with crochet hook, crochet tatting, cro-tat, Cro-Tat, cro tat, edging, trim, tutorial. If you like the reocities.com project you can donate bitcoins to: 1E8rQq9cmv95CrdrLmqaoD6TErUFKok3bF MaryM's Original Daisy Bullion Edging©2001 - tatting with crochet hook, crochet tatting, cro-tat, tutorial, how to - Copyrighted.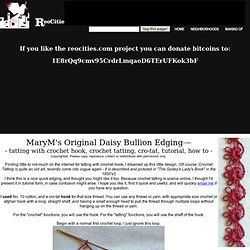 Please copy, reproduce, collect or redistribute with permission only. Finding little to not-much on the internet for tatting with crochet hook, I dreamed up this little design. Crochet : blogs Etrangers - Le blog Crochet de… - Le blog de " La… - Le blog Crochet de… - Le blog Crochet de… - Le blog Crochet de… - Le blog crochet de… - Le blog crochet de… - Le blog Crochet de… - Le blog Crochet de… - Le blog Crochet de… - Le blog de. Vendredi 28 septembre 2012 5 28 /09 /Sep /2012 09:47 Pour toutes celles qui sont à la recherche de modèles gratuits , voici un nouveau blog Etranger , celui de Dorota (Polonaise) " Dolce Vita " , qui nous offre de nombreuses catégories comme les tuniques , les boléros , les châles , les bonnets , les sacs , les gants , les robes , ect ...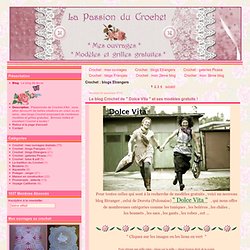 " Cliques sur les images ou les liens en vert " ONDORI 2006 NATURAL BAGS & GOODS. ONDORI BAGS. Ondori kint autumn-winter. 100 Bag arrange and motif pattern. ONDORI 2. Etole japonaise au crochet - Le pot 2 colle & Cie.
Une fois terminée, elle ressemble à ça!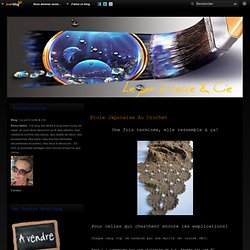 Pour celles qui cherchent encore les explications: Chaque rang (rg) se termine par une maille (m) coulée (MC). Les cours de crochet en video. Vous reprendrez bien un petit panier ? (tuto inside) - Le scrap de Caro. Ou "Zpagetti, Abracadacraft et moi" part #2 !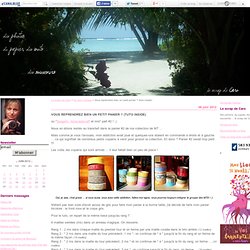 ;) Nous en étions restés au transfert dans le panier #2 de ma collection de MT ... Mais comme je vous l'avouais, mon addiction avait joué et quelques-uns étaient en commande à droite et à gauche ... ce qui signifiait de nombreux petits copains à venir pour grossir la collection. Et donc ? Panier #2 serait trop petit !!! Crochet / Vidéo 13 : le point de picot.
---