Knitting
Knitting patterns from independent designers
Class Categories Shop Categories « Back to all Categories Knitting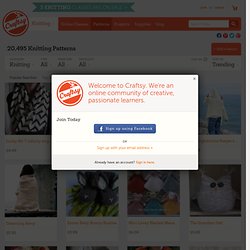 Sheldon pattern by Ruth Homrighaus
When Pixie opened her gift that held her new baby doll, pure joy filled her face. (And THAT is why I stay up to 1:00 a.m. every night!) The second photo is when the gown went up and she noticed the belly button.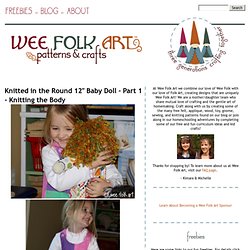 Knitted in the Round 12" Baby Doll - Part 1 - Knitting the Body
Octopus Mittens pattern by Emily Peters
Octopus Mittens are a pair of stranded colorwork mittens. Size: The mittens are 8.5 inches around (measured above the thumb) and 9 inches tall (1.5 inches of cuff and 7.5 inches in hand). They fit a medium-sized woman's hand, 7.5 inches around and 7 inches from the base of the palm to the tip of the fingers.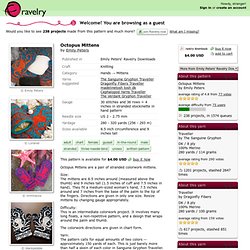 Using CC1, cast on 6 sts, pm, join to knit in the round, being careful not to twist. Rnd 1: Kfb 6 times: 12 sts. Rnds 2 and 3: Knit around.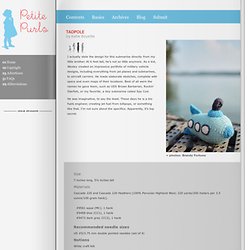 Petite Purls - Summer 2011
Free Butterfly Dish Or Face Cloth Knitting Pattern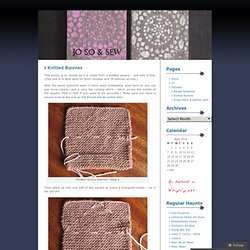 This bunny is so simple as it is made from a knitted square – any size is fine.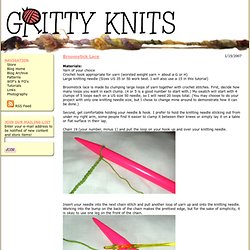 BLOG
Materials: Yarn of your choice Crochet hook appropriate for yarn (worsted weight yarn = about a G or H) Large knitting needle (Sizes US 35 or 50 work best. I will also use a 15 in this tutorial) Broomstick lace is made by clumping large loops of yarn together with crochet stitches.
Entrelac Satchel Photos
Sutherland Studios - Free Row Counter Bracelet Instructions