Knitting
Knitting patterns from independent designers. Sheldon pattern by Ruth Homrighaus. Knit & purl. Free Knitting Patterns, Knitting Tips, How-To Knit, Videos, Hints and More! Knitted in the Round 12" Baby Doll - Part 1 - Knitting the Body. When Pixie opened her gift that held her new baby doll, pure joy filled her face.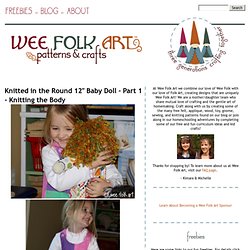 (And THAT is why I stay up to 1:00 a.m. every night!) The second photo is when the gown went up and she noticed the belly button. Octopus Mittens pattern by Emily Peters. Octopus Mittens are a pair of stranded colorwork mittens.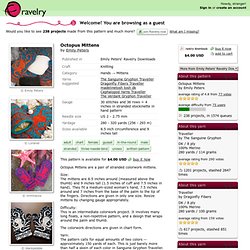 Size: The mittens are 8.5 inches around (measured above the thumb) and 9 inches tall (1.5 inches of cuff and 7.5 inches in hand). They fit a medium-sized woman's hand, 7.5 inches around and 7 inches from the base of the palm to the tip of the fingers. Petite Purls - Summer 2011. Using CC1, cast on 6 sts, pm, join to knit in the round, being careful not to twist.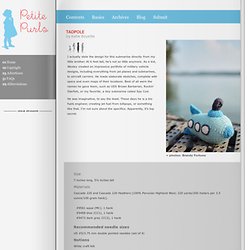 Rnd 1: Kfb 6 times: 12 sts. Rnds 2 and 3: Knit around. Free Butterfly Dish Or Face Cloth Knitting Pattern. Knitted Bunnies « Jo so and sew. This bunny is so simple as it is made from a knitted square – any size is fine.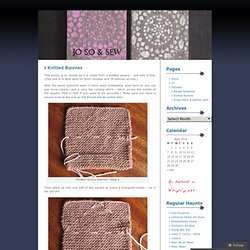 (This one is in 8ply wool on 4mm needles and 28 stitches across.) With the same coloured wool (I have used contrasting wool here so you can see more clearly) and a very big running stitch – stitch across the middle of the square (fold in half if you want to be accurate.) Make sure you have a secure knot at the end as the thread will be pulled later. Knitted Bunny tutorial - Step 1. BLOG. Materials:Yarn of your choiceCrochet hook appropriate for yarn (worsted weight yarn = about a G or H)Large knitting needle (Sizes US 35 or 50 work best.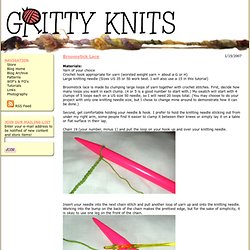 I will also use a 15 in this tutorial) Broomstick lace is made by clumping large loops of yarn together with crochet stitches. Stitch Pattern Library | Knitca. Entrelac Satchel Photos.
---