Cool
The power of motherly love
Baby Koala Life Story | LOL me
Enjoy the sunset with me
The 50 Best Animal Photos Of 2011
CUb10
RARE: Portraits of America's Endangered Species « Joel Sartore
Rare: Portraits of America's Endangered Species features portraits of some of the country's most imperiled creatures from whooping cranes to wolves. Some of them are likely to go extinct without people ever knowing they existed. Rare shows what we stand to lose if we don't act now. The good news is that there is still time, and this book highlights what each of us can do to save these unique creatures — and ultimately, ourselves. Get the book: signed copies are available through this website.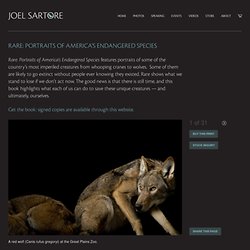 gator-and-the-butterflies.jpg (960×640)
essays & effluvia: Dog For Sale....Jethro !
By Richard Hartley-parkinson UPDATED: 12:05 GMT, 11 November 2011 Trapped in the mud and sinking fast, this pair of elephants seemed doomed. The mother had gone to the rescue of her baby, but had got stuck herself – leaving the rest of the herd understandably wary of trying to save them. So, with no time to lose, a team of conservation workers sprang into action. The family herd desperately tries to help the stricken mother and calf as they lie in the lagoon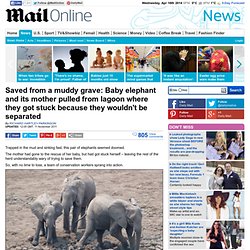 Baby elephant and mother pulled from muddy grave by conservation workers in Zambia
Owen and Mzee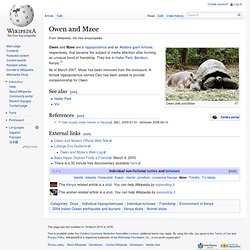 Owen (left) and Mzee Owen and Mzee are a hippopotamus and an Aldabra giant tortoise , respectively, that became the subject of media attention after forming an unusual bond of friendship. They live in Haller Park , Bamburi , Kenya. [ 1 ] As of March 2007, Mzee has been removed from the enclosure. A female hippopotamus named Cleo has been added to provide companionship for Owen.
008_pics.jpg (800×536)
Things I Think Are Kinda Cool » You've Never Seen This Before: Transparent Butterfly Edition
Monkeys took in a cat - Funny Pictures
humpback-whale-saved-by-divers.jpg (634×838)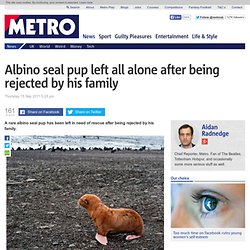 Albino seal pup left all alone after being rejected by his family
Details setting out the manner of the Sandy Hook elementary school massacre have been published in the US, with papers showing perpetrator Adam Lanza killed all 26 of his victims inside just five minutes. Police documents also appear to show the 20-year-old had smashed up a computer hard drive at his home before shooting his mother Nancy in the forehead and driving to the school with a large arsenal of weapons in his car . The papers were made public after the expiry of a 90-day confidentiality order, allowing the full details of Lanza's killing of 20 children and six teachers to be published. Lanza used a Bushmaster .223-calibre rifle to carry out the killings at the school, before committing suicide using a Glock 10mm handgun, the Connecticut prosecutor leading the investigation said. He fired a total of 154 shots in just five minutes when inside the school .
Disgruntled teachers have threatened to boycott school inspections amid calls for the resignation of Ofsted chief Sir Michael Wilshaw. The National Union of Teachers (NUT) conference heard good teachers are 'dropping like files' due to the pressures of inspections. 'The union must do more to work out a way to boycott Ofsted,' said NUT member Liam Conway earlier today at its meeting in Liverpool. 'It is time to stop hiding behind legal impediments. 'We owe it to all of our teachers who are literally being torn to bits by education secretary Michael Gove and Sir Michael Wilshaw and their band of crocodiles and lions.'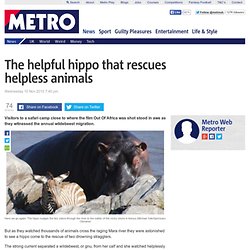 The helpful hippo who rescues other animals from Mara river
100 Year-old Tortoise acts as Mom to Baby Hippo A baby hippopotamus that survived the tsunami waves on the Kenyan coast has formed a strong bond with a giant male century-old tortoise in an animal facility in the port city of Mombassa , officials said The hippopotamus, nicknamed Owen and weighing about 300 kilograms (650 pounds), was swept down Sabaki River into the Indian Ocean, then forced back to shore when tsunami waves struck the Kenyan coast on December 26, before wildlife rangers rescued him. It is incredible.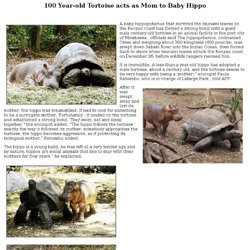 100 Year-old Tortoise acts as Mom to Baby Hippo
These pictures give a rare insight into the secret lives of tiny harvest mice.Photographers Jean-Louis Klein and Marie-Luce Hubert spent one year photographing the adorable little creatures in a project that saw them released from captivity into the wild. A harvest mouse balancing between two stalks of grass in a field in Alsace, France A harvest mouse seems to look directly into the camera while balancing on ears of wheat A female harvest mouse and her young (aged 5 days) in a nest A harvest mouse female regurgitating to feed her cubs (aged 10 days old)
The secret life of the harvest mouse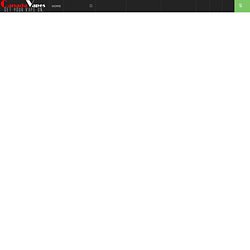 Living With the World's Largest Rodent
Meet Caplin Rous, a large, domesticated rodent known as a capybara. "He's very needy but I love him to death," says owner Melanie Typaldos, who adopted the pet from a breeder two and a half years ago when he was just 11 days old. "He loves to lick my face and forehead and just follow me around everywhere." The 100-lb. capybara munches on grass most of the day (the creatures are herbivores) to maintain his figure. Thankfully, Typaldos and her husband live in rural Texas, where they're surrounded by clean grass. Caplin dwarfs guinea pig Neptune, who belongs to Typaldos's daughter, Coral.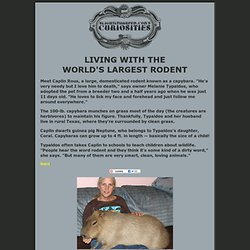 penny-frog-zoom.jpg (825×625)