Cool
The power of motherly love. Baby Koala Life Story | LOL me. Enjoy the sunset with me. The 50 Best Animal Photos Of 2011. CUb10. RARE: Portraits of America's Endangered Species « Joel Sartore. Rare: Portraits of America's Endangered Species features portraits of some of the country's most imperiled creatures from whooping cranes to wolves.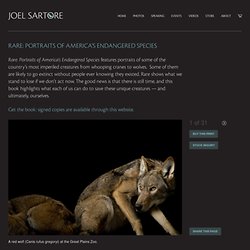 Some of them are likely to go extinct without people ever knowing they existed. Rare shows what we stand to lose if we don't act now. The good news is that there is still time, and this book highlights what each of us can do to save these unique creatures — and ultimately, ourselves. Get the book: signed copies are available through this website.
Gator-and-the-butterflies.jpg (960×640) Essays & effluvia: Dog For Sale....Jethro ! Baby elephant and mother pulled from muddy grave by conservation workers in Zambia. By Richard Hartley-parkinson Updated: 12:05 GMT, 11 November 2011 Trapped in the mud and sinking fast, this pair of elephants seemed doomed.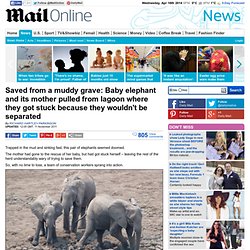 The mother had gone to the rescue of her baby, but had got stuck herself – leaving the rest of the herd understandably wary of trying to save them. So, with no time to lose, a team of conservation workers sprang into action. The family herd desperately tries to help the stricken mother and calf as they lie in the lagoon. Owen and Mzee. Owen (left) and Mzee Owen and Mzee are a hippopotamus and an Aldabra giant tortoise, respectively, that became the subject of media attention after forming an unusual bond of friendship.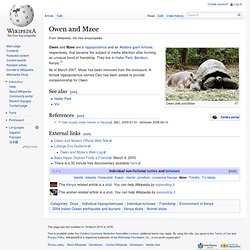 They live in Haller Park, Bamburi, Kenya.[1] As of March 2007, Mzee has been removed from the enclosure. A female hippopotamus named Cleo has been added to provide companionship for Owen. 008_pics.jpg (800×536) Things I Think Are Kinda Cool » You've Never Seen This Before: Transparent Butterfly Edition. Monkeys took in a cat - Funny Pictures. A credit report contains information about your credit card and loan history, including how you make your payments and how much debt you have, and it may contain records of action taken against you because of outstanding bills.
Lenders, landlords, other service providers and third parties buy your credit information in the form of a credit report to help them decide whether to approve your application for a loan, credit card, or housing, or to offer you a product or service at a particular rate. Equifax is one of the leading credit reporting agencies in the United States.
The other two major credit bureaus are Experian and TransUnion. Albino seal pup left all alone after being rejected by his family. A rare albino seal pup has been left in need of rescue after being rejected by his family.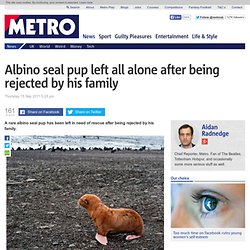 With his bright pink flippers, light brown fur and pale blue eyes, this seal pup stands out from the crowd. And that's exactly his problem – just like the Ugly Duckling, nobody wants to play with him. The rare albino seal has been rejected by his family and left to fend for himself… all alone. The images were taken by photographer Anatoly Strakhov who spotted the little seal hiding under logs on Tyuleniy Island, Russia. The 61-year-old said: 'He wasn't playing with other baby seals. The helpful hippo who rescues other animals from Mara river. Visitors to a safari camp close to where the film Out Of Africa was shot stood in awe as they witnessed the annual wildebeest migration.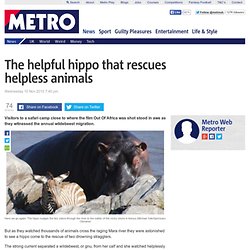 But as they watched thousands of animals cross the raging Mara river they were astonished to see a hippo come to the rescue of two drowning stragglers. The strong current separated a wildebeest, or gnu, from her calf and she watched helplessly as it was swept away. 'To everyone's amazement the hippo came to the gnu's rescue and pushed it gently to the river bank,' said Abdul Karim, the head guide at Sanctuary Olonana in the Masai Mara, Kenya.
The infant panted for a moment before getting up and running to its watching mother. The secret life of the harvest mouse. Living With the World's Largest Rodent. Meet Caplin Rous, a large, domesticated rodent known as a capybara.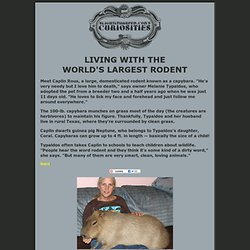 "He's very needy but I love him to death," says owner Melanie Typaldos, who adopted the pet from a breeder two and a half years ago when he was just 11 days old. "He loves to lick my face and forehead and just follow me around everywhere. " The 100-lb. capybara munches on grass most of the day (the creatures are herbivores) to maintain his figure. Thankfully, Typaldos and her husband live in rural Texas, where they're surrounded by clean grass.
Caplin dwarfs guinea pig Neptune, who belongs to Typaldos's daughter, Coral.
---