Future Home Plans
Kitchen Designs: Energized Eating - iVillage. 33 Exceptional Walk-In-Closets To Accentuate Your Fashion Collections. Walk-in-closets respond to many needs and wishes, from the need for a customized space for all your clothes and accessories to the wish of owning the most fabulous, exquisite and roomy walk-in-wardrobe there is.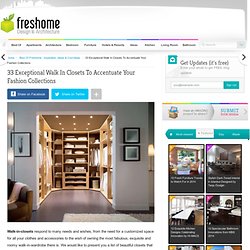 We would like to present you a list of beautiful closets that range from dark and mysterious to bright and luxurious. Some closets have a skylight that naturally lights your fashion collections and enhance their display, other closets feature exceptional dark furniture used to accentuate the idea of pure luxury and then there are those bright, vividly colored spaces where fashion and design meet to construct the perfect background for your clothes. Rees Roberts + Partners LLC - Casa Finisterra. Small is cool - StumbleUpon. If you choose to live on your own as a young person (and i say this assuming that you don't earn major bucks or perhaps you live in an expensive city – or both) you will probably be faced with the reality of renting a studio apartment. unless you're an investment banker, or you won the lotto, or your granddad left you a sweet inner city pad the size of an ark that he bought back in 1950 for R500, or you've found some 3 bedroom palace with wooden floors and a working fireplace that's being rented out for tuppence. if you're one of those people, please don't pity me. for i might be jumping on the studio flat bandwagon one of these days, and of course in lieu of that, the first thing i consider is HOW TO DECORATE. zach motl lives in a 178 ft² studio apartment in brooklyn. that's 16m² folks… he's an interior decorator, which explains why his flat looks the way it does.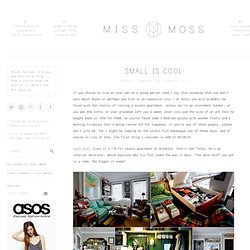 "the more stuff you put in a room, the bigger it seems" Small is cool - StumbleUpon. Crazy/Sexy/Cool? A Swimming Pool in the Living Room - Shelterpop. A thrifters&paradise - StumbleUpon.
Cozy book nook - StumbleUpon. Tiny victorian cottage & Sharona Design - StumbleUpon. Tiny Victorian Cottage [via The New York Times "Home&Garden"] The most adorable little victorian cottage ever.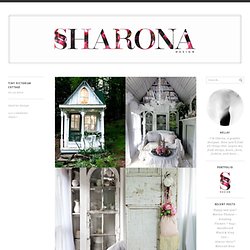 Sandra Foster turned a Catskills hunting cabin into the romantic Victorian cottage she had always wanted, using vintage columns, flooring and wavy glass windows, and doing the carpentry herself. 20 Cool Home Library Design Ideas | Shelterness - StumbleUpon.
---